Israel Under Attack As Nearly 1,000 Rockets Intercepted in 38 Hours
Israel has intercepted hundreds of rockets fired by Palestinian militants during the region's worst outbreak of violence in years.
According to the Israel Defense Forces, more than 1,050 rockets have been launched at the country since the fighting escalated on Monday.
The IDF announced on Twitter that the rockets had been fired across the central and southern regions of Israel within 38 hours.
In the tweet, the IDF added: "This. Must. Stop."
Hidai Zilberman, an IDF spokesperson, said its Iron Dome missile defense system had intercepted between 85 and 90 percent of the rockets that had been aimed towards Israel.
The Israeli military added that around a third of the 210 rockets that were aimed at Tel Aviv and Beersheba had fallen short and landed within Gaza, according to Reuters.
Hamas, which controls Gaza and is listed as a terrorist organization by the U.S., started firing rockets into Israel following an eruption of violence.
Dozens of people have been killed since the fighting escalated on Monday.
According to Haaretz, five people were killed in Israel in the worst violence between Israelis and Palestinians since the 2014 Gaza War.
Israelis hid in shelters or hunkered down inside buildings as the Iron Dome intercepted rockets in the sky above.
Another 35 people in Gaza, including 12 children, were killed in Israeli airstrikes, the newspaper added.
The graphic below, provided by Statista, shows Israeli and Palestinian deaths and injuries between 2008 and 2020, as documented by the United Nations.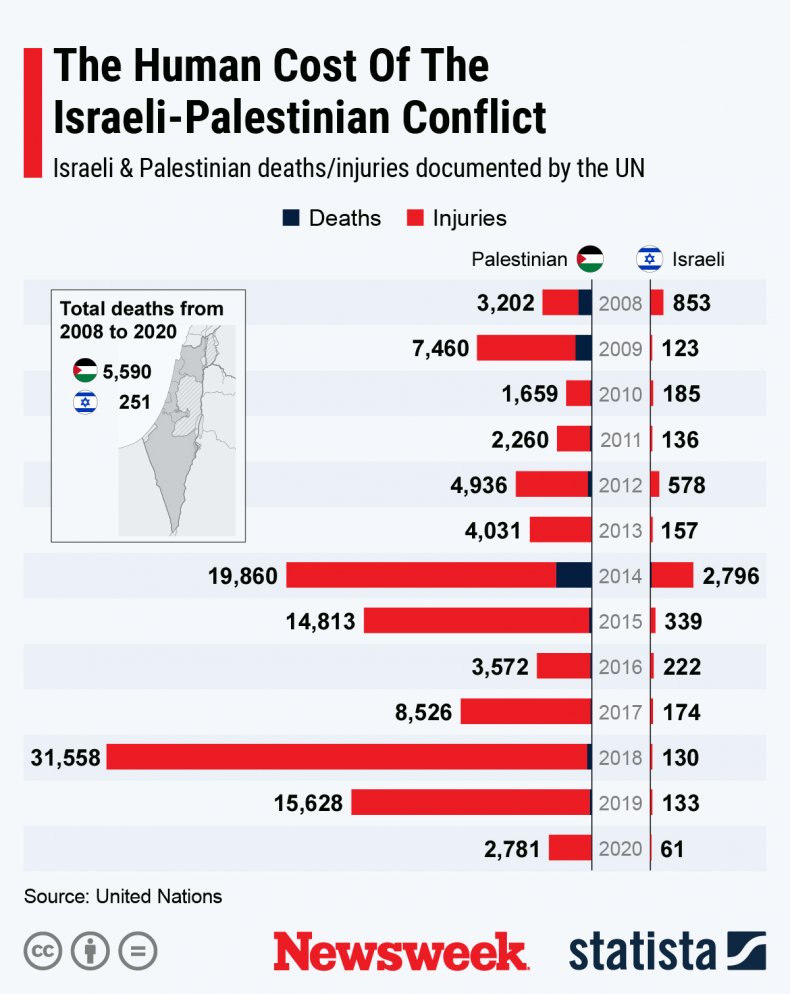 Zilberman said on Tuesday that Israel had sent 80 fighter jets to carry out operations to cripple Hamas' capabilities to launch rockets from the Gaza Strip, according to The Times of Israel.
Israeli military forces also entered the Jewish-Arab city of Lod on Tuesday night as Mayor Yair Revivo compared the riots there to a "civil war" and the Nazi Kristallnacht pogrom in 1938.
Israeli Prime Minister Benjamin Netanyahu said on Tuesday night that the government had "announced a special state of emergency in Lod."
He added that forces were being sent to "restore peace and order to Lod and all parts of the country as soon as possible."
The recent attacks were triggered after Palestinians clashed with Israeli police at Jerusalem's Al-Aqsa mosque, the third-holiest site in Islam.
Israeli police were filmed firing rubber bullets and using stun grenades inside the building itself after Palestinians had thrown bottles and rocks.
Newsweek has contacted the IDF for further comment.