Israeli Military Enters Riot-Torn Lod After Mayor Warns of Kristallnacht
Israeli military forces entered the Jewish-Arab central city of Lod on Tuesday night as Mayor Yair Revivo called the escalating riots a "civil war," comparing the events to the Nazis' 1938 Kristallnacht pogrom.
As clashes over Jerusalem surged dramatically, mass riots have erupted in cities across Israel amid worsening hostilities between Hamas and Israel.
After shops, cars and three synagogues were set ablaze, Prime Minister Benjamin Netanyahu declared a state of emergency, using the power over an Arab community for the first time since 1966, after Revivo asked the leader for assistance in controlling the chaos.
Revivo's request came after a slew of photos and videos were shared to social media showing property set on fire and violent confrontations between the Arab and Jewish communities.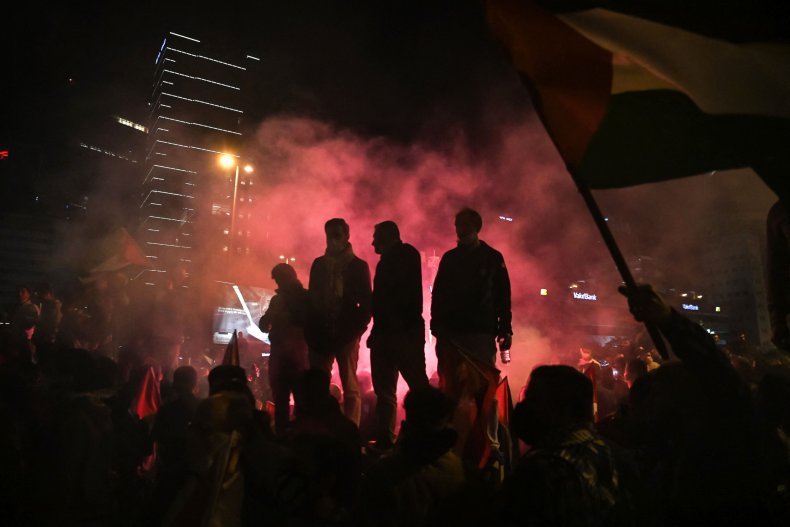 Defense Minister Benny Gantz announced that a large number of paramilitary Border Police from the West Bank had been quickly sent to the city, according to the Jerusalem Post.
Revivo described the riots in Lod as a "civil war" and warned that the period of coexistence in the region had crumbled.
"This is too big for police," Revivo said, according to the Times of Israel. "This is Kristallnacht in Lod."
"I have called on the prime minister to declare a state of emergency in Lod. To call in the IDF. To impose a curfew. To restore quiet," he added. "There is a failure of governance... This is a giant incident—an Intifada of Arab Israelis. All the work we have done here for years [on coexistence] has gone down the drain."
In a statement, the Israeli government said, "Prime Minister [Benjamin] Netanyahu directed that lawbreakers be dealt with severely and that units on the ground be reinforced in order to restore quiet and order to the city forthwith."
National Police Commissioner Kobi Shabiti said the situation is more severe than the widespread Jewish-Arab rioting that took place in October 2000—at the beginning of the Al-Aqsa Intifada, a Palestinian uprising against Israel. "We are seeing a situation in the mixed [Jewish-Arab] cities that we have never seen before," Shabti said.
According to Haaretz, Netanyahu condemned the "anarchy" in Lod that led to at least a dozen injuries as he visited the city late Tuesday night. "It's anarchy from rioters that we cannot accept," he said. "Without the rule of law, there is nothing."
Attacks against civilians, residences and property were also reported in the Israeli cities of Ramale, Acre, Jaffa and Tel Aviv.
The riots intensified after Israeli and Palestinian forces exchanged hundreds of rockets since Monday. Hamas launched 130 rockets in response to Israel airstrikes earlier today, which flattened a building in Gaza that contained the offices of top Hamas officials.
On Monday, the Israeli army fired airstrikes across the Gaza strip targeting Hamas operatives and equipment after Hamas militants launched rockets at Jerusalem. The incidents were triggered by clashes with Israeli police at Jerusalem's Al-Aqsa mosque, which left hundreds of Palestinians injured.
Newsweek reached out to the Israeli embassy in Washington D.C. for comment. This story will be updated with any response.