Republican senators repeatedly interrupted Supreme Court nominee Ketanji Brown Jackson on the third day of her confirmation hearings.
Republicans grilled Jackson for two days about her rulings on sentences imposed in child pornography cases and when she finally tried to answer, they had difficulty allowing her to speak. Many on social media were quick to call out the senators for their conduct on Wednesday.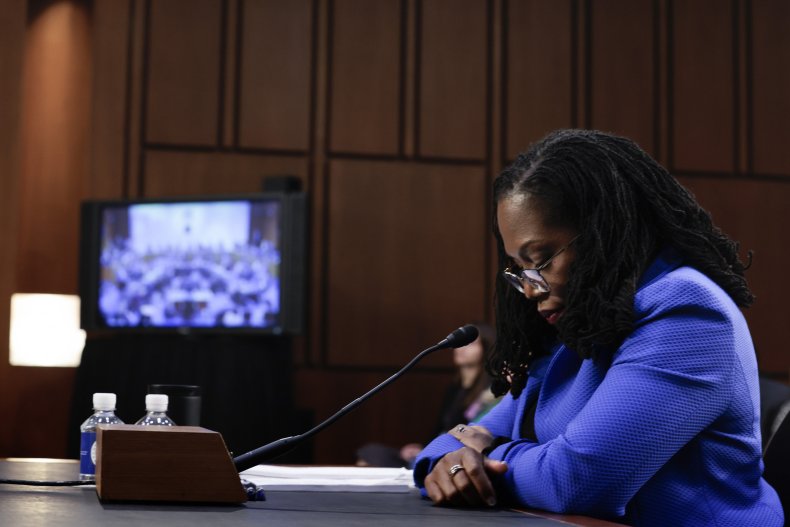 Texas Senator Ted Cruz pressed Jackson about the child pornography rulings and brought out his case-by-case chart that he used on Tuesday. Cruz said he wanted to go through each of them.
When Jackson tried to explain that she already answered questions on the topic and noted that she didn't have the record for each case with her, Cruz interrupted, claiming she was not answering his question.
"Senator, would you please let her respond?" Senate Judiciary Committee Chairman Senator Dick Durbin asked.
"No, not if she's not going to answer my questions," Cruz said. "If you want to filibuster, you're welcome to do so, but do it on your own time."
Women on Twitter condemned Cruz's behavior as he continued to raise his voice during the hearing.
"Ted Cruz was just outrageously rude & disrespectful to Ketanji Brown Jackson," Bonnie Fuller tweeted. "He wouldn't stop yelling and yelling and interrupting Judge Jackson when she tried to answer his question. His behavior was disgusting."
Senator Lindsey Graham also shouted and interrupted Jackson during her attempts to answer his question. Again, Durbin had to intervene.
In another effort to explain her sentencing in past cases, Durbin begged Graham to let her finish.
"Please, senator, let her complete her answer," said Durbin.
Jackson then briefly explained that sentencing must match the severity of cases, saying offenders can get "30, 40, 50 years in prison." Graham interrupted and said, "Good, absolutely good."
"Allow her to finish, please," said Durbin.
"I hope you go out to jail for 50 years if you're on the internet trolling for images of children and sexual exploitation," said Graham. "So you don't think it's a bad thing? I think that's a horrible thing."
"That's not what the witness said and she should be allowed to answer this question once and for all," said Durbin.
Critics on Twitter cited that because Jackson is a Black woman, her white male counterparts chose to speak over her to assert their dominance.
"Senator Lindsay Graham, your racist and sexist attack on SCOTUS nominee Judge Ketanji Brown Jackson dishonors your office and our country," California State Assembly member Mike Gipson said. "Your baseless attack on the first Black woman SCOTUS nominee is an attempt to discredit her and her ability to be an impartial Supreme Court [justice]."
Newsweek reached out to Cruz and Graham for comment.