#IStandWithIlhan vs #IStandWithPresTrump: Competing Trends Emerge After Divisive Trump Rally
President Donald Trump's angry, divisive campaign rally on Wednesday night set social media alight as users rallied to support either the president or Rep. Ilhan Omar, who has found herself at the center of a racism row convulsing U.S. politics.
Addressing supporters in Greenville, North Carolina, Trump spent a good portion of Wednesday's event attacking "The Squad"—the four-strong group of progressive Democratic female representatives of color—about whom he tweeted racist tropes at the weekend.
His angry online tirade declared that the women—three of whom were born in the U.S. and all of whom are American citizens—should "go back" to their countries of origin. He also accused them of "spewing some of the most vile, hateful and disgusting things ever said by a politician."
Wednesday's rally was imbued with the aggrieved, uncompromising and tribal sentiment that has become synonymous with the president's campaign events. The crowd even began chanting "Send her back! Send her back!" at one point during Trump's attacks on Omar, as the president repeated false and debunked accusations previously used to smear the Minnesota congresswoman.
The chant, and Trump's apparent nonchalance at hearing it, prompted the emergence of the #IStandWithIlhan hashtag on Twitter, which has thus far been tweeted more than 100,000 times.
The graphic below, provided by Statista, illustrates the relative strength of the trending hashtags.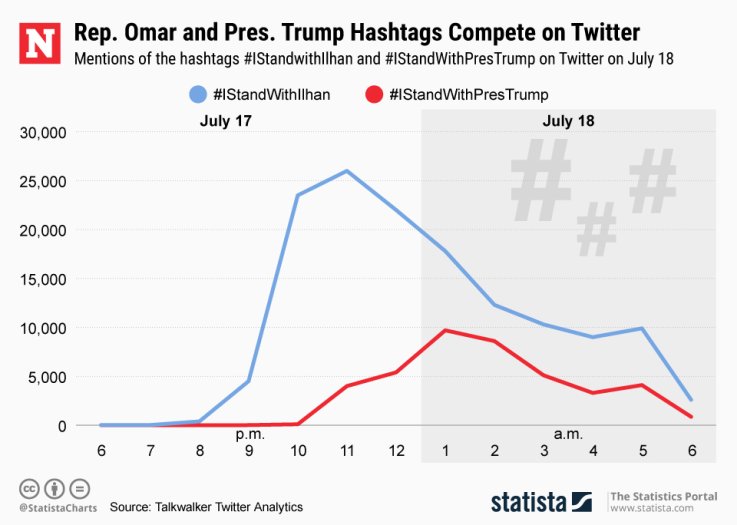 Senator Bernie Sanders said that he stands with Omar "and am proud to work with her in Congress. Trump is stoking the most despicable and disturbing currents in our society. And that very hatred and racism fuels him. We must fight together to defeat the most dangerous president in the history of our country."
Podcast host Jon Favreau said the chant "is one of the most chilling and horrifying things I've ever seen in politics," while Democratic Rep. Ted Lieu said the president and his "enables" legitimized the "racist chant." Lieu called on supporters to "vote, donate & organize like never before. The soul of our country is at stake."
Omar herself posted a tweet with lines from a poem by the late Maya Angelou. It read, "You may shoot me with your words, You may cut me with your eyes, You may kill me with your hatefulness, But still, like air, I'll rise."
In another post, Omar posted a photo of herself speaking in the House of Representatives with the text: "I am where I belong, at the people's house and you're just gonna have to deal!"
Though many users found the president's rally abhorrent, a smaller group began posting with the #IStandWithPresTrump hashtag, many of whom repeated the false allegations leveled against Omar and used the same racist tropes employed by the president.
The hashtag had been tweeted about some 30,000 times as of Thursday morning, though multiple users piggybacked on the phrase to criticize or mock the president and his supporters.
Actor and comedian Terrence K. Williams was one of the drivers of the hashtag. He wrote, "#IStandWithIlhanOmar is trending!!! So y'all stand with someone who refused to Denounce Al Qaeda? Let's make #IStandWithPresTrump Trend!"
Despite misleading claims to the contrary—including doctored videos being shared by the president himself—Omar has never voiced support for the terror group, describing it as "violent" and "negative" and its members as "extremists."
She has also been critical of U.S. arms sales to Saudi Arabia and the United Arab Emirates because such weapons have reportedly found their way into the hands of Al-Qaeda or other extremist groups.
Author Mark Dice declared that those who "hate our country, customs, history and Constitution, you can leave...whether you're from Sweden or Somalia. It has nothing to do with race whatsoever."
Trump's racist attacks are dividing Washington as well as social media. On Tuesday, the Democratic-controlled House voted to condemn the president for his "racist comments." Only four Republicans joined the Democrats to pass the censure by 240-187. Rep. Justin Amash, who recently resigned from the GOP and is sitting as an independent, also backed the vote.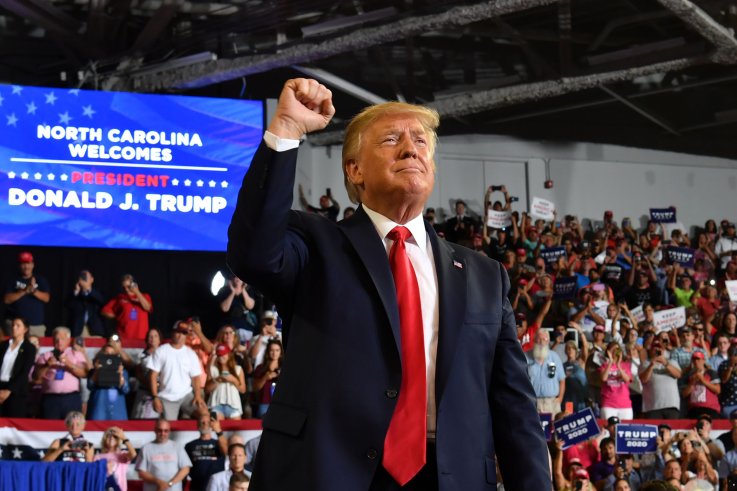 This article was updated to include an infographic.
#IStandWithIlhan vs #IStandWithPresTrump: Competing Trends Emerge After Divisive Trump Rally | Politics