It Looks Like The Reign of Bibi Is Over. What This Means for Us Palestinians | Opinion
On Wednesday evening, the seemingly impossible happened: A coalition formed of Israeli Knesset members with numbers sufficient to unseat Israeli Prime Minister Benjamin Netanyahu. Israeli Opposition Leader Yair Lapid managed to cobble together 61 seats, with the improbably help of far right nationalist Naftali Bennett and Mansour Abbas, leader of Islamist Arab party Raam.
It's a big moment for Israel. Netanyahu has managed to hold onto Israel's premiership for 12 interminable years, despite recently standing trial in three cases corruption. And they have been consequential ones: Throughout his years in office, Netanyahu weakened Israel's judiciary and stigmatized its left-wing and human rights advocates while empowering the far right and even legitimizing supremacist groups like Otzma Yehudit in a desperate bid to cling to power.
His ouster is big news, including for us Palestinians, for whom the disaster that was Netanyahu's leadership cannot be overstated. No one has done more than Bibi to undermine the two-state solution. "A Palestinian state will not be created," he told Arutz Sheva as recently as 2019. "It won't happen." To ensure this, Netanyahu spent his entire time in office putting the Israeli-Palestinian conflict in deep freeze, working tirelessly to take it off the agenda, both domestically and internationally. Throughout his tenure, Israeli human rights organizations and proponents of peace were disempowered, vilified, and delegitimized, until the word "leftist" became a curse word synonymous with weakness and even treason.
Netanyahu's term reshaped the Israeli discourse on the Palestinians in general and on Gaza in particular, injecting the entire subject with a toxic machismo that dehumanized Palestinians and erased any vestiges of hope for coexistence. It created in turn a vicious cycle in which Israeli politicians would try to compete over who could be tougher on Palestinians, who could outdo Bibi himself.
Invoking Palestinian rights became an act of political suicide.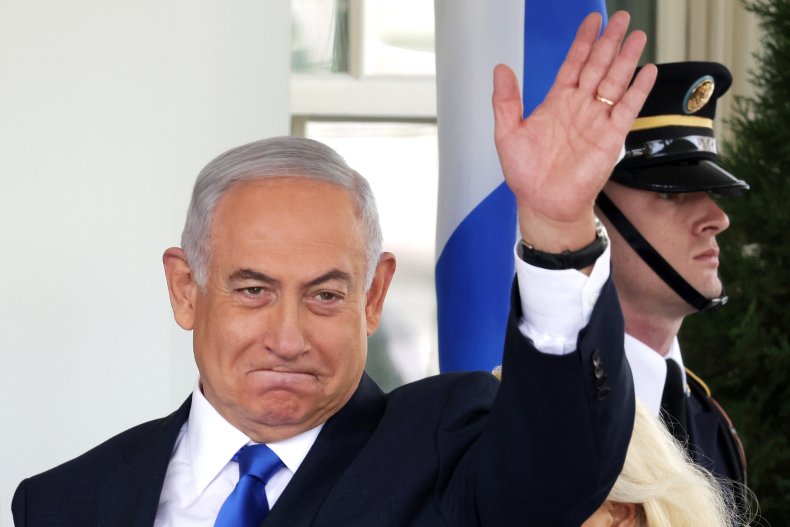 And lest you think this was about security, throughout his time in office, Netanyahu has systematically weakened the Palestinian Authority and thereby even strengthened Hamas. When it was revealed in 2019 that Israel had allowed Qatari suitcases full of cash into the Gaza Strip, the Jerusalem Post reported that Bibi justified it as "part of a broader strategy to keep Hamas and the Palestinian Authority separate." "Whoever is against a Palestinian state should be for" transferring the funds to Gaza, Netanyahu reportedly said, because separating the Palestinian Authority in the West Bank from Hamas in Gaza helps prevent a Palestinian state.
In this and other ways, Bibi contributed substantially to the systematic weakening of Palestinian moderates. He has consistently sought to smear nonviolent forms of resistance as hateful, anti-Semitic, or even as terrorism; over the course of his time in office, all forms of Palestinian resistance have been criminalized, routinely been cast as no different from violent extremism.
We Palestinians are familiar with the move to portray us uniformly as terrorists. Palestinian diplomacy is labeled "diplomatic terrorism;" non-violent protests are called "PR terrorism;" boycotts of Israel are called "economic terrorism;" Palestinian detainees going on hunger strikes are "terrorism in prison;" and the mere Palestinian presence in Area C is called "construction terrorism."
So it's a relief to see Netanyahu go. And yet, despite all this, our relief will be short lived, given who will be replacing him.
Naftali Bennett is not good news for Palestinians. For as long as he's been a politician, Bennett has placed himself to Netanyahu's right vis-à-vis the Palestinians. He is an avowed opponent of the two-state solution and a fierce advocate of annexation. "I will do everything in my power to make sure [Palestinians] never get a state," he has said. Worse, he's bragged about killing us. "I already killed lots of Arabs in my life, and there is absolutely no problem with that," he said in a cabinet meeting in 2013, explaining his view that terrorists should be shot without trial.
Bennet's prospective cabinet is all the more concerning. It will harbor the hardcore rightist Avigdor Lieberman, who has championed the population transfer of Israeli-Arabs to Palestinian areas. As Defense Minister, Lieberman has also overseen the inhumane besiegement and deliberate suffocation of Gaza.
Moreover, Bennet's potential interior minister—the person in charge of granting and revoking residence status of Palestinians in East Jerusalem—will be the hard-right Ayelet Shaked, who joked about her own "fascism" in a 2019 campaign ad after she was criticized for trying to restructure Israel's judiciary. "The entire Palestinian people is the enemy," she said in 2014, calling for the destruction of Palestinian homes where mothers give birth to "little snakes."
Still, there's a silver lining: The Lapid-Bennet government has broken a political taboo that has held since Israel's inception of including Israeli-Arab parties in a coalition. This could prove transformational in future elections, and it will certainly increase Arab voter turnout.
Moreover, the government will consist of eight parties from the left, center and right, which presents a path for national reconciliation and healing, and it potentially spells the end of the wholse sale de-legitimization of the Left that Israel has suffered from for decades. The coalition's diversity might also mean it can deter Bennet from annexation in the West Bank, or another war with Gaza.
Most importantly, the fact that Netanyahu will be out of government along with his extremist partners like Bezalel Smotrich and Itamar ben-Gvir will provide a vital opportunity for the center and Left to showcase their ability to govern and fulfill promises to rebuild their electoral bases.
What is crucial is to remain vigilant and recognize that Netanyahu's removal and Bennet's premiership are a mere gateway, not an end goal. It's the beginning of a long journey to reverse the damage done, prevent more destruction and take steps toward progress; this requires pressure, solidarity and activism more than any time before. If we fail, Netanyahu's gang will be back stronger.
Muhammad Shehada is a writer and civil society activist from the Gaza Strip and a student of development studies at Lund University, Sweden. He was the PR officer for the Gaza office of the Euro-Med Monitor for Human Rights.
The views in this article are the writer's own.