Italy's Coronavirus Deaths Spike Nearly Two Weeks Into Lockdown, an Ominous Sign for New York and California
Italy recorded the world's deadliest 24-hour period of coronavirus-related fatalities Saturday prompting additional imperative lockdown restrictions on daily life, and an ominous look at what health experts say could happen in the U.S. in the coming weeks.
The Italian government first imposed a national lockdown on March 9, but health experts say their delayed response had fatal consequences. On Saturday, Italy's number of coronavirus-related deaths surged by 627 -- the largest single day of fatalities recorded in any country in the world, including China. Physicians and public health professors say Italy's soaring death toll could be a sign of what's to come in the U.S. and U.K.-- specifically in places like New York, where Governor Andrew Cuomo announced Saturday there were 3,200 new cases reported in the state over the past 24 hours. California has 1,315 confirmed coronavirus cases and 24 deaths.
Italian and American public officials have criticized their governments' slow and confused responses to the pandemic, with both countries waiting weeks to impose shutdowns and enforced quarantines from public spaces. Italy's Civil Protection Agency said the country's death total surged to 4,032 Saturday, far surpassing China's 3,284 total reported deaths, in cases that were diagnosed last week amid confused and partial quarantine orders.
"What is going on in Italy could be a tragic signal of what to expect in the U.S., especially with respect to medical system vulnerabilities. Hospital critical care planning, as part of the larger U.S. public health system, has simply not been adequately attended to over the decades in terms of our disaster response capabilities," said Charles Branas, chairman of Columbia University's Department of Epidemiology in the Mailman School of Public Health, in an email to Newsweek Saturday.
Update: Italy again increased their death toll count Saturday to 793 in the one-day period, now taking the country's fatalities to 4,825.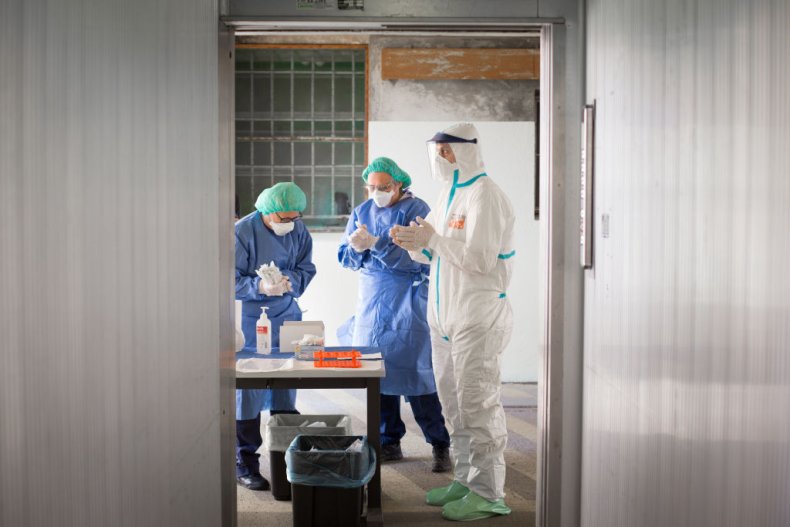 Branas said the U.S. has failed to reorganize its health care system even after major past catastrophes.
"The national public health system should have been resourced to learn more from prior large-scale disaster events -- like 9/11, large floods, etc -- and had better projections and response plans ready-to-go this time," he added.
A U.K. medical doctor and gastroenterologist remarked Saturday on Twitter, "Please watch this report from Lombardy in Northern Italy. This could be us soon. We should all treat #CoronaCrisisuk seriously," sharing a Sky News video of physicians scrambling to assist coronavirus patients.
On Saturday morning, New York Governor Cuomo ordered all non-essential businesses to shut down effective at 8 p.m. Sunday night, with just grocery stores, pharmacies and other health services set to remain open. The announcement came as the state's total confirmed positive coronavirus cases skyrocketed to 10,356, with 3,254 of those emerging over 24 hours. Cuomo encouraged New Yorkers to remain positive and said New York City saw a rise in recent cases because of its "dense environment."
U.S. officials' reluctance to impose shutdowns may have similar ramifications as those currently being seen in Italy, which recorded only two cases on February 20. The Italian government began enforcing more draconian restrictions on public life Friday after recording the world's highest 24-hour spike in recorded deaths.
"My idea is that if we had shut everything in the beginning, for two weeks, probably now we would be celebrating victory," Attilio Fontana, president of Italy's Lombardy region, told The New York Times in a piece published Saturday. More than 60 percent of deaths occurred in that northern region, where hospitals continue struggling to provide infected patients with beds and respirators.
Giorgio Gori, the mayor of Bergamo, one of the country's hardest hit cities in Lombardy, said he believes the true number of fatalities is much higher than what's being reflected in current statistics. He told The Huffington Post: "Many of the elderly are dying in their houses or in old people's homes, without anyone testing them either before or after they die."
Trajectories show that U.S. cases are emerging on a nearly 11-day delay from those of Italy, with confirmed cases first springing up in the European country. San Francisco residents were first ordered into isolation last Tuesday, with roughly 7 million people in seven counties instructed by the government to "shelter in place."