How the Mafia's Murder of an Italian Prosecutor Became a Turning Point in Italy's Fight Against the Mob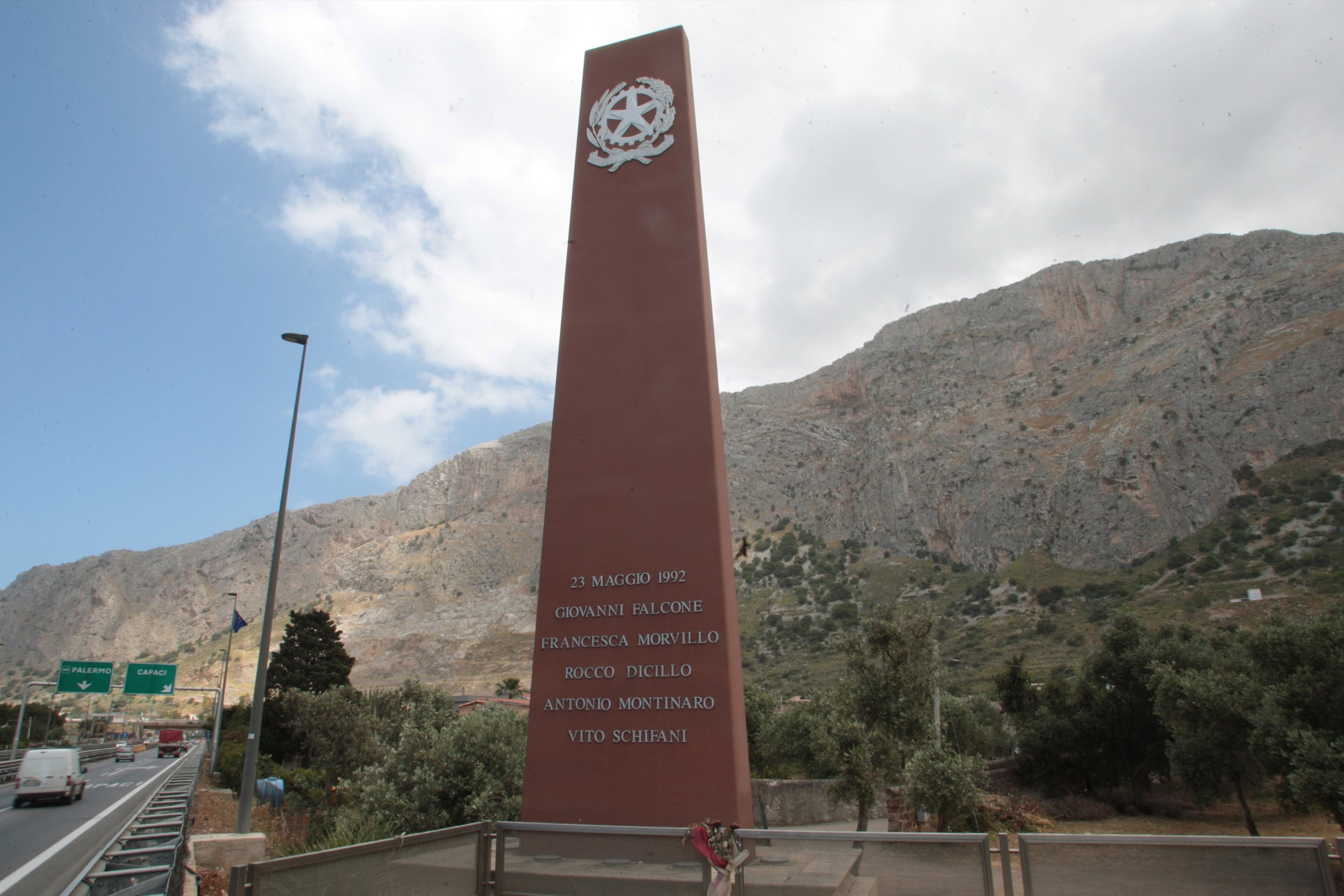 A tall, red monument stands on the highway that circumvents the Sicilian mountains to connect the Italian island's capital, Palermo, to its airport.
The memorial bears only a date and five names, the victims of one of the most devastating attacks the Sicilian mafia has ever waged against the Italian state: "23 May 1992. Giovanni Falcone. Francesca Morvillo. Rocco Dicillo. Antonio Montinaro. Vito Schifani."
Twenty-five years ago, a car bomb filled with more than half a ton of explosives, detonated remotely, killed prominent anti-mob prosecutor Falcone, his wife and three members of their security detail.
The top of the red monument bears the emblem of the Republic of Italy, symbolizing the state's presence in a territory where organized crime has constantly challenged its authority and control.
Get your unlimited Newsweek trial >
A turning point
The Capaci massacre—as it became known due to its proximity to the town of Capaci—was not the first or the last dramatic killing of an anti-mafia champion, but it became a turning point for the way Italian society, politics and judiciary conceived of and dealt with organized crime.
Even before killing Falcone, the Sicilian mafia, known as the Cosa Nostra , had been waging a decade-long war against the Italian state. The murders of Sicilian governor Piersanti Mattarella, the brother of current Italian president Sergio Mattarella, in 1980, and those of Palermo police chief General Carlo Alberto Dalla Chiesa and of Communist party leader Pio LaTorre in 1982, were among many high-profile assassinations of prominent politicians, trade unionists, journalists and law enforcement officials prior to that of Falcone.
Falcone's colleague, Paolo Borsellino, was murdered only two months later when a car bomb filled with 90 kilograms (200lbs) of explosives killed him and five police officers in his escort on July 19, 1992. He was killed just moments after he rang the doorbell to his mother's apartment building in Via D'Amelio in Palermo.
Get your unlimited Newsweek trial >
But this time, the mafia's strategy backfired. For a long time it had been common to claim —as Mayor of Trapani Erasmo Garuccio infamously did in April 1985—that "here the mafia does not exist" (despite the fact that three days earlier a car bomb targeting a senior Trapani prosecutor had instead killed 30-year-old Barbara Rizzo and her six-year-old twin sons). After the murders of Falcone and Borsellino, Italy could no longer deny that it had a problem with the mafia.
"The murders signaled a point of no return," Vincenza Rando, legal officer and vice-president of the non-governmental organization Libera, tells Newsweek. "There was a great awakening. A great conscious awakening."
The trials that followed the murders of Falcone and Borsellino convicted the people who planted the bombs and planned the assassinations, but a wider investigation into powers behind the attacks had to be closed for lack of evidence. However, it still had an impact on the mafia's power and the way it operated.
"The trials following the massacres brought a huge amount of attention and huge pressure on criminal organizations," says Colonel Francesco Mazzotta, commander of the Guardia di Finanza, the Italian financial police force responsible for investigating financial crimes and trafficking of contraband and illegal substances.
"Palermo, in the 1980s, counted a dead person a day, they were so common people were almost used to them. Now, a homicide in Palermo is news," he says.
Fighting the invisible enemy
In the face of that scrutiny, the mafia had to change. While today there are fewer murders, the mob's influence in the Italian economy is pervasive.
There are four main mafia syndicates in Italy, and each developed in a specific region: Sicily has the Cosa Nostra , Calabria the 'Ndrangheta, Campania the Camorra and Apulia has the Sacra Corona Unita . But the tentacles of these criminal organizations extend far beyond than their home regions, so much so that Italians refer to the mafia as a piovra, meaning "octopus."
Harbors on the west coast of Italy remain a primary destination for the arrival of drugs and other contraband, such as weapons and counterfeit goods, but the mafia has become increasingly adept at concealing its illegal activities under the guise of legal enterprises; an example would be the recent mass arrest of 68 people involved in running food supplies to Europe's largest asylum center, on the south coast of mainland Italy.
"We see that the criminal organizations have been able to insinuate themselves in new territories, and to attack other sectors, hiding in the sector of legal business, becoming administrators." Rando says.
"For what we see, Cosa Nostra is still dynamic and active particularly in the entrepreneurial sector, investing in both illegal and legal activities," Mazzotta says. "The fact that the mafia today is an entrepreneurial mafia forces law enforcement to deepen the economic aspect. Changing the criminal organization, the law enforcement agency has to adapt accordingly."
In October, the wealthy central region of Emilia Romagna became the first in Italy to pass a law targeting the infiltration of organized crime in entrepreneurship. Rando had a role in promoting the legislation, which was written in consultation with trade unions and the business community. The legislation is the first of its kind in Italy, taking a holistic and coordinated approach at a regional level to tackle a series of economic sectors and mafia activities.
An aspect of the law focuses on creating whitelists of pre-approved businesses that can participate in procurement and public contracts, while another part of the law concerns the use of the businesses confiscated from the mafia. Rando describes it as "a law that promotes a culture of legality" and one that shows that being law-abiding actually pays off.
Today's challenges
But establishing a culture of honesty and law-abidingness—which is perhaps the only long term weapon against in the fight against the mafia—is a huge challenge at all levels of policy and economy in Italy.
A mass trial of 147 people suspected of collusion with a Ndrangheta clan opened in March 2016 in Emilia Romagna and among the indicted were businessmen, politicians and two Chinese nationals. Also named was former footballer Vincenzo Iaquinta, who was part of the Italian team that won the World Cup in 2006 and was charged with illegal weapons possession aggravated by intent to abet mafia links. His father Giuseppe Iaquinta faced charges of belonging to a racketeering mafia ring.
In Trapani, two of the five candidates running for mayoral elections on June 11 are under investigation. Antonio D'Alì, a senator, is awaiting the verdict of the Supreme Court on charges of mafia collusion and has been deemed "socially dangerous" by the Italian authorities.
The other candidate, Girolamo Fazio, a regional councilor and a former mayor of Trapani, was put under house arrest on May 19 on corruption charges.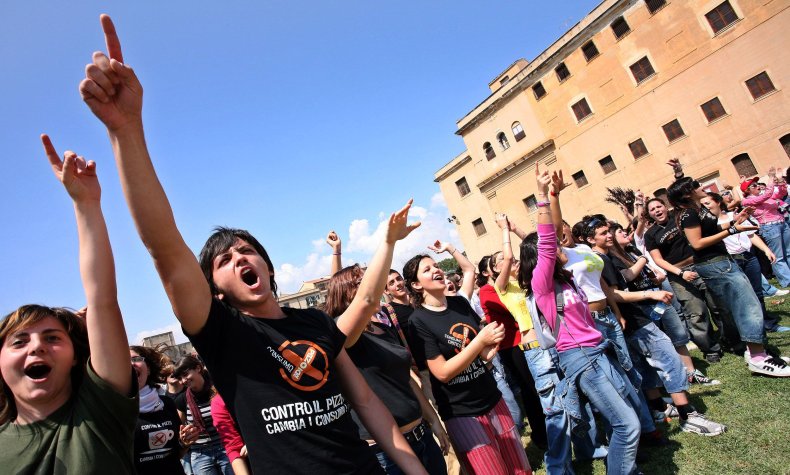 Neither of the men stopped their campaigning , raising the possibility—Rando explains with an uneasy laugh—that one of them could be elected mayor while under house arrest. "It seems science-fiction, instead it's true. It's 2017. How much does this country still have to do so that politics catches up? There are no words."
Rando says that few politicians have pushed to make the long term changes to permanently prevent the mafia from influencing Italian politics and society, as those holding political office rarely address the problem unless there is a visible emergency. "This is a real problem and this is why the organizations are increasingly growing their power, because they know there is systemic negligence."
Rando has dedicated her whole career to fighting the mafia. She was inspired by the example of Falcone and Borsellino, both of whom she met when she was a university student.
She believes the pair have inspired a new generation of prosecutors and judges to do honest work, regardless of the consequences.
"To me Falcone and Borsellino were no heroes, they were simply good people who were doing their jobs" she said.
Like others, Rando has suffered intimidation for her efforts in fighting organized crime. A month after the law against mafia infiltration was passed, her office was broken into and trashed.
"I know what they are trying to do," she said.
"This is what Falcone and Borsellino taught me," she says. "We can win the fight against the mafia. The battle is still very long, there are many people who are indifferent and politics is too slow and too weak. But we can fight the mafia and we can even win. There's more of us."
How the Mafia's Murder of an Italian Prosecutor Became a Turning Point in Italy's Fight Against the Mob | World