Italian Prime Minister Mario Draghi said Tuesday that he supports Ukraine's bid to join the European Union (EU), after Ukrainian President Volodymyr Zelensky accepted last week that the nation would not join NATO.
Speaking to Zelenksy during a video address with the Italian parliament, Draghi complimented Ukraine's "heroism" and said that Rome would support Kyiv's application to join the 27-member bloc.
"Today, Ukraine does not just defend itself," Draghi said, according to the Financial Times. "It defends our peace, our freedom, our security. It defends that multilateral order based on rules and rights that we have painstakingly built up since the war."
"Italy wants Ukraine to join the EU," he added. "I want to tell President Zelensky that Italy stands alongside Ukraine in this process."
Draghi's statement came after Zelensky said he has accepted that Ukraine would not become a member of NATO, which was one of the demands made by Russia before it invaded. Russian President Vladimir Putin has repeatedly warned that Ukraine joining NATO would threaten its national security and lead to a further escalation of war.
But while Zelensky has acknowledged he had "cooled down" on joining NATO, he has remained steadfast in seeking admission into the EU. Ukraine first filed an application to join the 27-member bloc on February 28, four days after the Russian invasion began.
"Our goal is to be with all Europeans and, most importantly, to be equal. I'm sure that's fair. I am sure we deserve it," he said while announcing the application. Zelensky has advocated for fast-tracking Ukraine's admittance under a so-called "a special procedure" due to the war.
Ukraine's application received initial support from several eastern EU members, including Poland and the Baltic states. However, other European leaders have expressed skepticism in allowing Ukraine to bypass the bloc's lengthy requirements and standards for joining.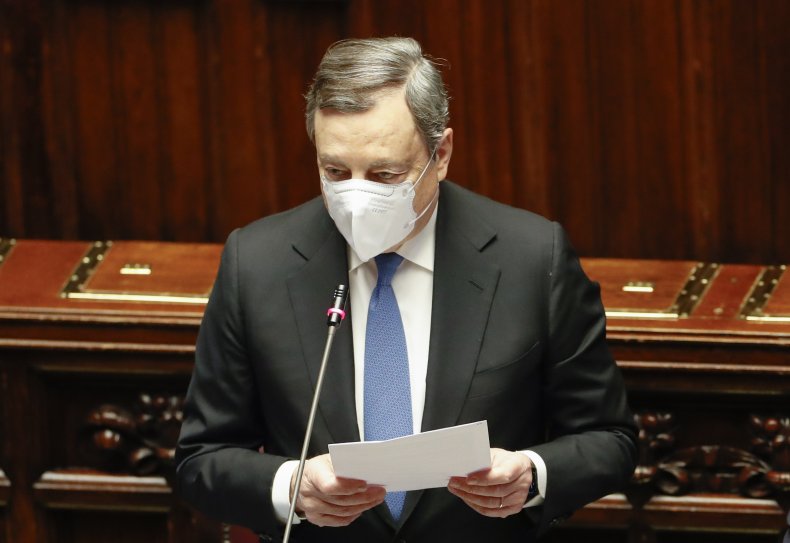 Typically, a nation can only apply to the EU once it satisfies certain criteria, including having a free-market economy and accepting all EU legislation and the euro, before it begins a formal framework for negotiations. Due to the volume of EU rules and regulations, the process often takes a significant amount of time to complete. For instance, the EU's newest member, Croatia, joined in 2013 after nearly a decade of negotiations.
On Tuesday, Draghi acknowledged that gaining EU membership is a "long" journey, and offered no timeframe for when Ukraine could expect to gain more support, according to the Financial Times. However, he maintained that Italy is ready to endorse the ongoing effort.
Earlier on Tuesday, Zelensky urged Italy to increase sanctions against Russia, including an appeal for lawmakers to seize Russian oligarchs' real estate and block access to bank accounts. He also suggested that Italy should halt Russian oil imports, Insider reported.
"Italian people, now is the time to do all possible to secure peace and end this war that Russia prepared for a long time. Their aim is Europe . . . destroying your values, not only ours," Zelensky said in the video address.
Later this week, President Joe Biden is set to meet with NATO leaders and EU allies to discuss further sanctions against Russia.
For the latest updates on the Russia-Ukraine war, visit Newsweek's live blog.
Update 3/22/22 11:50 AM ET: This story has been updated with additional information.