'It's Actually AOC Plus 115': AOC Snaps Back After Trump Said She 'Knows Nothing About the Climate' At Final Debate
Democratic Congresswoman Alexandria Ocasio-Cortez snapped back online after President Donald Trump said she "knew nothing about the climate" at Thursday night's final presidential debate in Nashville, Tennessee.
As Trump lashed out at Biden's climate change plan during the second half of the debate, he also name dropped Ocasio-Cortez.
"You know who developed it? AOC plus three," the president said. "They know nothing about the climate. I mean she's got a good line of stuff but she knows nothing about the climate, and they're all hopping through hoops for AOC plus three. Not a real plan, it costs 100 trillion dollars."
Ocasio-Cortez immediately took to Twitter to correct the president. "It's actually AOC plus 115 because that's how many House and Senate members have cosponsored the most ambitious climate legislation in American history," she wrote.
The freshman Democrat also shared a photo of her and three other members of the so-called "Squad," writing: "Sisterhood is everything."
Newsweek reached out to the Trump campaign for comment.
In May, Biden appointed Ocasio-Cortez as co-chair of his climate policy task force in a move that was seen as an attempt to appeal to progressives that supported the Green New Deal. The task force released a series of proposals in July, including recommending that carton pollution from power plans be eliminated by 2035 through an increase in clean energy resources.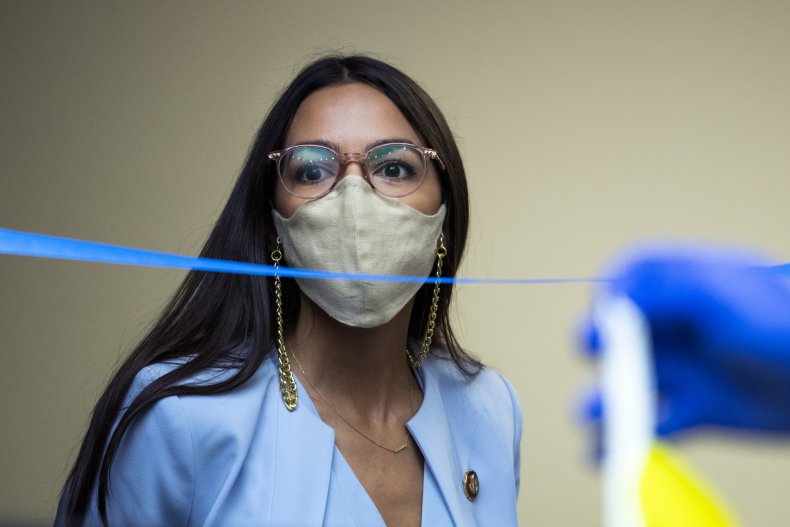 The proposals did not explicitly call for a fracking ban, but Ocasio-Cortez has repeatedly railed against fracking. After Senator Kamala Harris said Biden's administration would not ban the practice during the vice presidential debate, Ocasio-Cortez tweeted that fracking was bad.
"First of all, I will repeat, and the American people know, that Joe Biden will not ban fracking," Harris said at the debate. "That is a fact."
"Fracking is bad, actually," Ocasio-Cortez tweeted.
During that same debate, the New York freshman lawmaker also tweeted at Vice President Mike Pence after he called her by her popularly-used initials "AOC." "For the record @Mike_Pence, it's Congresswoman Ocasio-Cortez to you," she wrote.
Since her inauguration, Ocasio-Cortez has amassed a large group of dedicated progressive supporters—as well as conservative enemies—through her savvy use of social media. On Tuesday night, the congresswoman's first foray into Twitch, a popular gaming live streaming service, drew more than 400,000 viewers. She was joined by fellow first term Democratic Congresswoman Ilhan Omar for an Among Us gaming session to encourage young people to vote on November 3.