It's Time for Congress to Address Election Subversion | Opinion
The passage of Texas Senate Bill 1 deepens the crisis facing our democracy. It is the latest example of a wave of 216 bills introduced in 41 states authorizing partisan interference in professional election administration. Combined with phony audits like the one still unfinished in Arizona and a nationwide epidemic of resignations by election officials in response to these forms of harassment, faith in elections is being undermined everywhere. The U.S. Senate must act boldly to protect free and fair elections when it returns on Sept. 13.
The Texas bill that just passed out of a controversial special session in Texas is one of the most egregious examples of election subversion legislation in the country. This voter suppression package included provisions that boost the power of partisan poll workers and criminalizes routine election administration procedures. These changes to how elections are run are not minor procedural updates. They fundamentally shift the power away from trusted election officials and toward partisan political actors.
As our organizations warned in a recent report, had election subversion measures like these been in place during the 2020 election, attempts to change the outcome and overturn the will of the voters might have been successful.
Without forceful action by Congress establishing nationwide standards outlawing this nonsense once and for all, these voting restrictions will continue to proliferate on the state level.
These problems are compounded by the effort to sow doubt in our election systems, vividly illustrated by the debacle ongoing in Arizona's Maricopa County. There, partisan legislators are attempting to undermine the election results with the help of hired conspiracy theorists and election deniers.
To be clear, good faith audits of election systems are critical to ensuring the accuracy of results and are already required in nearly every state. But as Republican Board of Supervisor Jack Sellers put it, what we are witnessing in Arizona is an "adventure in never-never land."
In a recent independent report, former Republican Kentucky Secretary of State Trey Grayson and University of Wisconsin elections expert Barry Burden found that the firm hired by the Arizona Senate to conduct the "audit" failed to meet the most basic standards for a credible review, including allowing "glaring lapses in the safekeeping of ballots and equipment."
This is not just a problem for Arizona. The Maricopa County spectacle has had a dangerous, if predictable, contagion effect.
From Pennsylvania to Wisconsin to Massachusetts, unprincipled politicians across the country are racing nearly nine months after-the-fact to prove their fealty to Donald Trump and the Big Lie by proposing "forensic audits" in states, despite the 2020 electing being free, fair and secure with zero evidence of irregularities in the process or results.
While the lies about the 2020 election are kept afloat, we are facing another danger to our elections: the precipitous loss of trusted election workers in jurisdictions across the country.
As David Becker of the nonprofit Center for Election Innovation and Research observed: "We may lose a generation of professionalism and expertise in election administration."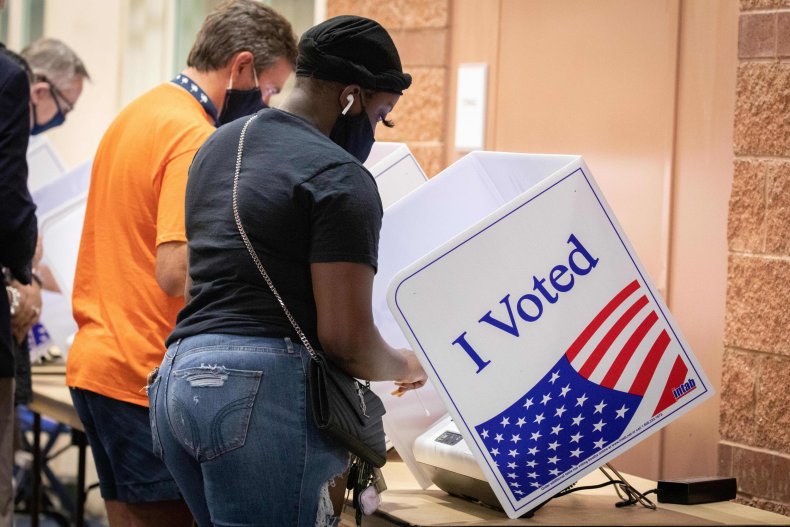 These nonpartisan officials are the unsung heroes of our democracy, responsible for counting ballots, canvassing and certifying election results. Local officials are also viewed more favorably than state elected leaders by both Democrats and Republicans, something that has been a trend for the last decade. Yet, according to a survey conducted earlier this year by the Brennan Center for Justice, nearly one in six local election workers received threats of violence, and almost one in three said they feel unsafe because of their job.
Given the climate created by all of that misconduct and the phony "audits," is it any wonder that election workers are fleeing their jobs?
Election subversion is voter suppression's best friend, and anti-democratic forces are attempting to pair the two together to threaten the very foundations of our democracy. But the American people are signaling that they won't stand for it, and members of Congress should take heed. In fact, ​​77 percent of Americans say that counting every vote is more important than having their preferred presidential candidate win.
Fortunately, Congress seems to be listening. Senator Amy Klobuchar (D-Minn.), Senator Raphael Warnock (D-Ga.) and some of their colleagues have introduced legislation—including the Protecting Election Administration from Interference Act (S. 2626) and the Preventing Election Subversion Act (S. 2155), with more on the way when the Senate debates voting rights in the coming weeks.
Together, these bills and others like them would set national standards for post-election activity, including the careful handling of ballots that would stop phony reviews like the one in Arizona. The anti-election subversion legislation would also impose strong, enforceable federal penalties against those who would use threats and violence to try and stop the even-handed administration of elections. Most importantly, they would establish a federal prohibition on the politically-motivated removal of election officials, as several proposed and enacted bills purport to allow.
These measures—along with additional common-sense reforms like requiring the use of paper ballots so that there is a verifiable record of the election results—are critical to protecting our elections and voter confidence. And they are popular, garnering overwhelming support from Americans across the political spectrum.
While elections are inherently a contest between politicians, partisanship has no place in the administration of elections. Even-handed, nonpartisan, professional oversight of the election process is what makes partisan contests fair and ensures the results are accepted as legitimate. This is a critical component of the federal response to efforts to suppress and subvert the vote. It is time for Congress to do something about it.
Christine Todd Whitman is a former governor of New Jersey and served as an administrator of the Environmental Protection Agency.
Norman Eisen, a former ambassador to the Czech Republic and former President Barack Obama's "ethics czar," served as special impeachment counsel to the House Judiciary Committee in 2019-20.
Whitman and Eisen are co-chairs of States United Action.
Jessica Marsden is a counsel at Protect Democracy working on election, voting rights and disinformation issues.
The views expressed in this article are the writers' own.