Top Pennsylvania Senate Republican Pushes for New Election Audit After Trump Pressure
The GOP leader of the Pennsylvania state Senate said an investigation into the results of the 2020 election is gaining steam following substantial pressure from former President Donald Trump.
Senate President Pro Tempore Jake Corman, a Republican, tweeted on Friday that a "forensic" review of the past presidential election was "moving forward."
The former president had publicly applied pressure to Corman and other GOP lawmakers in Pennsylvania to launch a review similar to the highly controversial audit undertaken by Arizona Republicans.
"After many weeks of work behind the scenes, we are now moving forward to conduct a forensic review of recent elections. I am confident that we have the right team in place to make it happen," Corman wrote on Twitter.
But the GOP state senator also removed loyalist Trump supporter state Senator Doug Mastriano, a Republican, from leading the probe. Corman accused Mastriano of being only interested in "politics and showmanship."
The top Pennsylvania Republican said Friday that he was "deeply disappointing that Sen. Mastriano has retreated from conducting a forensic investigation of the election in Pennsylvania, and it is discouraging to realize that he was only ever interested in politics and showmanship and not actually getting things done."
Corman had previously appeared noncommittal to moving forward with a review of the 2020 results and avoided discussing the issue in public, The Philadelphia Inquirer reported. However, earlier this month he had told local channel ABC 23 that GOP lawmakers were "trying to provide oversight that everyone is comfortable with the election process moving forward."
Back in mid-June, Trump issued a statement rebuking Corman for not pushing forward with an election audit.
"Why is State Senator Jake Corman of Pennsylvania fighting so hard that there not be a Forensic Audit of the 2020 Presidential Election Scam? Corman is fighting as though he were a Radical Left Democrat, saying that a Forensic Audit of Pennsylvania not take place," the former president said at the time.
Even after Corman announced Friday that the investigation would move forward, a spokesperson for Trump criticized the Republican lawmaker.
"Why do RINOs [Republicans in name only] always prefer to work 'behind the scenes'? We want a transparent audit led by Mastriano! Not a con job by Corman who already has lied, stone walled the audit, and is now smearing @dougmastriano, who without, the audit would not be possible!" Trump's spokesperson Liz Harrington tweeted.
Republican efforts to investigate the 2020 election results are driven by Trump's and his allies' baseless claims that it was "rigged" or "stolen" for President Joe Biden. This extraordinary allegation has been thoroughly litigated in state and federal courts. The claims has been wholly discredited.
Dozens of election challenge lawsuits have failed in state and federal courts. Even judges appointed by Trump and fellow Republicans have rejected the generally bizarre allegations. Previous audits and recounts in key battleground states—including in places where the election was overseen by pro-Trump officials—have already reaffirmed Biden's victory.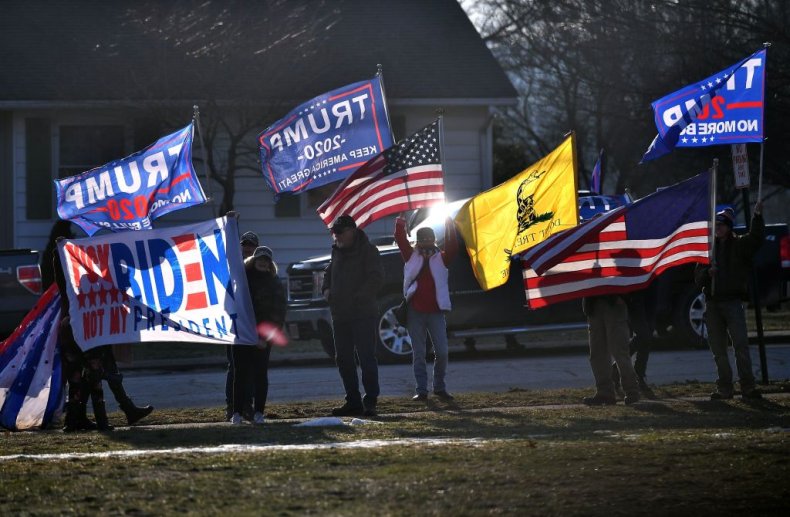 Former U.S. Attorney General William Barr, who was widely viewed as one of Trump's most loyal Cabinet members, said in December that there was "no evidence" to support the claims of widespread fraud. The Cybersecurity and Infrastructure Security Agency at the Department of Homeland Security also described the 2020 election as the "most secure in American history." The agency, which was then led by a Trump appointee, asserted that there was "no evidence that any voting system deleted or lost votes, changed votes, or was in any way compromised."
Newsweek reached out to Trump's office for comment, but did not immediately receive a response.