It's Time to End the Sale of All Flavored Tobacco Products | Opinion
The tobacco industry has a decades-long history of deceiving the public about the health risks of their products and their marketing to kids. It's not surprising that the industry is now disseminating misleading information about e-cigarettes.
It is especially irresponsible that the industry is downplaying the severity of youth e-cigarette use. From 2017 to 2019, e-cigarette use among U.S. high school students more than doubled, from 11.7 percent to 27.5 percent. While youth e-cigarette use declined in 2020, 3.6 million middle and high school students still used e-cigarettes—the same number that led the U.S. Surgeon General and FDA to declare an epidemic in 2018.
It's clear that kids aren't just experimenting with e-cigarettes but using them regularly and becoming addicted. The percentage of high school e-cigarette users who report frequent or daily use—a strong indicator of addiction—has risen steadily, even in 2020, to 38.9 percent. This increase isn't surprising because e-cigarettes can deliver massive doses of nicotine that can quickly addict kids. A single e-liquid pod (cartridge) can contain as much nicotine as a whole pack of 20 cigarettes or more.
And that's a problem—because e-cigarettes pose serious risks to the health of young people. The Surgeon General has concluded that youth use of nicotine in any form, including e-cigarettes, is unsafe. Nicotine is a highly addictive drug and can harm adolescent brain development.
A growing number of studies have also found that young people who use e-cigarettes are more likely to subsequently become smokers, and many are low-risk youth who would not have otherwise smoked cigarettes. A 2018 report by the National Academies of Science, Engineering and Medicine (NASEM) found the effect of e-cigarette use on cigarette smoking initiation to be causal, concluding, "There is substantial evidence that e-cigarette use increases risk of ever using combustible tobacco cigarettes among youth and young adults." A July 2021 report issued by the World Health Organization (WHO) concluded that youth who use e-cigarettes are more than twice as likely to go on to smoking cigarettes.
We know that flavors have driven the crisis, with 83 percent of youth e-cigarette users using flavored products and 70 percent saying they use e-cigarettes "because they come in flavors I like." With over 15,000 flavors available today, who can blame them?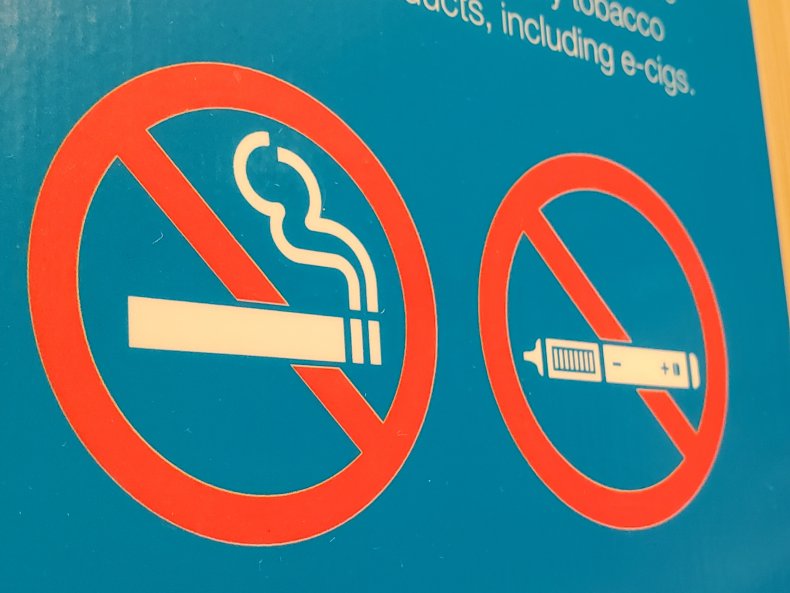 E-cigarette proponents also misrepresent and overstate the effectiveness of e-cigarettes in helping smokers quit. Make no mistake—every major public health authority in the U.S. that has comprehensively reviewed the science, as well as the WHO, has found there is insufficient evidence to conclude that e-cigarettes are effective for smoking cessation.
The U.S. Preventive Services Task Force found "the evidence on the use of e-cigarettes for tobacco smoking cessation in adults, including pregnant persons, is insufficient, and the balance of benefits and harms cannot be determined." Additionally, the 2020 Surgeon General Report on Smoking Cessation concluded that there was inadequate evidence to conclude that e-cigarettes increase smoking cessation.
A recent study that examined the impact of San Francisco's law banning the sale of all flavored tobacco products argued that the city's ban on the sale of flavored tobacco products was not effective. But the San Francisco study has many flaws and is insufficient to conclude any cause-and-effect relationship between the San Francisco law and the short-term impacts the study found. Even if accurate, the study merely highlights why the legislation is so important. If youth cigarette smoking went up in San Francisco immediately after the prohibition on flavored products was implemented, it would have been because so many kids became addicted to highly popular flavored e-cigarettes prior to the policy. Without the law ending the sale of flavored tobacco products, more kids would continue to become addicted each year.
Another new study from researchers at RTI International, Stanford University School of Medicine and the California Tobacco Control Program found that sales of flavored tobacco products were virtually eliminated in San Francisco after implementation of the policy, without widespread substitution to non-flavored products.
Flavored products, like e-cigarettes, have long been a favorite tobacco industry strategy for targeting kids, Black Americans and others. Half of all kids who ever try smoking start with menthol cigarettes. The evidence shows that menthol makes it easier for kids to start smoking and harder for smokers to quit. Because of the tobacco industry's predatory marketing, 85 percent of Black smokers now smoke menthol cigarettes, compared to less than 10 percent in the 1950s. Menthol cigarettes are a major reason why tobacco use is the number one cause of preventable death among Black Americans—claiming 45,000 Black lives each year.
We know that if any flavored tobacco products remain on the market, kids will get their hands on them, and the youth nicotine addiction crisis will continue unabated. Contrary to the tobacco industry's self-serving disinformation efforts, ending the sale of all flavored tobacco products is a critical strategy to prevent kids from ever starting to use and becoming addicted to these products, including e-cigarettes. That's the goal we should all share.
Matthew L. Myers is president of Campaign for Tobacco-Free Kids.
The views expressed in this article are the writer's own.