It's Time to End Systemic Racism in Policing Once and for All | Opinion
Now that the trial of former Minneapolis police officer Derek Chauvin has ended with a guilty verdict on all counts for the murder of George Floyd, many are breathing a sigh of relief. Some are relieved to see a semblance of justice, with the rare conviction of a police officer for killing a Black person. Others may be relieved that there was no social unrest after a feared acquittal.
But, in a rhetorical sense, many Black and brown people still cannot breathe at all, as the nation struggles to reckon with the systemic racism that pervades policing and affects their lives.
Immediately before and after the verdict came down, horrifying instances of police violence continue to be exposed. In Elizabeth City, North Carolina, a private medical review found that Pasquotank County Sheriff's deputies shot Andrew Brown as he was fleeing, with a fatal shot to the back his head. In Virginia, a Spotsylvania County sheriff's deputy shot Isaiah Brown ten times while Brown was on his phone with emergency dispatch. In Brooklyn Center, Minnesota, Daunte Wright was shot and killed by the police while in his own car during a traffic stop. In Chicago, 13-year-old Adam Toledo was killed by police officer to whom he was attempting to surrender. Meanwhile, another video was released showing police pepper spraying, striking and threatening Army Second Lt. Caron Nazario in Virginia. That incident was non-fatal, but could have easily ended in injury or death like so many others. And more than a year after Breonna Taylor was shot and killed by Louisville police during a "no-knock" raid, the Department of Justice is investigating the Louisville Police Department for civil rights violations and other similar abuses.
In light of this clear and plain evidence of continued state violence, we can't help but wonder: What else needs to happen, who else needs to die, before political leaders take the necessary action to begin dismantling the systems within law enforcement that lead to Black and brown people being disrespected, injured and sometimes killed at the hands of police?
We ask this question coming from two very different perspectives: One of us is a Black man who has served as a civil rights lawyer and social justice activist, and has a long record of fighting to end police violence against Black and brown communities and ending the school-to-prison pipeline; the other is a white Jewish man who has served in government, founded tech start-ups, and runs an anti-hate organization that fights discrimination and works with law enforcement to track and stop white supremacists and other violent extremists. But whatever our differences, a single sentiment unites us: We agree that racism, in all its forms, must be eradicated. That includes systemic racism in policing.
Both of us and our organizations recognize the crucial work of law enforcement and know that the vast majority of police officers are motivated to keep the communities that they are sworn to serve and protect safe. But even the best officers can only do so much within a system that disproportionately inflicts immeasurable damage on certain segments of our society. That's why we believe that systemic change, as envisioned by many of the provisions in the George Floyd Justice in Policing Act and other proposals currently under consideration at the federal, state and local levels, is vital.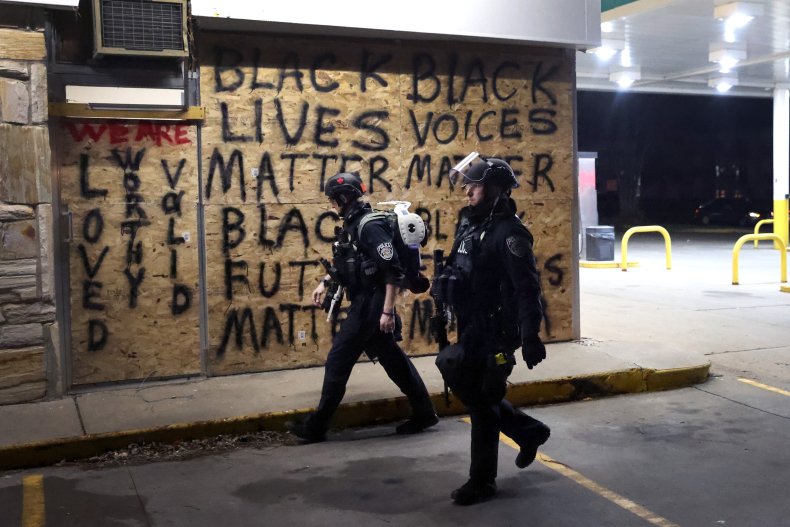 The proposals in the Justice in Policing Act shouldn't be controversial: They include common-sense solutions to endemic issues, like training officers to use less lethal force and employ de-escalation techniques; ending racial profiling; and holding the officers who engage in misconduct accountable.
But we must do more than just pass the bill, which has passed the House of Representatives and is now sitting in the Senate. We must also embrace a whole-of-society approach to ending systemic racism and all forms of hate across the board, in all of our institutions and in all segments of society.
In the last few years, a through line of hatred, and those who espouse it, has emerged out of the shadows and into plain sight. In Charlottesville, they chanted "Jews will not replace us." In El Paso, a mass shooting that killed 23 and harmed many more was motivated by anti-immigrant extremism. At the U.S Capitol on January 6th, insurrectionists waved Confederate flags, wore "Camp Auschwitz" shirts, and left a noose hanging outside the seat of our nation's government. It is a through line with a tragic and long record in a country still coming to terms with our history of slavery.
That a number of the insurrectionists on January 6th were former or current law enforcement officers, and that some extremist groups expressed a desire to recruit among law enforcement, must not be overlooked. Those facts merely underscore the interconnectedness and the urgency of the hate problem.
But there is another through line in American history that gives us reason for hope. It is an arc that, as Dr. Martin Luther King, Jr. said, bends toward justice. It is the one that saw Americans from different backgrounds, including our predecessors at our respective organizations, come together to help pass historic laws like the Civil Rights Act of 1964, the Voting Rights Act of 1965, and more recently, the Matthew Shepard and James Byrd Jr. Hate Crimes Prevention Act of 2009.
As a Black man and a white Jewish man, we recognize that although our ancestral tragedies are not identical, the lessons from them are eternal: Wherever systemic racism is found, it must be resisted. And today, we find ourselves at another inflection point in history. There are constructive proposals on the table that would address not only systemic racism in law enforcement, but also the devastating impact of hate and extremism on our society. The proposals include elements of the George Floyd Justice in Policing Act, the Khalid Jabara-Heather Heyer NO HATE Act, the COVID 19 Hate Crimes Act, the NO BAN Act and the Domestic Terrorism Prevention Act, among others.
As we mourn the losses of George Floyd, Daunte Wright, Adam Toledo and too many others, it is time to act.
Jonathan Greenblatt is CEO and National Director of the Anti-Defamation League. Damon Hewitt is the acting president and executive director of the Lawyers' Committee for Civil Rights Under Law.
The views in this article are the writers' own.