It's Time for the GOP to Let Trump Go | Opinion
Former president Donald Trump has all but announced he's ready to run for president again in 2024. He's headlining CPAC in Texas, which begins this week. Trump accomplished some important things while president, but it's time for the GOP to let him go. The party needs to stop promoting him, refuse to indulge his fantasies of running, and back someone else for the nomination for the sake of conservatism and the country. Supporting Trump no longer makes sense morally, politically, or strategically.
In a recent speech in Washington, D.C., Trump not only hinted he was ready to run again but asserted that by doing so he would save the party and help the American people. "You still need somebody in the White House," he told the crowd. "You need help—and I think that help will be forthcoming."
Of course, while Trump was in office many of his policies and decisions did help the conservative cause. He bolstered religious liberty issues, defended family values from transgender indoctrination in education, and most importantly, nominated multiple judicial giants to the federal judiciary, including the Supreme Court. Many conservatives think regardless of how the 2020 election went, including the Jan. 6 aftermath, what he did in terms of appointing stellar originalist judges to the federal bench overrides any mistakes made since then.
But the fact that Trump is already telling GOP audiences he wants to run again out of pure altruism is one of the many reasons the GOP needs to let him go. Trump lost the 2020 election and didn't exit quietly or with grace. Whether the Jan. 6 debacle was an organized insurrection Trump orchestrated or a bunch of loonies acting in the name of their MAGA leader, Trump didn't handle that day the way an honorable commander in chief should. The events of Jan. 6 still contribute greatly to the current polarization of the country at large.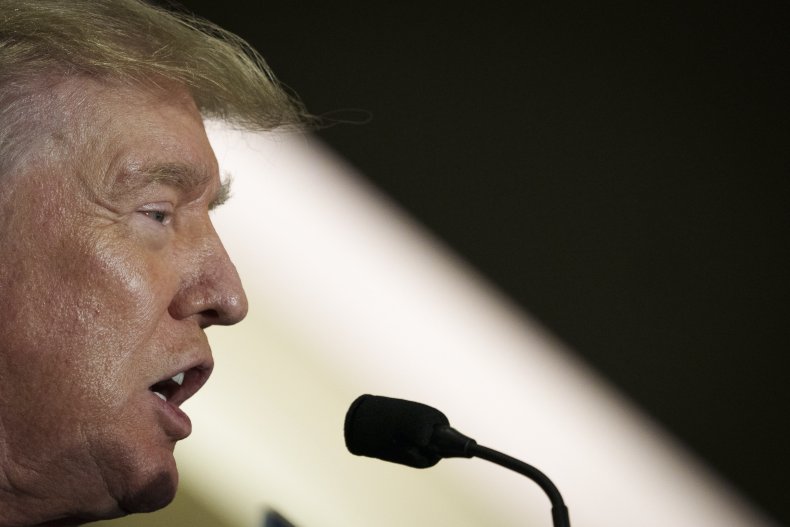 Since then, and likely because he wanted to keep the option to run again open, Trump has not shown the characteristics of a man who should represent conservative Americans. Any one of his statements via his Save America PAC reads like something a tween would text his friends after his crush rejects him. Trump can't handle criticism without becoming defensive, often melting down into a temper tantrum, online or in person. Morally speaking, he's simply no longer the best choice.
In terms of pure politics, Trump's overcome by his own weakness of character and grit, even as he talks a big game. His Twitter posts alone proved that, to say nothing of his bragging in speeches or day to day life while making major policy decisions in the White House. He creates drama and divisiveness wherever he goes—especially now post-presidency. Much of this could have been forgiven due to his judicial appointments or if he had just retreated to Mar-a-Lago in peace in 2020. But he didn't.
In terms of pure strategy, the GOP need not back itself into a corner and continue to support Trump as if he were the only viable GOP candidate. This not only demonstrates their inability to see what a disaster the last two years have been for the conservative cause, endlessly drowning in the aftermath of Jan. 6—regardless of whether that's because Democrats are driving the investigation or because Trump failed them—but short-sightedness for the future.
There are other viable, talented, appealing men and women who embrace conservative ideals and appear to have the kind of character and leadership abilities this country deserves: Ron DeSantis, Nikki Haley, Tim Scott, and Kristi Noem are just a few, and there are others. The Biden administration is struggling, and the incumbent's approval ratings are tanking. In terms of pure strategy, it would be foolish for the GOP to encourage a single star player, who has been red-carded, to get back in the game. Pick a fresh but talented athlete who's been on the bench but itching to play. It's not a complex strategy, but it is sound.
Many conservatives gave Trump a chance and were glad they did so. If anything else, this past year's "blockbuster victories" at the Supreme Court proved that. But the aftermath of the 2020 election showed Trump is no longer the best person to represent the conservative movement morally. Politically, he'd damage what conservatives are trying to accomplish, and strategically, other politicians will have a better chance of beating Biden and turning the country around.
Nicole Russell is a mother of four who has worked in Republican politics. Her writing has appeared in The Atlantic, The Daily Beast, and the Washington Examiner. She is an opinion columnist at the Fort Worth Star-Telegram.
The views expressed in this article are the writer's own.