'It's Time' to Protect Mueller From Trump's Fury, Say Democrats
Democrats will renew their push Tuesday to protect special counsel Robert Mueller and his Russia investigation in Congress with legislation after President Donald Trump lashed out at the probe following an FBI raid on his personal lawyer Michael Cohen.
"Attorney–client privilege is dead!" Trump tweeted early Tuesday, calling the investigation "A TOTAL WITCH HUNT!!!" in a further message.
Mueller's investigation is examining allegations the Trump campaign colluded with Russia to interfere in the 2016 presidential election.
On Monday the FBI raided Cohen's office, home, and a hotel room with a series of warrants. Afterward, Cohen's lawyer Stephen Ryan said the raid was the result of a tip from Mueller. Three sources told The Washington Post Cohen is under federal investigation on allegations of bank and wire fraud as well as campaign finance violations.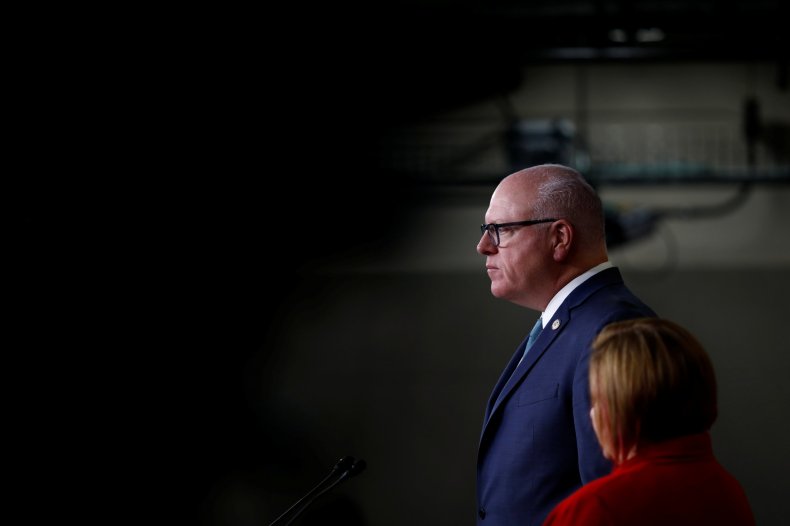 Trump told reporters "many people have said" he should fire Mueller, and he added he was justified in firing former FBI Director James Comey last year as the latter probed his campaign.
"We should all be disturbed by President Trump's willingness to undermine the special counsel investigation. It's time for congressional Republicans to work with us to #ProtectMueller," tweeted Democratic Representative Joe Crowley, chairman of the House Democratic Caucus following Trump's comments. Crowley has said he may run to replace Minority Leader Representative Nancy Pelosi if she decides to step down.
Tennessee Democratic Representative Steve Cohen tweeted that he will renew his push for a vote on legislation introduced last year to protect the special counsel Tuesday as Congress reconvenes after a two-week break.
Related: Mueller tells court Paul Manafort partner Rick Gates knew they were dealing with ex-Russian intelligence agent
A poll conducted in January shows 62 percent of Americans back laws to protect the special counsel from being fired.
Representative Cohen tweeted that he and 141 Democratic co-sponsors on the bill "need Republicans to join and bring to floor" and that he only needs support from about 25 GOP representatives.
Texas Democratic Representative Sheila Jackson Lee has introduced a similar piece of legislation. Jackson Lee agreed with Senator Cory Booker's statements Monday that "the need for Congress to protect Mueller's investigation has never been more clear." Booker is sponsoring a bipartisan bill to protect the special counsel with Republican Senator Lindsey Graham in the Senate.
Deputy Attorney General Rod Rosenstein is overseeing Mueller's investigation, which has resulted in 19 indictments so far—including former Trump National Security Adviser Michael Flynn and former Trump campaign chairman Paul Manafort.
Rosenstein is the official who would be tasked with firing Mueller if Trump requested, although Trump could potentially replace him with another appointee who would carry out the job. The multiple pieces of legislation seeking to protect the special counsel would do so through mechanisms like sending the decision through a lengthy judicial review process.
"Congress must pass our bipartisan bill to protect the special counsel," Booker tweeted Monday. Yet Graham did not send out a similar message.
Congressional Republicans in the House and Senate have shown little urgency to pass any of the bills. In January, Republican Representative Kevin McCarthy of California told NBC's Meet the Press that he didn't "think there's a need for legislation right now to protect Mueller."
When Trump indicated in late March that he wanted the investigation stopped after Mueller subpoenaed documents from the Trump Organization, Republicans instead took to television to warn him against firing Mueller.
Graham said on CNN's State of the Union that firing the special counsel "would be the beginning of the end of [Trump's] presidency, because we're a rule of law nation."
House Speaker Paul Ryan and Senator and Senate Majority Leader Mitch McConnell also backed Mueller, telling reporters the investigation should continue. Ryan said he has "received assurances" that Mueller will not be removed.