It's Work-From-Home Time for Congress After Passing Coronavirus Stimulus Package
Congress is out the door for at least several weeks after completing its most important task on its to-do list: pass an historic $2 trillion economic stimulus to combat the coronavirus epidemic.
The House of Representatives passed the legislation by a voice vote Friday—but not before a high-profile endeavor by a first-term Republican to derail its bipartisan endorsement forced hundreds of members to scramble back to Washington, D.C.
The Senate unanimously approved it on Wednesday. President Donald Trump swiftly signed the measure into law, which provides checks to Americans, expands unemployment insurance, rescues corporations, and throws a lifeline to small businesses.
Now lawmakers will return to working from home--just like millions of Americans have been forced to do--as the U.S. tries to slow the spread of coronavirus. Congress is not expected to return to the nation's capital until April 20, at the earliest.
"It's a little bit of a paradox," Rep. Dean Phillips (D-Minn.) told Newsweek. "I thrive on face-to-face interaction. Being somewhat sequestered takes a toll."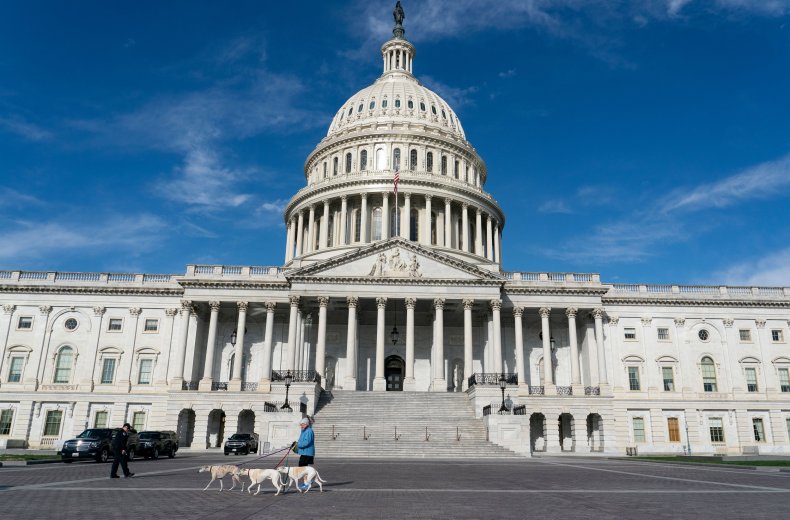 Congress will likely not commence except for in case of emergency, which would require lawmakers to be present since no remote voting system yet exists or is allowed under current rules.
Though members will now be forced to conduct their legislative business over the phone, it doesn't mean they aren't already planning their next task. Congress has their sights set on Phase 4, another stimulus package they hope to draft in the coming months that would likely offer more medical funding and an economic boost as the virus loosens its grip on the country.
"Our state and local governments will need vastly more support for preventing, preparing and responding to the crisis," House Speaker Nancy Pelosi (D-Calif.) said. "Our hospitals and health systems still need vast infusions of funding so they can treat those in need."
From student debt relief and pensions to money for small businesses and infrastructure, lawmakers from both sides of the aisle would like to see a wide variety of topics be addressed.
"The virus is here. We did not invite it. We did not ask for it. We did not choose it," said House Minority Leader Kevin McCarthy (R-Calif.). "But we will fight it together until we win together."