Donald Trump Greeted at Ivana's Funeral With Fans Calling for 2024 Run
Former President Donald Trump was greeted by fans as he attended the funeral of his first wife Ivana in New York City on Wednesday.
Outside of Frank Campbell Funeral Home in Manhattan, Trump supporters called out to him as the former president prepared to walk out of the location following the procession of the casket, telling him "We love you," and shouting "2024!"
Trump, who was standing alongside his wife Melania and daughter Ivanka, appeared to acknowledge the crowd with a slight raise of his hand. His son Eric, who also stood next to his father, was seen pumping his fist after Trump's fans yelled "2024."
The former president attended his ex-wife's funeral a week after he announced her death on his social media platform Truth Social last Thursday, remembering her as "a wonderful, beautiful, and amazing woman, who led a great and inspirational life."
Trump and Ivana were married for 15 years and had three children together.
Although their divorce was subject to significant media coverage, the two remained close after their split, and Ivana was an enthusiastic supporter of her ex-husband's 2016 presidential campaign.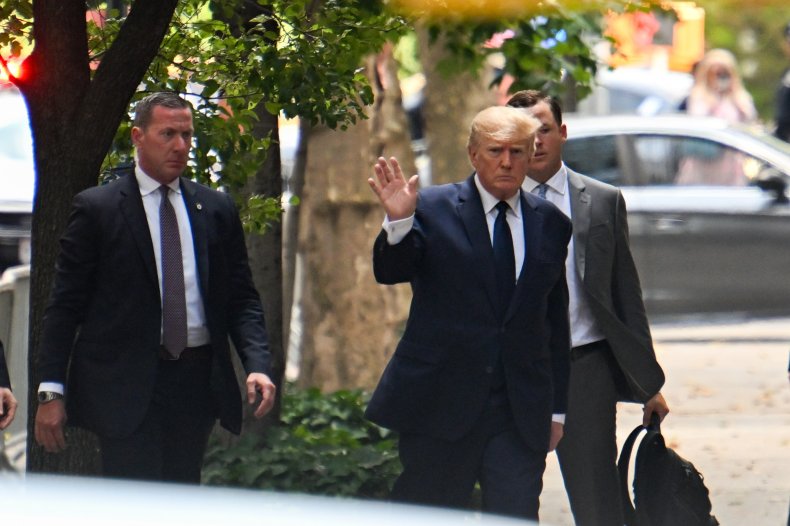 Ivana, who was 73 at the time of her death, died due to "blunt impact injuries" to the torso after falling down the stairs in her Manhattan home. A medical examiner has determined the death to have been accidental.
The invitation-only "celebration of life" was held at the St. Vincent Ferrer Roman Catholic Church steps from Trump's longtime Upper East Side residence.
Others who attended the service included Trump and Ivana's eldest son, Donald Jr., Trump's youngest son, Barron, Trump's younger daughter, Tiffany, and Ivanka's husband, Jared Kushner.
In a post shared to Instagram, Donald Jr. paid tribute to his late mother, writing, "Mom, we will miss you incredibly. Thanks for always pushing us hard, not letting us get away with anything, and instilling so many incredible values and personality traits."
"From your sense of humor to your sense of adventure, I am who I am today because of you," he added. "I love you very much. R.I.P."
In lieu of flowers, the Trump family had requested donations be made to the Big Dog Ranch Rescue, which praised Ivana for her philanthropist efforts in its tribute on the rescue's website.
"Ivana Trump was an incredible woman—a force in business, a world-class athlete, a radiant beauty, and caring mother and friend," the website said. "Ivana Trump was a survivor. She fled from communism and embraced this country. She taught her children about grit and toughness, compassion and determination."
"Ivana was philanthropically involved with many charities throughout her entire life, but always remained steadfast and passionate in her love for animals."