Ivana Trump's Cause of Death Revealed as Friend Confirms Declining Health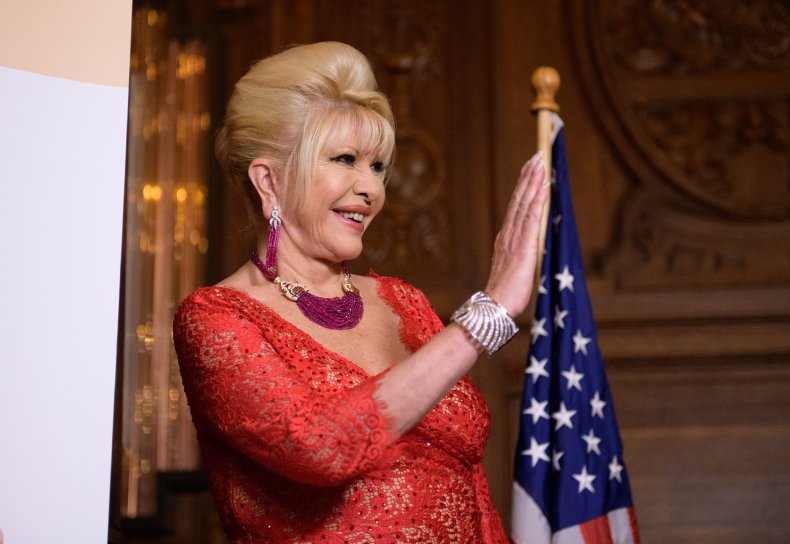 Ivana Trump's cause of death has been confirmed as her close friend revealed details about her declining health on Friday.
The New York City Office of Chief Medical Examiner found that Trump, the 73-year-old ex-wife of former President Donald Trump and the mother of three of his children, died due to "blunt impact injuries of torso" sustained during an accidental fall at her Manhattan home on Thursday, according to a statement obtained by Newsweek. Emergency workers found Ivana Trump dead at her home at around 12:40 p.m. Thursday following a report of cardiac arrest.
Police are investigating the possibility that Trump may have suffered her fatal injuries after falling down a staircase, according to an Associated Press report citing two people familiar with the matter who spoke on the condition of anonymity. It was unclear whether Trump had heart issues that could have caused the fall, or whether the cardiac arrest report was related to her death.
According to a New York Post interview that was later confirmed by The Daily Beast, Trump's friend Zach Erdem said she had not been "feeling well" for weeks and had been unable to "get out of her house." Erdem reportedly said that Trump's mobility issues caused by a problem with her hip forced her to skip recent plans to visit him.
"There was something going on with her hip, she couldn't walk," Erdem said. She said she wasn't feeling well ... She said she was having pain in her leg. ... She couldn't get out of her house."
Erdem said that he had urged Trump to visit a doctor the last time that they spoke but she refused, reportedly telling him "I hate going to doctors" and "I get more sick going to doctors." He said that Trump had been planning to visit him after a trip to Saint- Tropez, France, for which she had been planning to leave on Friday.
Although Erdem said that Trump had been in ill health and had mobility issues, she had dined out in Manhattan the day before her death. She visited Altesi Ristorante, only a short distance from her Upper East Side neighborhood apartment, on Wednesday afternoon, according to The U.S. Sun.
Paola Alavian, the restaurant's owner, told the outlet that he "shared an extremely normal conversation" with Trump during the visit. He said that her health seemed largely "normal" while she was at the restaurant, adding that he was "a little bit in shock" to learn of her death.
"Her health seemed normal, she looked maybe a little bit tired, but she otherwise seemed OK," Alavian reportedly said.