Who Are Ivana Trump's Kids? Fast Facts About Trump's First Wife
Ivana Trump, the first wife of Donald Trump whose death was announced Thursday, was a former model, businesswoman and the mother of the former president's eldest children: Ivanka Trump, Donald Trump Jr. and Eric Trump.
"Our mother was an incredible woman—a force in business, a world-class athlete, a radiant beauty, and caring mother and friend," the Trump family said in a statement, which was posted online by ABC News.
"She fled from communism and embraced this country," the statement continued. "She taught her children about grit and toughness, compassion & determination. She will be dearly missed by her mother, her three children & 10 grandchildren."
After 15 years of marriage, Donald and Ivana Trump divorced in 1992 after he had a highly publicized affair with Marla Maples. They were reportedly on good terms in recent years. In her 2017 memoir, Raising Trump, Ivana, who died at 73, said she and her former husband spoke once a week, according to the Associated Press.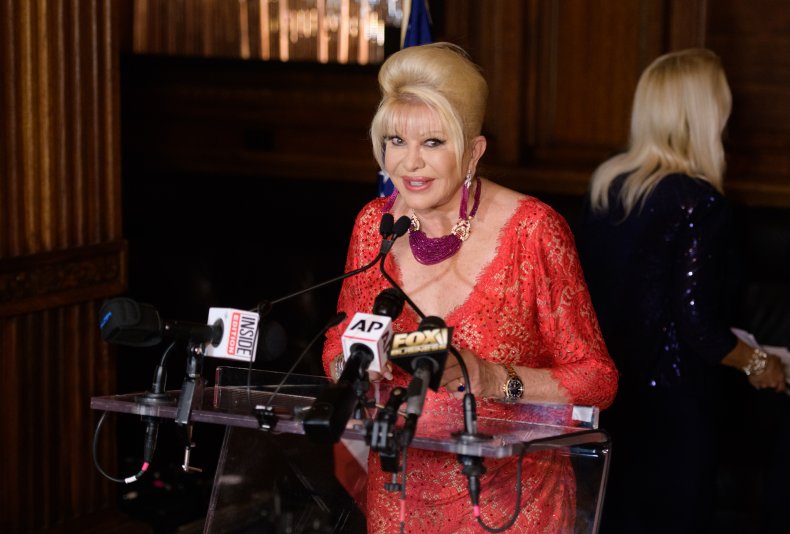 Ivana Trump grew up in communist former Czechoslovakia and married Donald Trump in 1977.
She previously held senior positions—including vice president for interior design and manager of the Plaza Hotel—with the Trump Organization for seven years. After her divorce from Donald Trump, Ivana went on to develop her own clothing, jewelry and beauty lines.
Donald Trump issued a statement about Ivana Trump's passing on his social media platform Truth Social on Thursday.
"I am very saddened to inform all of those that loved her, of which there are many, that Ivana Trump has passed away at her home in New York City," Trump wrote.
"She was a wonderful, beautiful, and amazing woman, who led a great and inspirational life," he said. "Her pride and joy were her three children, Donald Jr., Ivanka, and Eric. She was so proud of them, as we were all so proud of her. Rest In Peace, Ivana!"
According to The New York Times, in her memoir, Ivana Trump wrote that she believes the "credit for raising such great kids belongs to me."
"I was in charge of raising our children before our divorce, and I had sole custody of them after the split. I made the decisions about their education, activities, travel, child care, and allowances. When each one finished college, I said to my ex-husband, 'Here is the finished product. Now it's your turn,'" she wrote.
Newsweek has reached out to Donald Trump's press office for comment.
Update 07/14/2022 at 6:00 p.m. ET: This article was updated to include additional information.