Ivanka Trump Accused of Hypocrisy After Tweeting Fake Quote Claiming 'Decline of Public Morals' Behind Impeachment Push
Ivanka Trump was mocked after tweeting out a false quote that was critical of impeachment, claiming it was written by the famed political thinker Alexis de Tocqueville.
Journalists and historians scrambled to locate the words Ivanka used to defend her father in Tocqueville's works, but were left scratching their heads when no matching quotes were found.
It was then established that the words Ivanka claimed to be from de Tocqueville, who published the influential book Democracy in America in 1835, in fact came from a book written by John Innes Clark Hare nearly a century later.
In his book, Hare was summarizing de Tocqueville's views when he opposed the unsuccessful impeachment attempt of Andrew Johnson, the 17th President of the United States.
"It was long since remarked by de Tocqueville that a decline of public morals in the United States will probably be marked by the abuse of the power of impeachment as a means of crushing political adversaries or ejecting them from office," Hare wrote.
Once Ivanka tweeted the false version of the quote that directly attributed the words to de Tocqueville, sharp-eyed Twitter users soon pointed out the discrepancy. Many went on to claim that her father, President Donald Trump, was in fact responsible for the "decline of public morals" being experienced.
"Trump had affairs with porn stars, ripped off his own charity, pardoned war criminals, is accused of sexual assault and rape, puts children in cages and has lied more than 13,000 times since being in office. Now his daughter is lecturing the public about morals," Mike Elgan wrote.
A number of others also pointed out various statements and actions by Donald Trump that could be taken as a sign of declining public morals as he faced an ongoing impeachment inquiry by the House Intelligence Committee.
A number of officials linked to Donald Trump have this week been giving testimony to establish whether his withholding of congressionally approved military aid in exchange for a politically motivated investigation into former Vice President Joe Biden and his family constituted a quid pro quo arrangement for the benefit of the Trump campaign.
Ambassador Gordon Sondland gave testimony that appeared to shore up the allegations on Wednesday, and Democrats have pressed forward with their demands that Trump should be impeached. However, the issue is split along partisan lines and a majority of Republicans have remained supportive of the president.
Ivanka Trump, unsurprisingly, was among those to stand by her father. The tweet she posted incorrectly attributing the quote to de Tocqueville appears to have come from a Wall Street Journal opinion piece published last month.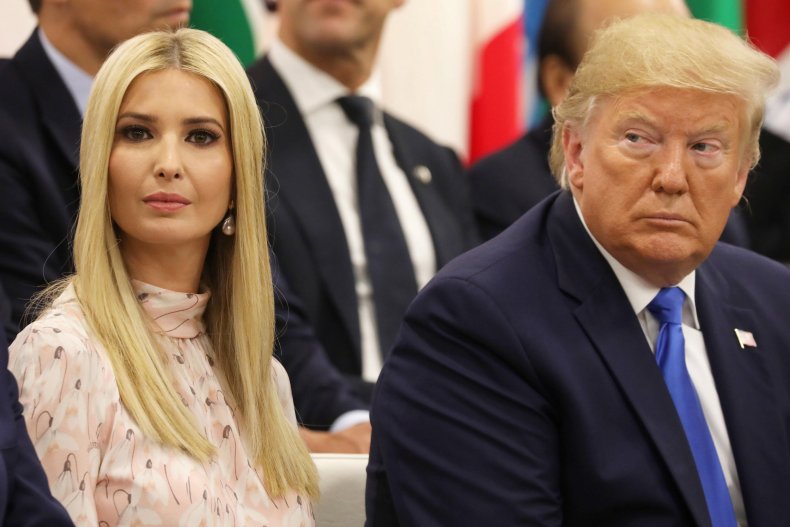 The piece, written by David B. Rivkin Jr. and Elizabeth Price Foley, also incorrectly attributed the quote to de Tocqueville, while arguing that this current impeachment push was a subversion of the Constitution.
De Tocqueville was warning about impeachment being used as a political tool to remove presidents purely on partisan grounds—as the authors of the piece and Hare's original quote explained. The current impeachment inquiries are investigating whether Donald Trump has breached the country's laws.
Newsweek has contacted the White House for comment.
Dow Jones, The Wall Street Journal's parent company, told Newsweek in a statement that the attribution in the opinion piece was amended with a correction.