Ivanka Trump Is Battling Donald Trump Jr. to Run for President, 'Has a Hissy Fit' When He Gets Good Press: Kushner Book Author
First daughter Ivanka Trump was reportedly in a "tussle" of sorts with her older brother, Donald Trump Jr., over who would potentially follow in the footsteps of their father and run for president. She even "has a hissy fit" when Trump Jr. gets good press, said the author of a new book.
In Kushner, Inc., released last week, journalist Vicky Ward quoted President Donald Trump's former economic adviser Gary Cohn as saying of Ivanka: "She thinks she's going to be president of the United States. She thinks this is like the Kennedys, the Bushes, and now the Trumps."
On the KrassenCast podcast on Wednesday, Ward elaborated: "I think there's even a bit of a tussle with Don Jr. because he wouldn't mind having a go himself" at running for president.
Ward told Newsweek on Thursday that "the truth is, Don Jr. plays much better with Republicans," saying he appeared at about 70 events last year for Republicans, while "Ivanka did hardly any."
"It's not exactly a secret in the White House that Ivanka has a hissy fit whenever Donald Trump Jr. gets positive press," Ward said. "She gets especially irked over articles speculating about his political future. Potential fratricide?"
Ivanka, a senior White House adviser, has been called out for acting as if she wants to make a presidential bid, even though her father is running for re-election in 2020.
"I think Ivanka is running for president or something," MSNBC's Morning Joe co-host Mika Brzezinski said in August. "You see on Instagram, she's hopscotching the country as if nothing is wrong, doing little selfies and pictures of herself in Iowa and Indiana, and wherever else, connecting with people—sort of."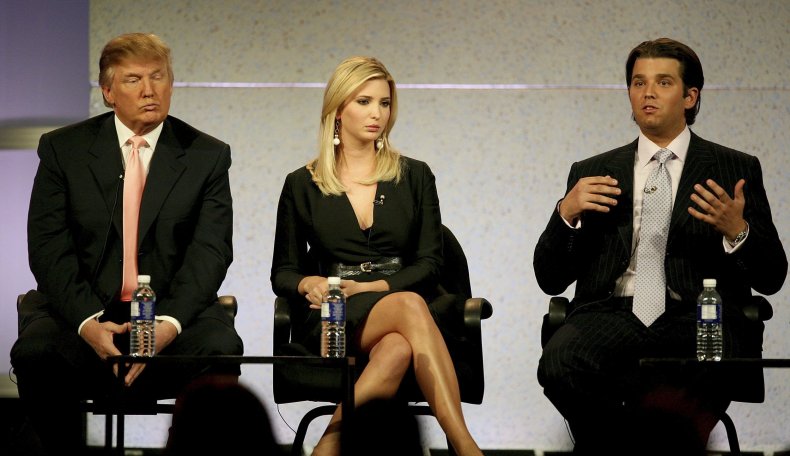 Trump Jr., who is executive vice president of the Trump Organization but frequently tweets on politics, has also sparked conversations about possible political ambitions.
On Fox News in February, while referring to the Russian investigation, Trump Jr. denied having done anything wrong, and said, "I think it's time that Americans get real answers for this rather than allowing the leftists who are running this operation to keep perpetuating these falsehoods about my father, about my family, because they're doing this country a major disservice."
That prompted Fox & Friends co-host Brian Kilmeade to say, "Clearly, he'd have a great political future should he ever run."
President Donald Trump consistently praised his daughter for her work in the White House, but also complimented Trump Jr. as he rallied Trump supporters in the lead-up to the November midterm elections.
"Don's gotten really good," the president reportedly said while watching Fox News last summer. "My people love him."