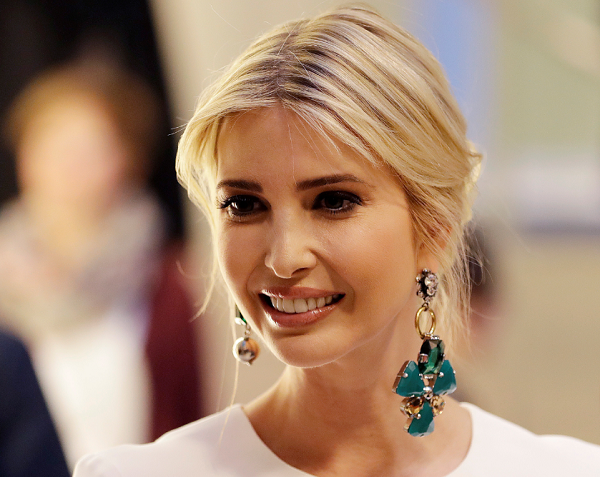 Ivanka Trump is a busy woman: Not only is she a White House advisor to the president of the United States, her father, but her resume includes fashion designer, entrepreneur, former Trump Organization executive and author. Oh, she is also married and the mother of three children. So, if anyone can preach to the importance of living a balanced life, it's certainly Ivanka Trump, right?
Apparently not, seeing as in her new book, Women Who Work: Rewriting the Rules for Success, she encourages working women to let go of the idea that work/life balance even exists.
Nevertheless, Trump does offer working women advice of all sorts for trying to squeeze in as much balance as possible. In the book, which hit shelves Tuesday, she advocates setting goals, creating boundaries and staying disciplined in order to experience some sort of stability and to live a full, well-rounded life.
Trump does so by describing her day-to-day life before her father became president—she even note that pages for the book were submitted to her editor the November 8 election. She details her work as executive vice president of the Trump Organization while still managing to run her own fashion label, train for a marathon and get in lots of quality time with her three kids, Arabella, 5, Joseph, 3, and Theodore, 13 months.
She further advises working women who "choose career over baby" to "be sure to consider your biological clock," because "it can take up to a year for a healthy woman to conceive naturally." Trump also reminds such women that they should "be prepared for the fact that you will be older than your peers at the same level" when returning back to work. For the women who choose both baby and career, Trump warns: "Some people will judge you and think you are less productive than they are because you have to race to get to your daughter's dance recital by six or for a parent-teacher conference midday."
No matter what you choose, she says, establishing a team of trusty colleagues that can efficiently take care of the business while working women are away, on maternity leave, out sick or spending time with their kids can go a long way.
"Be present with your little one, and not wondering whether or not your team is floundering without you," she wrote, adding that working women should, "Find someone trustworthy and capable on your team to act as a gatekeeper once you go on leave."
After all, Trump says having a steady and responsible team is one of that things that allows her to "[leave] the office at six every night to get home in time to give baths and read bedtime stories with my kids."
What Ivanka Trump barely mentions, however, is how handy it can be for women in the workforce to have a full domestic staffs if they are trying to maintain stability in their home lives while taking meetings with other CEOs.
Trump and her husband, Jared Kushner, utilize housekeepers and nannies to keep their household intact while they advise the president in the West Wing. Nevertheless, she only references the domestic help twice in the book—once while stating some of the best snapshots of her kids were "taken by my nanny during the day" and the other in the book's acknowledgements, when she thanks "Liza and Xixi, who are helping me raise my own children."
Following her father's presidential win, New York magazine writer Amy Larocca called on Ivanka Trump to set the record straight about the "women who must work very hard to keep it all so clean, to keep it all running smoothly behind the gold-plated doors of Trump Tower, to help Ivanka portray this spotless ideal she is so determined to protect."
But if her new book is any indication, readers won't be getting any real insight on just how beneficial it is to have outside help in maintaining some level of work/life balance.