Ivanka Trump Says She's Using Her 'Charm and Contacts' to Help Her Father in the White House: Report
Ivanka Trump sees her role in the White House as using her "charm and contacts" to help her father, President Donald Trump, fulfill his ambitions in the White House, she reportedly told family friends.
The eldest daughter of the president has been scrutinized for being given the title of senior adviser in the White House despite having no previous political experience. But Ivanka Trump said she had two attributes she brings to the table, according to a report from The New York Times on Sunday.
"As her role has evolved, Ivanka Trump has let family friends know in the clearest terms that she is in the White House to help her father by using her charm and contacts to cut through Washington's bureaucracy, particularly with Congress," the report read. "Sometimes she has emphasized her official role on the White House staff during West Wing controversies, other times that of being the president's daughter."
Ivanka Trump played a prominent role in the final days before last week's midterm elections, endorsing Republican candidates and even appearing and speaking at rallies given by the president in an attempt to boost GOP hopes. In one speech a day before the midterms, President Trump referenced accusations of nepotism before bringing his daughter onstage, saying it would be politically incorrect to call her "beautiful" but that she was "really smart."
Ivanka Trump has appeared to form close unions with members of her father's party, including Florida Senator Marco Rubio, with whom she advocated for child care tax credits and paid family leave. The plans were met with criticism upon their release, however.
Ivanka Trump will soon be traveling to Africa with Senator Lindsey Graham, who has become one of the president's staunchest defenders in recent weeks. That trip was reportedly rescheduled after first lady Melania Trump announced she would be visiting the continent, solo, last month.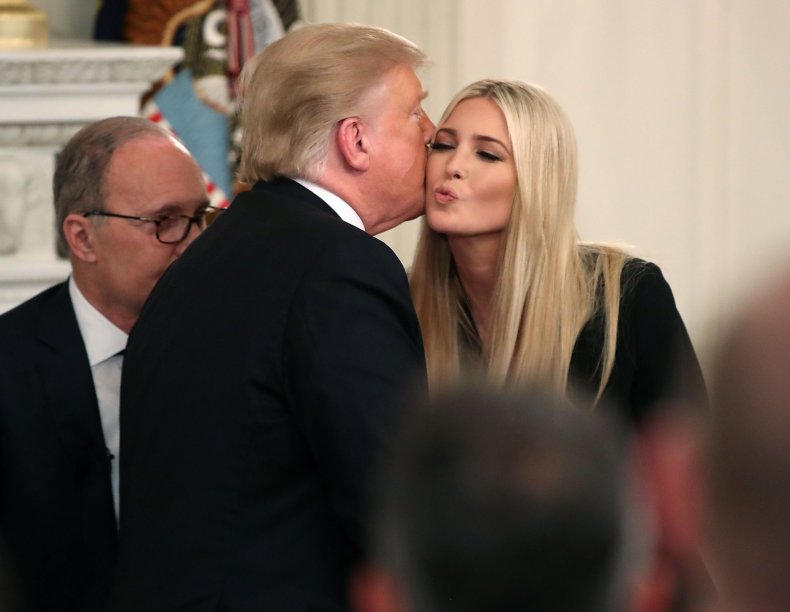 The combination of a first lady and an adult daughter in the White House has caused some tension behind the scenes, and their dynamic is almost unparalleled in United States presidential history, Katherine Jellison, a professor at Ohio University who studies first ladies, said.
"In the case of Melania and Ivanka Trump, sometimes one of them is 'out front,' and sometimes it's the other one who is," Jellison told the Times.
A former Democratic donor, Ivanka Trump was initially considered to be a potentially moderating influence on her father at the start of the administration. She has since been widely criticized in the wake of many of the president's controversial rhetoric and policies.
Her representatives have reportedly worked to generate positive media coverage and suggest the first daughter's subtle role in influencing her father. Ivanka Trump has mostly remained silent amid the controversies.
In one such example, The New York Times reported last month that Ivanka Trump and her husband, fellow White House senior adviser Jared Kushner, had to persuade the president to explicitly denounce anti-Semitism after the deadly mass shooting at Pittsburgh's Tree of Life synagogue.
While Melania Trump made known her discomfort with the administration's zero tolerance immigration policy that led to the separation of thousands of migrant children from their parents at the southern border, Ivanka Trump remained silent until the president credited her following his reversal.
Speaking in 2017, Ivanka Trump explained the rationale behind her public silence.
"To voice dissent publicly would mean I'm not part of the team. When you're part of a team, you're part of a team," she told the Financial Times in September 2017. "That doesn't mean everyone in the White House has homogeneous views—we don't, and I think that's good and healthy—but that doesn't mean we're publicly undermining [each other] and this administration."