Ivanka Trump Describes Rock-Star Crowd Sizes in Asia Despite Horrible Turnout at Her Speech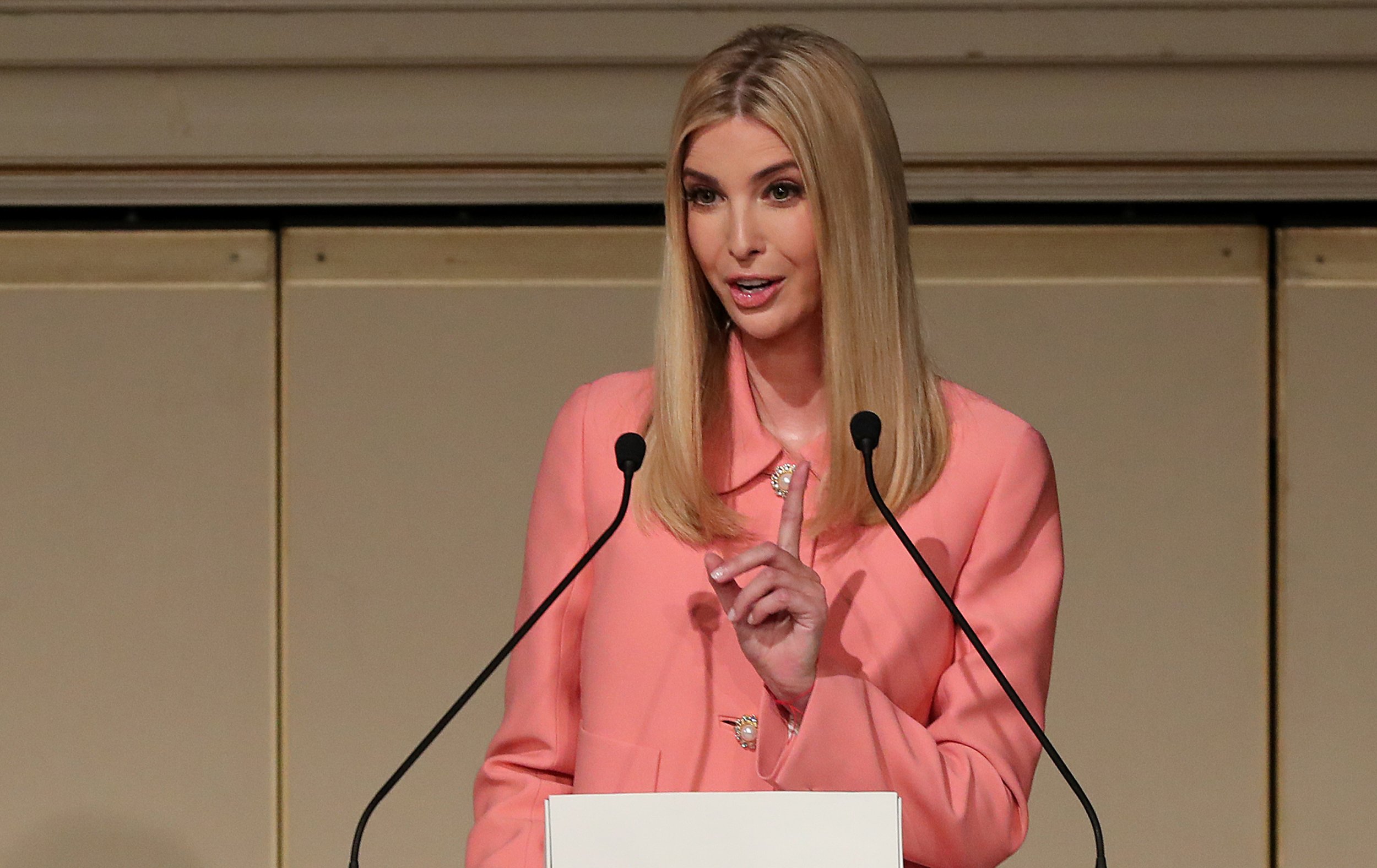 Questionable crowd-size claims now run in the Trump family.
Ivanka Trump on Monday said rock-star-sized crowds were bursting with support for her father's White House during her recent trip to Japan, even though reports of her appearance indicated there was such a low turnout that ushers scrambled to fill empty front-row seats.
The president's daughter and adviser told Fox & Friends she received a "remarkable" reception at the World Assembly for Women before her father arrived as part of his 12-day Asia tour. She spoke about female empowerment and entrepreneurship alongside Japanese President Shinzo Abe.
"I will tell you the enthusiasm, the energy, the excitement about this presidency and this president in Asia was unbelievable," she said. "The reception that I received just in anticipation of his arrival was truly remarkable, everywhere we went, and it was very supportive, and it was very encouraging."
Get your unlimited Newsweek trial >
The New York Times and international outlets pointed out that there were rows upon rows of empty seats at her talk.
Related: Jared Kushner and Ivanka's Use of Trump Helicopters Is Unethical and Possibly Illegal
Spectators posted photos and videos of the event to social media, showing the Tokyo venue was nearly empty during the first daughter's Friday-night speech. The White House and Japanese officials quickly defended the turnout, suggesting in an interview with the Times that there was a herd of people waiting to hear from Trump who simply couldn't enter the room due to security concerns.
Get your unlimited Newsweek trial >
Trump's speech was "the most registered event" at the assembly, "but security delayed everyone from being able to get into the room on time," said White House spokesman Josh Raffel.
It's unclear exactly how many people were clamoring to hear from the first daughter before allegedly being blocked from entering the speech. "It was unfortunate that there were several people who could not enter the room during the speeches of Prime Minister Abe and Ms. Ivanka Trump," said Kyoko Hokugo, Japan's Foreign Ministry director of the gender mainstreaming division, echoing the White House's defense of the small crowd. "We needed to shut the door during their speeches for our security reasons."
The Trump family's recollection of crowd sizes were what the White House would call "alternative facts." The poor turnout to the event drew comparisons online to President Donald Trump's inaugural address, which the White House erroneously defended as the most-viewed inauguration in history. Vanity Fair reporter Emily Weaver joked, "Ivanka Trump's speech about women's empowerment in Tokyo on Friday drew a crowd of such a minuscule size that Sean Spicer might need to be enlisted to lie about it."
Ivanka Trump Describes Rock-Star Crowd Sizes in Asia Despite Horrible Turnout at Her Speech | U.S.