First daughter Ivanka Trump was not simply complicit in supporting the Trump administration's rollback of an Obama-era equal pay rule exactly a year ago—she had a hand in the decision, according to the watchdog group Democracy Forward, which based its claim on documents it received through the Freedom of Information Act after it sued the Office of Management and Budget.
The emails and calendar entries Democracy Forward recently received, and which Newsweek obtained, show that Trump's chief of staff worked with the Office of Management and Budget and the Equal Employment Opportunity Commission to rearrange meetings on the equal pay transparency rule to accommodate the first daughter's schedule.
"It's clear from the emails that we've uncovered that Ivanka and her staff were instrumental in the administration's decision to actually go forth with the rollback," Democracy Forward spokeswoman Charisma Troiano told Newsweek on Tuesday.
Ivanka Trump was not visibly included in the email threads that had multiple redactions, but she was listed as an invited participant, along with six other OMB and EEOC staff members, for a meeting to discuss the rule that would have required companies with 100 employees or more to submit data on wages by gender, race and ethnicity.
In an April 20, 2017, email, Trump's chief of staff Julie Radford wrote to Kailey Pickitt, executive assistant to the OMB director: "Neither myself or Ivanka can attend this," the documents show.
Pickitt then rescheduled the meeting to April 27, 2017, with the following description: "The purpose is to discuss an EEOC form that requires employers to provide certain wage data." After more scheduling conflicts, the meeting was moved again and finally took place on May 2, 2017.
On July 10, 2017, Radford and acting EEOC chair Victoria Lipnic had an extensive email exchange on the rule rollback, and Radford forwarded Lipnic's notes to OMB staffer John Gray for further discussion. The content is redacted.
"Attempting to keep this initial call relatively small so we can determine best next steps and direction," Radford wrote in a July 12, 2017, email to staffers involved in the talks.
On August 30, 2017—the day after the Trump administration announced the rule designed to close the wage gap would be stayed and reviewed—OMB press secretary Meghan Burris emailed Josh Raffel, at the time a White House spokesman for Ivanka Trump, a statement attributed to her supporting the rollback, along with those of three other business and workforce leaders.
"Ultimately, while I believe the intention was good and agree that pay transparency is important, the proposed policy would not yield the intended results," read Trump's statement, issued publicly that day. "We look forward to continuing to work with EEOC, OMB, Congress and all relevant stakeholders on robust policies aimed at eliminating the gender wage gap."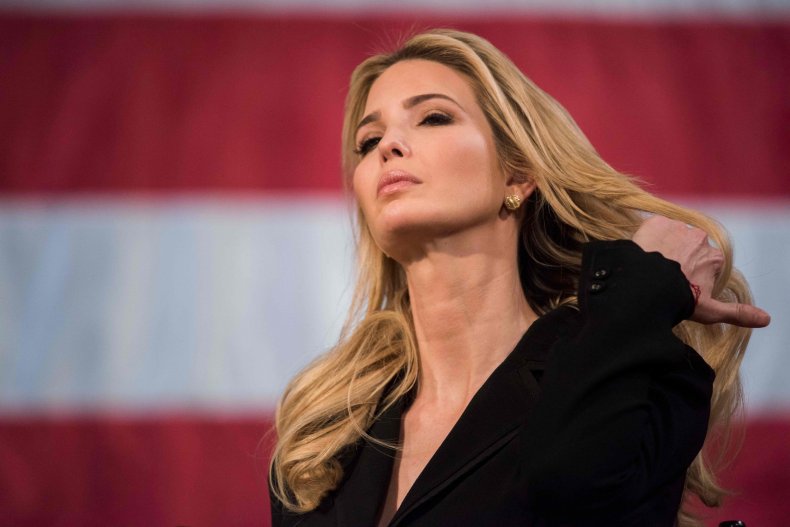 Troiano said that Trump's statement alone could imply that she merely announced support for the rollback, when in fact her chief of staff was involved with White House officials on the issue, showing the first daughter "had more of a hand in this than simply just being complicit."
The EEOC, after six years of analysis, found that collecting pay data was necessary to enforce anti-discrimination laws and secure pay equity, yet the Trump administration "unlawfully halted equal pay transparency rules with virtually no explanation," Troiano said.
Business groups argued that the rule was burdensome and would do little to achieve its stated aim. Supporters, though, said it would have helped companies make positive steps toward equal pay.
"If you look at companies that already have to monitor themselves or monitor themselves voluntarily, they typically do find issues that need fixing," Ariane Hegewisch, program director at the Institute for Women's Policy Research, a Washington-based think tank, told NBC News last year.
When Ivanka Trump became a senior White House adviser, she vowed to advocate for women, children and families. On Equal Pay Day in April 2017, days before the first emails, she tweeted: "#EqualPayDay is a reminder that women deserve equal pay for equal work. We must work to close the gender pay gap!"
In a longer post that day on Instagram, she wrote: "I am proud to work towards this goal alongside my father and in support of the administration's commitment to women and families."
But on Equal Pay Day this April, she was silent on the issue, prompting Democracy Forward to sue the OMB over its failure to respond to the watchdog's public records request from November seeking documents on Trump's role in the rollback decision.
What came out of them "flies in the face of her supposed advocacy of women," Troiano said. "I think it's very important that hypocrisy is exposed."
The OMB and White House did not respond to Newsweek's requests for comment. The EEOC declined to comment.