Ivanka Trump Fashion Brand Site Shuts Down: 'Thank You!'
First daughter Ivanka Trump's brand, which she shuttered last month, has closed down its website too.
"Thank You!" appears next to the site's name on a webpage search.
The ivankatrump.com site itself includes a collage of photos of the brand's clothing, bags, shoes and other related scenes, along with a message.
"Our team would like to extend a sincere thanks to all of our fans and customers," the note reads. "It has been an honor to build this incredible community of women and we are very proud of the content and product we delivered. Most importantly, we cultivated amazing partnerships and friendships during the life of the brand."
"Thank you for being a part of this journey with us," it reads, and is signed, "Love, ITHQ."
It is the only page and there is no way to view or purchase products.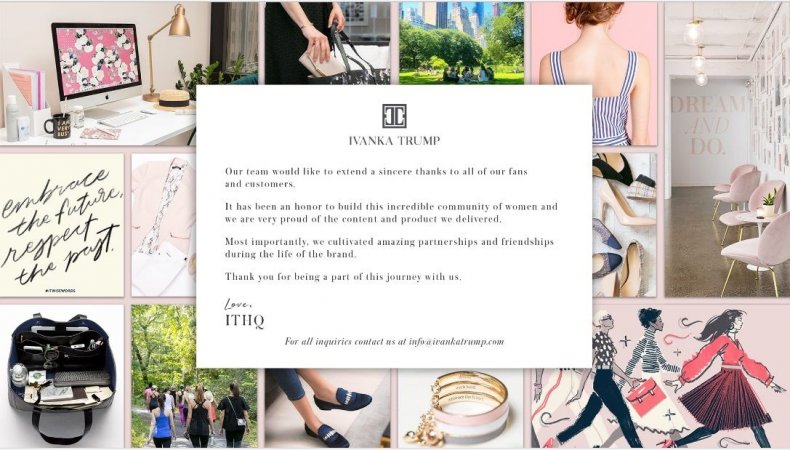 Trump announced she would shut down her namesake IT Collection LLC on July 24.
"After 17 months in Washington, I do not know when or if I will ever return to the business, but I do know that my focus for the foreseeable future will be the work I am doing here in Washington," the first daughter said. "So making this decision now is the only fair outcome for my team and partners."
Trump reportedly considered closing her brand for months out of frustration with the restrictions she had placed on the company to avoid possible conflicts of interest with her role as a senior White House adviser.
Her brand was marred with several scandals as she served in the Trump administration, including trademark approvals by China before her father President Donald Trump lifted sanctions against a Chinese telecommunications company ZTE. The first daughter stayed silent on apparent labor abuses at Chinese factories supplying her company, and drew ethics complaints for wearing her brand's clothes to official events that then appeared for sale on fashion websites. Counselor to the president Kellyanne Conway was reprimanded for plugging the first daughter's brand on Fox News.
Nordstrom dropped Ivanka Trump's brand within a month of her father taking office. After that, the first daughter opened a store in the comforts of Trump Tower in Manhattan. But on August 1, her store in the tower closed, too, replaced by a general Trump-branded store.
Ivanka Trump's products will still be sold by licensing partners, according to a representative for the company.