Ivanka 'Smith'? President Trump Claims Media Would Call His Daughter 'Totally Brilliant' If She Had Different Last Name
President Donald Trump praised his daughter Ivanka Trump for her remarks on a new White House workforce training initiative Wednesday and claimed that the media would too, if only her last name were "Smith."
Related: Trump Claims Ivanka and Melania 'Love The Women And The Women Love Them'—But People Disagree
The president made his remark during a meeting with Cabinet members, during which he called his daughter up to talk about the executive order he plans to sign Thursday and touted her efforts.
"I'd like my daughter Ivanka to start. This has been a very important issue—women's issue and this issue—two issues. Any woman's issue is very important to Ivanka, and the issue of workplace employment and jobs and training has been, really, at the top of her list," he said.
Then the president took a stab at the media: "I'll ask the press: Would you like to stay, or would you like to leave?" His comment drew laughter, and the press stayed. "Ah. I'm shocked to hear," he said.
Ivanka Trump walked to the far side of the room and gave a speech that closely resembled her op-ed in The Wall Street Journal on Tuesday explaining the establishment of the National Council for the American Worker for training and retraining American workers, an advisory board to create public-private partnerships and a pledge for companies to sign.
"These are real jobs, and these are new opportunities for growth. And we are confident that industry will partner with us to accomplish our goals of filling all vacant jobs with qualified workers," the first daughter said. "I look forward to working with each of you in this room and the private sector to ensure that Americans are all provided with opportunities to thrive in this booming economy."
As she took a seat behind him, Donald Trump said, "Well, thank you very much. Wow. So if that were Ivanka Smith, the press would say, 'That was totally brilliant, we've never seen anything like that.'"
Ivanka Trump and others in the room laughed.
"That was great," the president said, turning toward her. "That was really great. Unbelievable."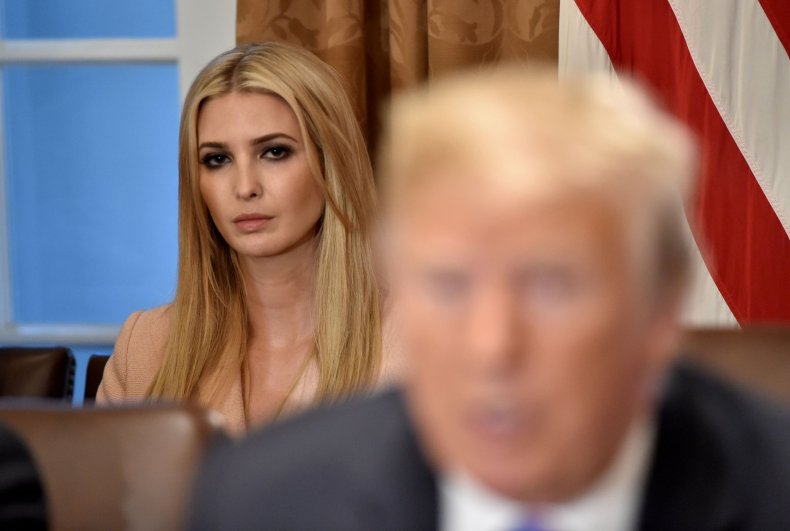 The first daughter still goes by the surname Trump although she married Jared Kushner in 2009. Her spouse and fellow senior White House adviser, who was sitting in on the meeting, has similarly been the subject of numerous negative stories.
Kushner, whom the president tasked with a hefty portfolio including forging peace in the Middle East, was heavily scrutinized for working months in the West Wing without top security clearance because he failed to disclose numerous foreign contacts in his application. Outside of the White House, his family-owned real estate company has been slammed with lawsuits over its alleged mistreatment of tenants.
The president has reportedly in the past considered relieving his daughter of her White House duties to protect her from criticism.
"Baby, you're getting killed, this is a bad deal," he told her last year.