President Donald Trump gave props to his eldest daughter during a signing for anti-online sex trafficking legislation Wednesday.
"And I have to give credit to Ivanka Trump," the president said. "She's here someplace. She's been a great representative, I will say."
Related: Was Ivanka Trump 'Complicit' in Halting Equal Pay Rule? Watchdog Group Is Suing to Find Out
Hous Majority leader Kevin McCarthy followed the president's lead, praising Ivanka Trump for convening a meeting about the bill.
"That's true, thank you very much, Ivanka," the president responded. Asked for his comments, another Republican, Senator Rob Portman of Ohio joked that the president was "correct about Ivanka," prompting laughter in the room.
Ivanka Trump, who has addressed curbing sex trafficking as a senior White House adviser, tweeted about the Allow States and Victims to Fight Online Sex Trafficking Act (FOSTA) earlier on Wednesday.
"Today @POTUS will sign the bipartisan #FOSTA #SESTA bill, which combats sex trafficking online, holds perpetrators accountable & ensures justice for survivors," she tweeted. "The @WhiteHouse is committed to #EndTrafficking."
In a meeting she convened in March, Ivanka Trump applauded lawmakers on their progress on FOSTA, which the House had overwhelmingly passed the previous month and incorporates language from a similar Senate bill.
"I have discussed these pieces of legislation with almost everyone in this room over the past several months and commend you on getting us where we are today," she said at the time. "On behalf of the president and administration, we want to thank all the members here today for your leadership and commitment to end the shameful and tragic crime of online sex trafficking."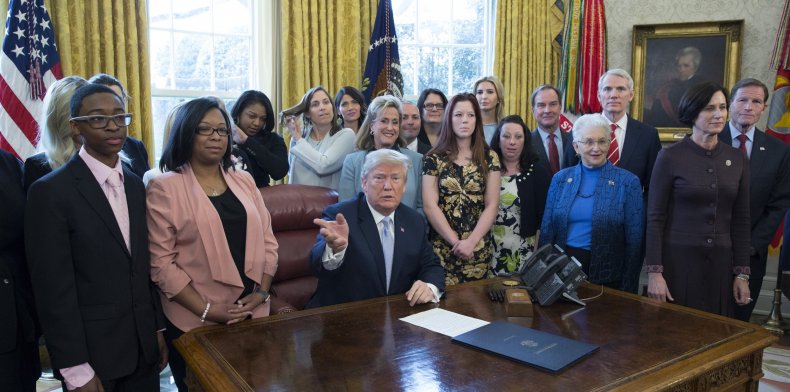 While the bill was endorsed by the Internet Association which represents big companies like Google, privacy and civil liberties advocates say it will weaken online free-speech protections and sex workers have expressed fear it will drive them offline and compromise their safety.
The president has given shout-outs to his eldest daughter before. During a talk in Ohio late last month, he said, "Speaking of a job well done, we have two of my daughters here today: Ivanka, who is working hard on infrastructure!" before going on to breifly mention his younger daughter Tiffany.