People Aren't Buying Ivanka Trump's Clothes in Stores, so Now She is Trying to Sell Them on Her Website
Shoppers interested in buying peplum blouses and sheath dresses from Ivanka Trump's clothing line no longer need to comb through the racks at TJ Maxx.
On Wednesday, the first daughter and top adviser to the president began selling the women's wear collection on her website for the first time, according to Bloomberg—just over a year since brands like Nordstrom, Burlington Coat Factory and Belk stopped selling the line.
Nordstrom dropped Ivanka Trump in February 2017, citing poor brand "performance" and waning sales. The store had also been the target of Grab Your Wallet, a campaign started by Shannon Coulter and Sue Atencio, two women who, in the wake of the Access Hollywood tape, announced a boycott on any company carrying Trump products. Coulter and Atencio declared victory when Nordstrom announced it would no longer buy from Ivanka Trump—and the president exploded.
"My daughter Ivanka has been treated so unfairly by Nordstrom," President Donald Trump wrote in a tweet at the time. "She is a great person—always pushing me to do the right thing! Terrible!"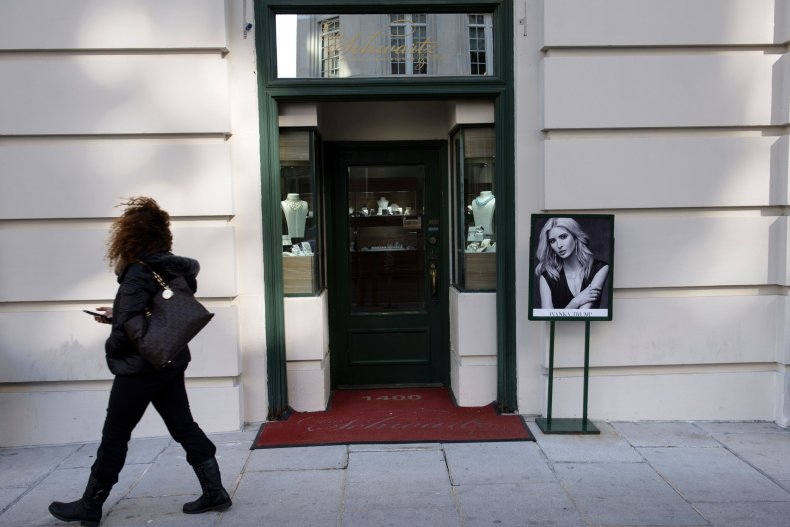 The Ivanka Trump clothing line, which launched in 2011, has been beset with controversy since her father's election.
Despite Ivanka Trump stepping down from the brand in January 2017, ahead of the president's inauguration, the White House has been accused of multiple conflicts related to the clothing line. Just a month into the Trump presidency, Kellyanne Conway raised questions about possible ethics violations when she endorsed Ivanka Trump's products in an interview with Fox News.
"Go buy Ivanka's stuff is what I would say," Conway said at the time. "I'm going to give a free commercial here: Go buy it today, everybody; you can find it online."
Ivanka Trump was accused of turning herself into a "walking billboard" for her brand, after The Wall Street Journal found that 68 percent of the photos she posted to social media featured her sporting pieces from her eponymous line.
Ivanka Trump HQ did not immediately return Newsweek's request for comment.
And that's not all: Ivanka Trump has been accused of ripping off other designers and exploiting Chinese factory workers, many of whom are women, all while declaring herself an advocate for women in the workplace.
"The buck stops with her," Jim Keady, a labor rights activist told the Guardian in June, speaking about the working conditions for those who make Ivanka Trump's products. "It's her name that's on the dress. Without her there is no brand."