Ivanka Trump Separates Herself From Brothers in High-Stakes Legal Case
Ivanka Trump is seeking to separate herself from her two brothers, Donald Trump Jr. and Eric Trump, in the high-stakes New York state fraud case against the Trump Organization.
In a letter filed Monday, Reid Figel, the attorney representing Ivanka in the lawsuit filed by New York Attorney General Letitia James, asked Judge Arthur Engoron to recognize that Donald Trump's eldest daughter left the family company in 2017 and that the allegations made against her are different from the ones made against her brothers, father and their real estate empire.
Figel wrote that because there is not "a single allegation that Ms. Trump directly or indirectly created, prepared, reviewed, or certified any of her father's financial statements," Ivanka's factual and legal defenses are unique.
The civil fraud suit, which James filed last September and names the former president and his three adult children, accuses the Trump Organization of falsely inflating property assets to induce banks into lending the company money. James is seeking $250 million in financial penalties and to permanently bar any of the four Trumps from serving as an officer or director of any New York corporation again.
Trump has sought to postpone the trial by at least six months, but court filings show that Engoron, a state Supreme Court justice, intends to begin it on the scheduled October 2 date "come hell or high water."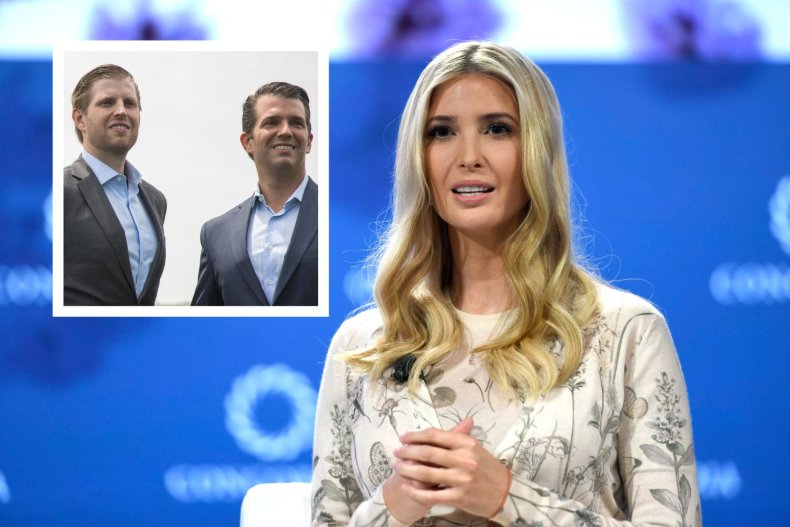 "Civil and criminal defendants often make two types of arguments: I didn't know and it wasn't me. That's what Ivanka's lawyers are doing here," former federal prosecutor Neama Rahmani told Newsweek.
However, arguing that Ivanka never prepared, reviewed or certified any of the allegedly fraudulent financial disclosures, Rahmani said, means the only logical explanation would be that her father and/or brothers did. Inadvertently making that argument could help James' office build its case if the attorney general's target is the former president himself.
"That's why prosecutors 'flip' less-culpable defendants," said Rahmani, who is the president of West Coast Trial Lawyers.
He added that "this type of finger-pointing" is especially common in lawsuits where there are multiple defendants, even when defendants have familial ties.
In James' announcement of the lawsuit, she said that Trump was able to commit fraud "with the help of his children" and that the family engaged in a "repeated pattern and common scheme" of filing misleading records.
Trump has denied any wrongdoing in the case and alleged that the lawsuit is part of James' larger partisan witch hunt against him. "She is a fraud who campaigned on a 'get Trump' platform," the former president wrote on his Truth Social platform the day James announced the suit.
Since the lawsuit was filed, Ivanka has taken a different approach to the legal threat than the strategy her brothers have embraced. Rather than publicly blasting James over social media, Ivanka has avoided commenting on the case publicly.
Her silence has been seen as a larger effort to distance herself from her father. After the former president declared his 2024 candidacy, Ivanka said she had decided to bow out of politics and not actively join Trump's third White House bid. She had previously held key roles in the Trump administration.
"I love my father very much. This time around, I am choosing to prioritize my young children and the private life we are creating as a family," she said in a statement following Trump's 2024 announcement. "I do not plan to be involved in politics."
But despite Ivanka's attempts to retreat from the spotlight, prosecutors have not shied away from requesting her assistance in the ongoing investigations into her father.
Last month, Justice Department special counsel Jack Smith subpoenaed Ivanka and her husband, Jared Kushner, a former senior White House adviser in the Trump administration, to testify about the former president's actions in connection with January 6, 2021, assault on the U.S. Capitol.