Ivanka Trump is 'Thin-Skinned' Like President, Couldn't Stop Bemoaning SNL Skit Calling Her 'Complicit'
First daughter Ivanka Trump would not stop complaining about a Saturday Night Live sketch which featured Scarlett Johansson playing her in a mock perfume ad that labeled her "complicit," former White House aide Omarosa Manigault Newman has said in her new book.
"At the senior staff meeting, Ivanka couldn't stop bemoaning it, how offensive it was, how ridiculous it was," Manigault Newman wrote in Unhinged: An Insider Account of the Trump White House.
"We'd all been subject to SNL attacks … We'd all been hit, many of us in that same week's show. But Ivanka would not stop talking about being ribbed," Manigault Newman wrote. "Like her father, Ivanka was thin-skinned and could not seem to take a joke."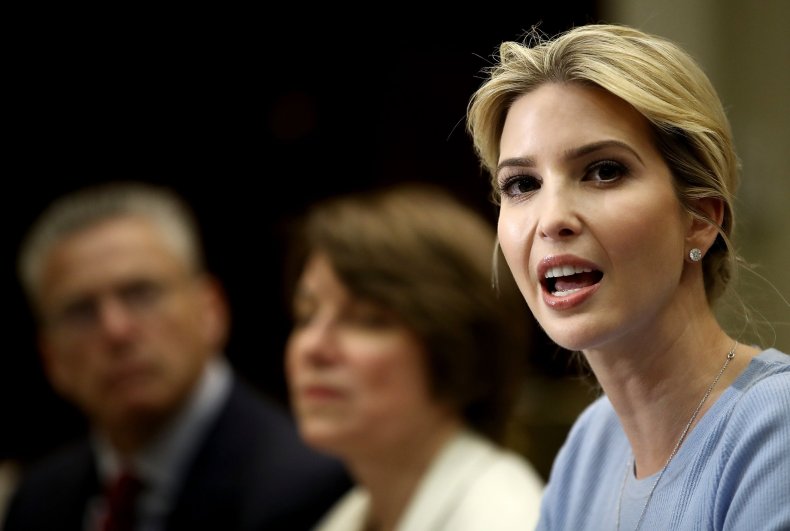 In the sketch, aired in March 2017, Johansson acts as the first daughter and Alec Baldwin plays her father, President Donald Trump.
"She's beautiful. She's powerful. She's … complicit," a narrator says of Ivanka Trump. "She's a woman who knows what she wants. And knows what she's doing. Complicit."
"Complicit, the fragrance for the woman who could stop all this—but won't. Also available in a cologne for Jared [Kushner]," the narrator continues, referring to her husband and fellow senior White House adviser.
The president also was bothered by SNL's hit on his daughter.
"Donald said to Ivanka, 'Honey, you're getting hit so hard! Why are you taking this? Just go back, run the company. I can't protect you here. I don't like how hard they're hitting you,'" Manigault Newman wrote. "He wanted Jared and Ivanka out of the White House. It hurt him when people attacked her. They were doing it to get to him, and it was working."
The next month, CBS asked Ivanka Trump whether she and Kushner were "complicit in what is happening to the White House."
"If being complicit is wanting to be a force for good and to make a positive impact, then I'm complicit," she responded. "I don't know what it means to be—complicit—but, but, you know, I hope time will prove that I have done a good job and much more importantly, that my father's administration is the success that I know it will be."
The SNL skit was not the first time that Ivanka had been criticized for going along with policies and rhetoric from her father's administration that many consider destructive and cruel.
The iconic post-punk band Gang of Four titled released an EP in April entitled "Complicit" which featured her on the cover. The watchdog group Democracy Forward sued the Trump administration that same month over its failure to provide public records on Ivanka Trump's role in a decision to roll back an Obama-era equal pay rule.