Ja Rule Enters Trendy NFT Art Market With Fyre Festival Painting
Rapper Ja Rule isn't letting the notorious debacle that was Fyre Festival get in the way of his entrepreneurial drive. In fact, he's actually trying to sell a painting of the Fyre Festival logo, while simultaneously entering the suddenly hot NFT art scene.
NFTs (non-fungible tokens) have dominated headlines in the art world in recent weeks, especially after the digital artist Beeple's EVERYDAYS: The FIRST 5000 DAYS became the first NFT listed at the renowned auction house Christie's, and sold for $69.3 million on March 11. For those unfamiliar, NFTs are units of data on a digital ledger that represent unique digital items. Like paintings, when NFTs are associated with digital art, they can be bought and sold—though exchanges typically occur using cryptocurrency.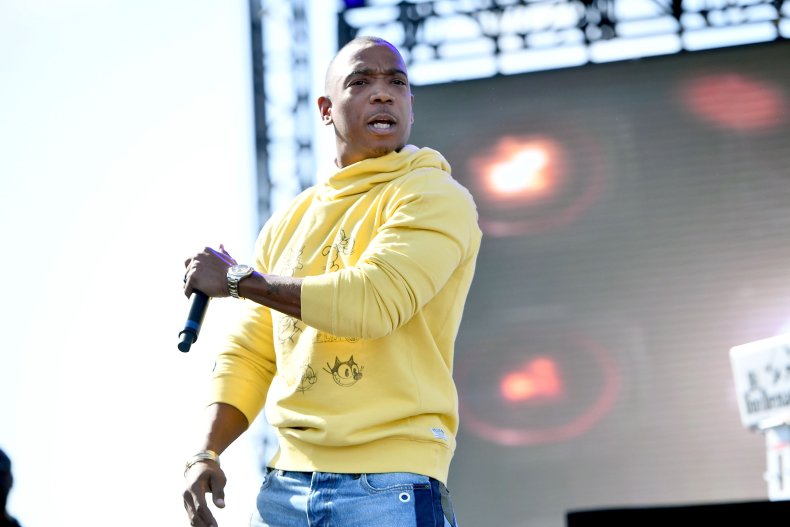 Ja Rule, however, is taking a slightly different approach to NFTs. He announced on Tuesday that he's the co-owner of a digital art platform called Flipkick. The company will sell actual physical works of art as NFTs. Instead of completely digital works, such as Beeple's EVERYDAYS: THE FIRST 5000 DAYS, these works also exist as tangible objects. However, these artworks will have a cryptographically secure link to an NFT. This allows the art to be sold at auctions, where buyers can resell it or instead redeem the token for the actual physical work of art should they choose to keep it. With this business model, Flipkick claims to be the first company to sell authenticated NFTs of physical art.
The piece of art Ja Rule decided to use to officially launch Flipkick may strike some people as an odd choice. It's a 2017 painting of the Fyre Festival logo, which the star commissioned to artist Tripp Derrick Barnes.
The Fyre Festival was the disastrous 2017 music festival that Ja Rule co-founded and for which he served as the official face. As music fans no doubt remember, the festival's promotion hired social media influencers to hype the event as an exclusive party on an idyllic island, where famous music acts would entertain the elite attendees. But instead of opulent amenities in a luxurious environment, guests found unsanitary conditions and FEMA tents for overnight accommodations. None of the musical acts advertised—which included Pusha T, Blink-182, Kaytranada and Migos—showed up, and multiple lawsuits and criminal charges followed. The festival and its fallout was the subject of two popular documentaries in 2019, one made by Netflix and the other by Hulu.
Billy McFarland, the mastermind behind Fyre, is currently incarcerated in federal prison on a six-year sentence after pleading guilty in March 2018 to two counts of wire fraud tied to the festival. Though he was able to escape legal repercussions, Ja Rule nonetheless issued an apology on social media for his involvement, while the events around the failed festival were unfolding.
So, why then, would Ja Rule want to start a company by reminding everyone of such a high-profile disaster? Flipkick's website listing of the painting may offer somewhat of an explanation. The write-up notes that the piece of art previously "hung confidently on the wall of the office of Fyre Inc" and "once spoke of an endless font of ambition. Now it speaks of the fever dreams of a man whose reach exceeded his grasp." Flipkick also lists the estimated value of the painting as $600,000. Hopeful owners can bid online now through the closing date of March 23 at 8:00 p.m. ET.
Ja Rule first announced the news of Flipkick on Twitter and Instagram early on Tuesday.
However, other users of social media used the opportunity to mock his latest business venture.
"I learnt so much from Fyre Festival," Ja Rule told The Art Newspaper in an interview published Tuesday. "I relinquished my vision to someone else and the business didn't get handled properly."
In the same interview, the Queens-born rapper also made an appeal to one of the art world's biggest stars of the last couple of decades, asking him to work with Flipkick. He said, "Banksy, if you're reading this, Rule would love to sell you, baby!"