Twitter co-founder Jack Dorsey has backed Elon Musk's plan to reinstate former President Donald Trump's account, arguing that the decision to issue the ban was "a failure."
Trump was permanently banned from Twitter in January 2021 over concerns of inciting further violence following the attack on the U.S. Capitol. During an interview with The Financial Times on Tuesday, Musk called the decision "morally bad" and indicated that he would reinstate Trump if his bid to buy the platform is finalized. Dorsey, who stepped down as Twitter CEO last November, confirmed his approval while replying to a tweet from Axios editor Dan Primack, who noted that Musk said Dorsey was in agreement.
"I do agree," Dorsey tweeted. "There are exceptions (CSE, illegal behaviour, spam or network manipulation, etc), but generally permanent bans are a failure of ours and don't work, which I wrote about here after the event (and called for a resilient social media protocol):"
Dorsey re-shared a January 13, 2021 tweet that maintained he did "not celebrate or feel pride in our having to ban" Trump from the platform but had "made a decision with the best information we had based on threats to physical safety both on and off Twitter."
In a series of subsequent tweets on the same day, the then-CEO argued that Trump's ban was "the right decision for Twitter" since the company was facing "an extraordinary and untenable circumstance" that forced a narrow focus on "public safety."
"Offline harm as a result of online speech is demonstrably real, and what drives our policy and enforcement above all," tweeted Dorsey. "That said, having to ban an account has real and significant ramifications. While there are clear and obvious exceptions, I feel a ban is a failure of ours ultimately to promote healthy conversation."
Musk told The Financial Times that he believed Trump's removal from the platform "foolish in the extreme," explaining that "permanent bans should be extremely rare and really reserved for accounts that are bots, or scam, spam accounts—where there's just no legitimacy to the account at all."
"I do think that it was not correct to ban Donald Trump," said Musk. "I think that was a mistake because it alienated a large part of the country and did not ultimately result in Donald Trump not having a voice."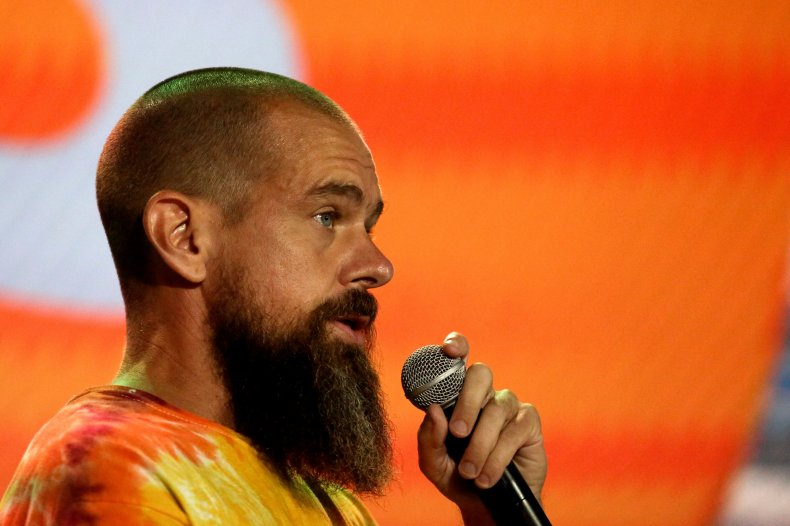 "Banning Trump from Twitter didn't end Trump's voice," he added. "It will amplify it among the right. And this is why it is morally wrong and flat-out stupid."
Musk noted that Trump's reinstatement was "not a thing that will definitely happen" since his takeover is still yet to be completed, although the platform did agree to accept his $44 billion offer two weeks ago.
Trump, who was ever-present on Twitter prior to the ban, has stated that he might not return to the platform even if the ban is reversed, opting to instead remain exclusively on his own fledging platform Truth Social.
Newsweek reached out to Trump's office and Twitter for comment.