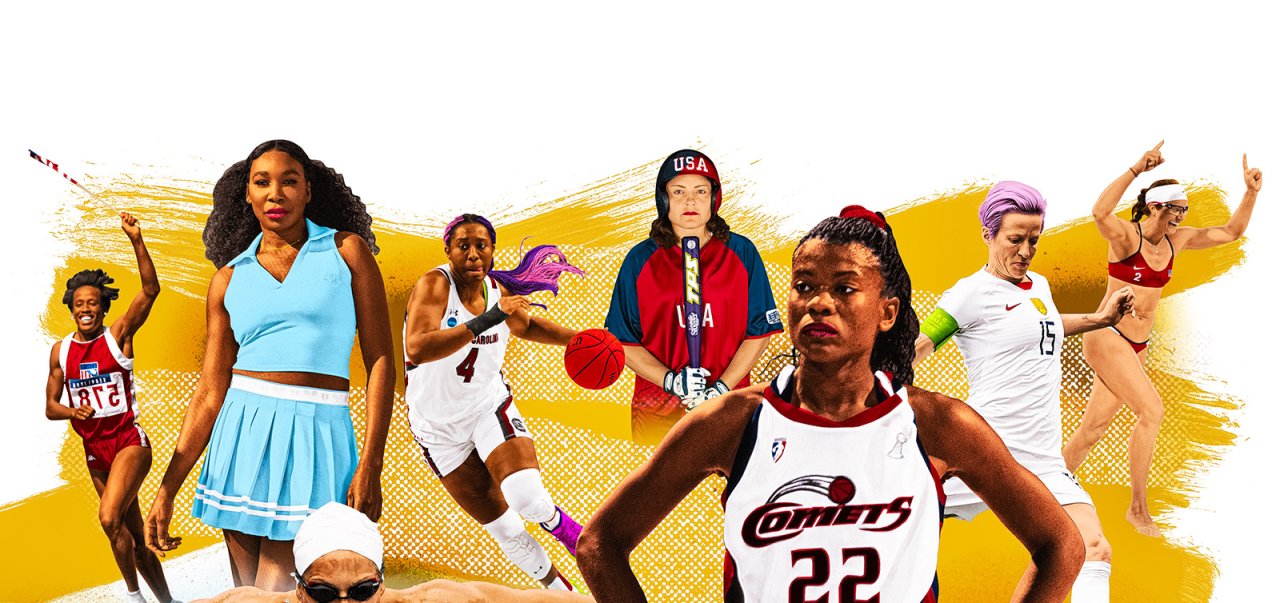 Jackie Joyner-Kersee: Men and Women Need To Fight Together For Equality
St. Louis in Missouri has always been home for me, it laid the foundation. Even though we as a family didn't have all the things that we probably wanted as far as materialistic items, there was a lot of love in our home, a lot of motivation and a lot of push to be the best that we could be.
When I first started running at the age of nine, I wasn't one of the best girls. In my first competition I finished last. But what I loved about it was that it was fun. So I just said to myself: If I can improve a tenth of a second when running, or half of an inch, if I was jumping, that meant the work that I was doing was paying off. Eventually, I started thinking that maybe one day I could get some hardware and be on a podium.
But it wasn't until I was 14, when I saw the '76 Olympic Games on television, that I thought, "Maybe one day I can go there." We didn't often see female sports on television. The Olympics gave me that platform to see them and to really broaden my mind. So I went to my coaches, and they said I had potential, but I had to be willing to work hard. That was truly the beginning.
Title IX first makes waves
We didn't understand the magnitude of what was about to happen when Title IX was signed into law in 1972. It probably wasn't until around '77. I was a sophomore and we only had one gymnasium at my high school. The boys had the gymnasium at the peak times and girls had to come back in the evening after 6pm to practice. My mother said no to that!
So the coaches went to the administrators, and made sure they fully understood the Title IX law, and then, we shared the gymnasium. I think of the importance of that, and the magnitude of it, because you would have probably lost a lot of young ladies from sport just because of that technicality.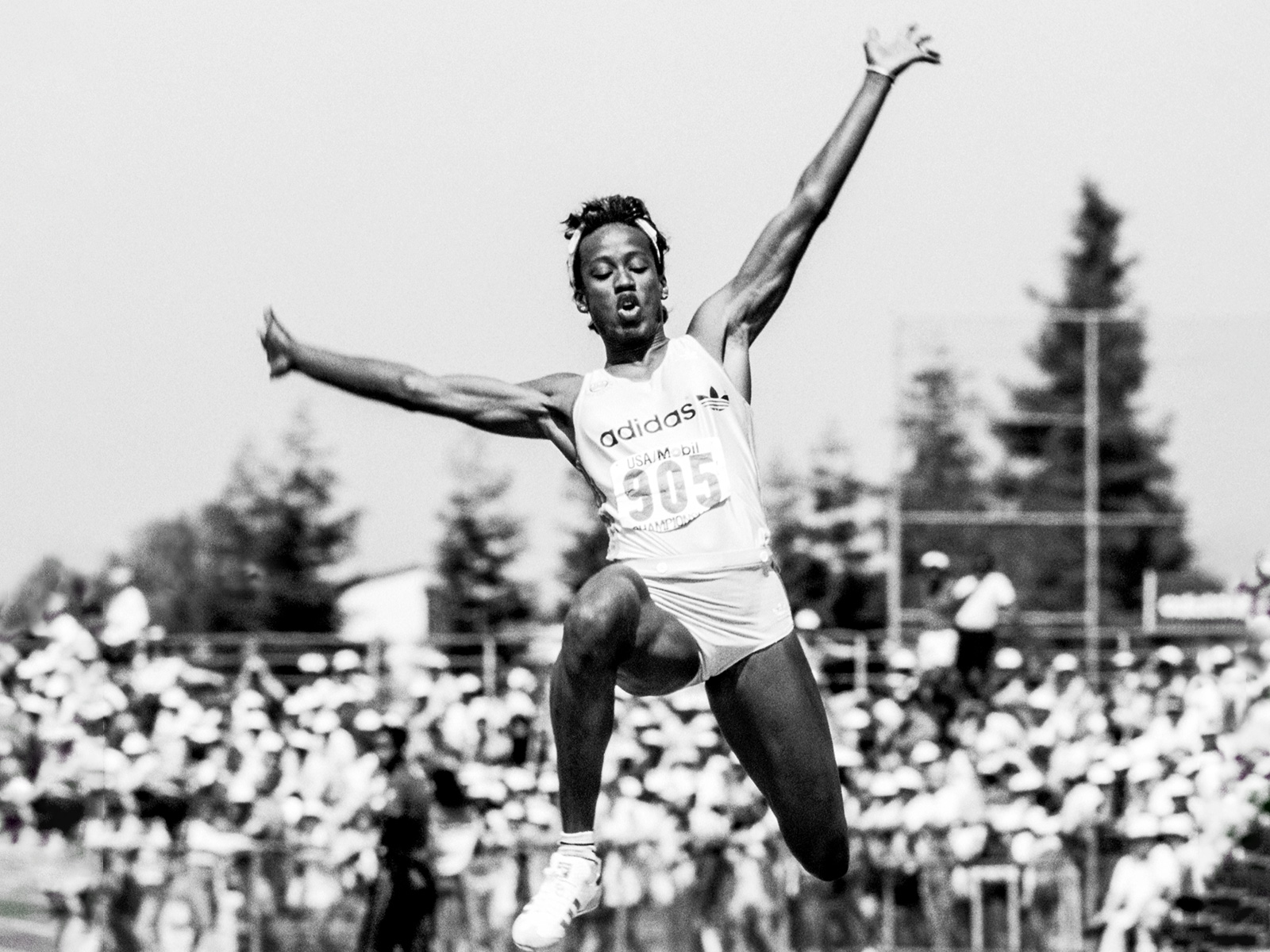 People had a standard back then that women should not be doing athletics, which was the most ridiculous thing. We weren't appreciated for our talents. I look at that time, when Billie Jean King was one of the best, and tennis was a sport that was on television, and you could see it, but instead of just being appreciated for our talents, it was almost as if people would always try to find something wrong with women.
As a young person, you're not thinking about the evolution of sports, but we were a part of it.
History-making women at UCLA and the road to the Olympics
When I went to UCLA in 1980 I was one of many All Americans, but I wanted to be one of the best. That meant that I had to work hard. And even though I was asthmatic and dealing with a lot, going home wasn't an option. I had to see it through.
UCLA was, at that time, the gold standard. We had an athletic director who was instrumental in making sure everything was on a level playing field. I played basketball and competed in track and field, and when we would travel, whatever the male basketball team received, we received. If the men were staying in suites, the women's basketball team were in suites.
That director was also instrumental in pushing for women's athletics across the board and making sure we didn't feel like we were discriminated against.
By my senior year, I knew the '84 Olympics were coming and I went to the athletic director, and the basketball coach, and asked if I could take a year off and focus on seeing if I could make an Olympic team in track and field. I told them: I promise you I will come back because I have to graduate. I had lost my mom as a freshman and we had talked about how, if you go to school, you graduate.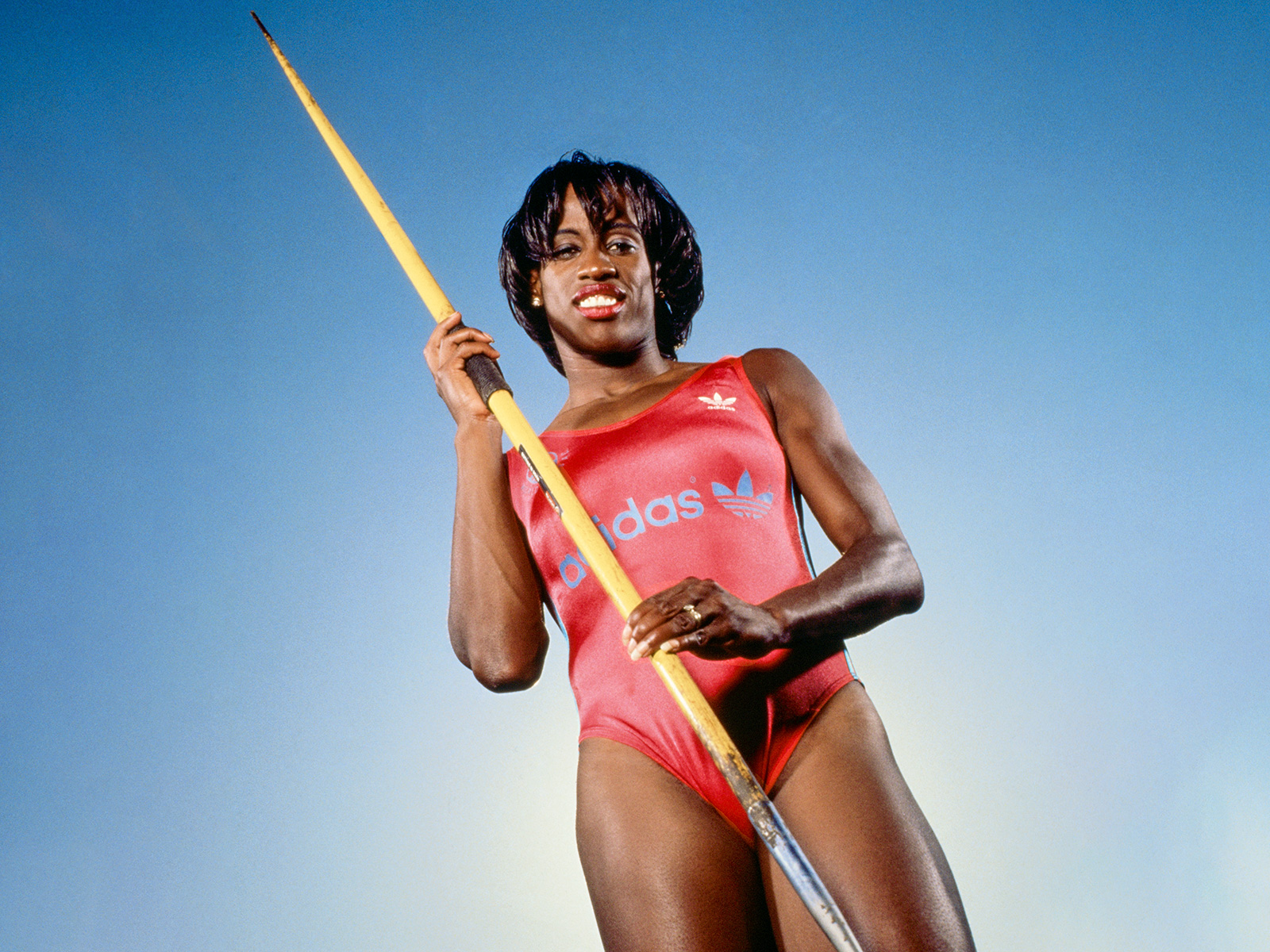 Then, I made my first Olympic team, I went to the Olympic trials and set the national record. All of a sudden they were picking me to win a gold medal. But I got injured. Even though that injury got the best of me, I came away with a silver medal in the heptathlon in '84. I don't want to take anything away from the greatness of Glynis Nunn from Australia who ended up being the champion, but I knew then that I had the ability one day to be an Olympic champion.
Being compared to male athletes
God blessed me to make another Olympic team, but I will never forget how before that, when I became the first woman to score over 7,000 points at the 1986 Goodwill Games, I was doing an interview with a reporter. One of the questions was about how now I had broken a world record and gone over 7,000 points in the heptathlon, people were going to consider me the world's greatest, and how did I feel about that? I said: "Whatever you want to call me, OK."
Then the article made it seem like I was conceited. It was disheartening. I realized I wasn't going to allow anybody to question who I was. But it was interesting, the comparison: How dare I, a heptathlete, compare myself to the men, the decathletes?
I think that we were accustomed to having all the eyes on the men. Then eventually, it started to switch to where people were watching the women more. Being a part of that was really special, when I look back on it. But at the time, I didn't realize how important it was.
My relationship with Bobby grew out of a friendship during that time. We spent so much time on the track together and he had a real understanding of me as a person. From there, we went to the next level. Now, we still disagree about things, but that's what makes us love each other even more, because we challenge each other. Bobby was way ahead of his time, he always saw women athletes as doing amazing things.
Fighting sexism and winning gold
A lot of the athletes I felt a solidarity with were in our group; Evelyn Ashford, Florence Griffith Joyner and Gwen Torrence. We might have been competing with each other, but it was a whole other situation with the men.
We faced sexism, because for the longest time, men were the headliners, and then all of a sudden, we started to see the trend changing to where women were headlining different events. The sexism we saw was more about our credibility, you would have whispers and people were saying we were on drugs.
And we experienced pay disparities. I remember one time, there was a meet in Europe. The pay disparity was not just between males and females, but sometimes between women. I was number one then, so I wanted to know why I wasn't earning as much as the other women to participate in this meet. Eventually, they said, "We're gonna pay you," but I was already gone. They played these games. But Bobby and I? Our attitude was: No.
I didn't understand the significance of the fact I could become the first American woman to win gold in the heptathlon and the long jump at the '88 Olympics, I was driven because people said it couldn't be done, particularly in the long jump, even after I won the gold medal in the heptathlon.
I knew I had one good jump in me, I just hoped I could execute it. When I was able to pull it off, I was so elated because I had never heard so many people talk about what you can't do versus motivating you to do something that's never been done.
Presidents, Princes and philanthropy
I didn't realize immediately how you could use sports for good. But sports allowed me to be in a room where if I wasn't an athlete, no one would have invited me.
One of the great things I experienced was being able to sit down and talk with Presidents of the United States, Ronald Reagan and Bill Clinton, or go to Monte Carlo and speak with Prince Albert of Monaco. It was uplifting on so many levels. When I look at the greatest accomplishment, for me, it was developing those relationships. Those connections allow me to be able to still talk about my philanthropic work today as I did back then.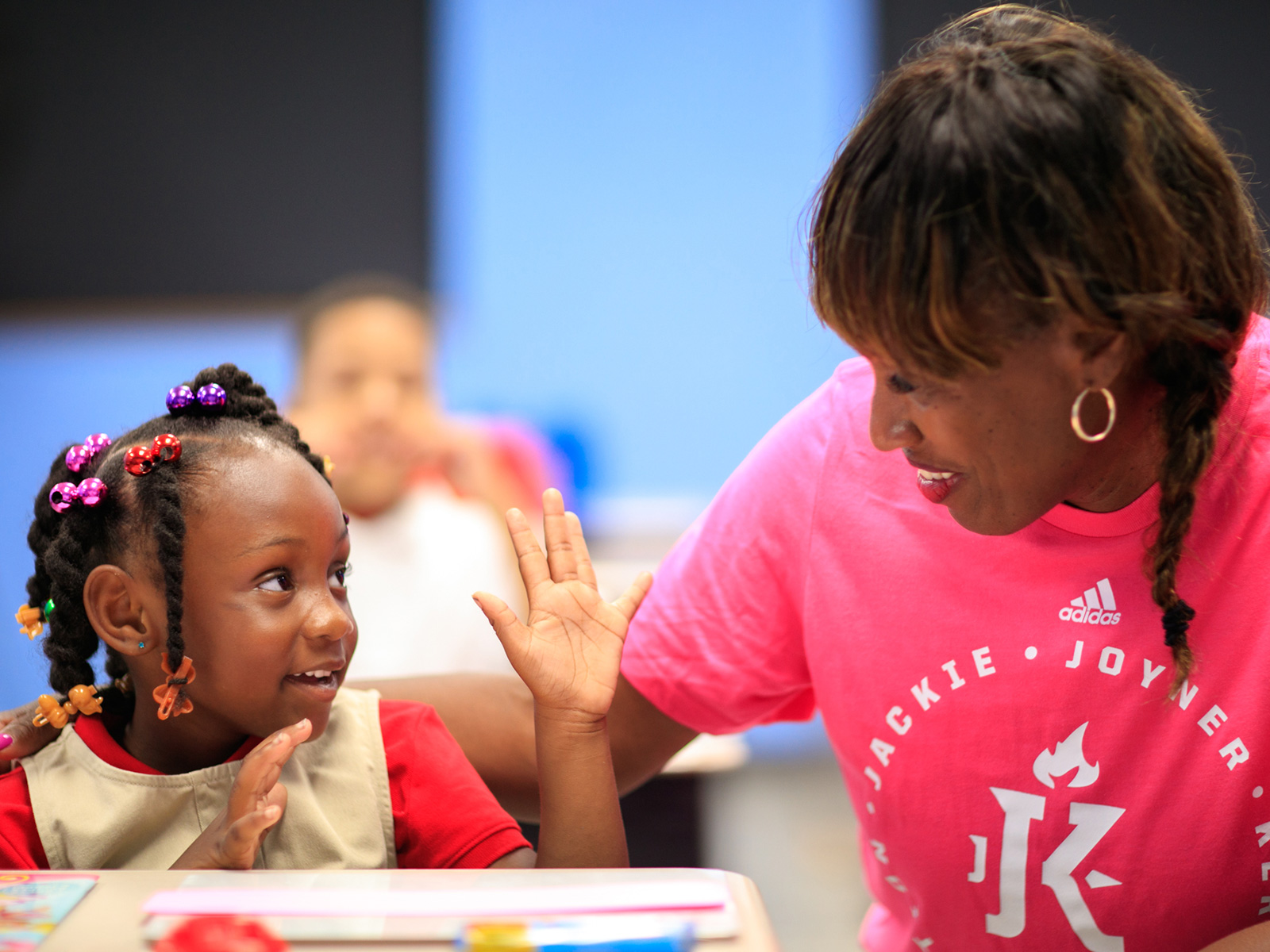 I started the Jackie Joyner Kersee Foundation in the '80s. The most important thing was building a community center in East St. Louis, and then seeing the growth around it.
The legacy I would like for the center is that we gave our young people the tools to be great people. I believe in setting them up for life. People ask me: Why are you back here? I want our young people to see me and to have a face-to-face conversation, and know that I might not walk in their shoes, but I walk the same streets that they have. I understand that things are not going to be easy, but if they work hard in life, they will get the results they're looking for. We want to instill discipline, encourage hard work, and help them find balance.
The next generation of female athletes
When I hear that women in sports now have connected to me, it makes a huge difference. There are so many women out there moving things forward, for example, Allyson Felix, Sydney McLaughlin and Sha'Carri Richardson. I love her. I love her attitude and her energy. It's for them to really be the leaders for the next generation.
During my time, equity wasn't something we talked about so much, but track and field has been good at leveling the playing field. I think that a lot of the athletes now have social media and use it to their advantage; they can tell their own stories.
The future of women in sport
I look at where we are today, and see how things have evolved and changed since Title IX in 1972. But in order to reach equality, it's going to take both males and females continuing to come together and having men fight for women, too. We need women in decision making positions, we need women on boards and to help them have an impact. And we need to invest in grassroots programs, where elite athletes are coming from, and make sure that Title IX is not ever overturned.
Years from now, the young people that are not even born yet should still fully understand that the people who came before me and before them fought for women to be in this position. I hope we don't lose sight of that.
Jackie Joyner-Kersee is one of the all-time greatest American track and field athletes, an Olympic champion and founder of the Jackie Joyner-Kersee Foundation. She lives in St. Louis, Missouri.
All views expressed in this article are the author's own.
As told to Jenny Haward.