Jacob Blake Protesters at Church Chant 'Burn It Down' If Justice Not Served
A video of racial justice protesters in front of St. John's Church in Washington, D.C. has begun to trend on Twitter because of their provocative but easily misunderstood chant: "Burn it down."
In the video, posted by Phillip Nieto—a journalist who writes for the right-wing website The Daily Caller—the protesters chanted, "If we don't get [justice], burn it down."
Many Twitter commenters have interpreted the chant as a threat against a house of worship. But at no point during the 19-second video does anyone mention the church or even gesture towards it.
Rather, "burn it down" is sometimes used as a chant by social justice protesters to refer to corrupt or unjust systems of power rather than specific buildings. As Donna Zuckerberg, editor-in-chief of Eidolon, an online journal for scholarly writing, explained in an April 2019 article, the phrase is akin to "get rid of it" or "overhaul it."
"'Burn it all down' isn't always a genuine recommendation," Zuckerberg wrote. "Sometimes it's just an expression of extreme frustration, recognition that something is so deeply flawed that gradual incremental change within existing infrastructure won't cut it."
"It's a provocation and a challenge to imagine how, if you had a blank slate, you'd go about solving big problems in creative, radical ways," Zuckerberg continued. "It's also a kind of self-care, an anti-gaslighting technique that allows space to acknowledge how bad and hurtful something is before we begin the long, hard, painful work of making it better."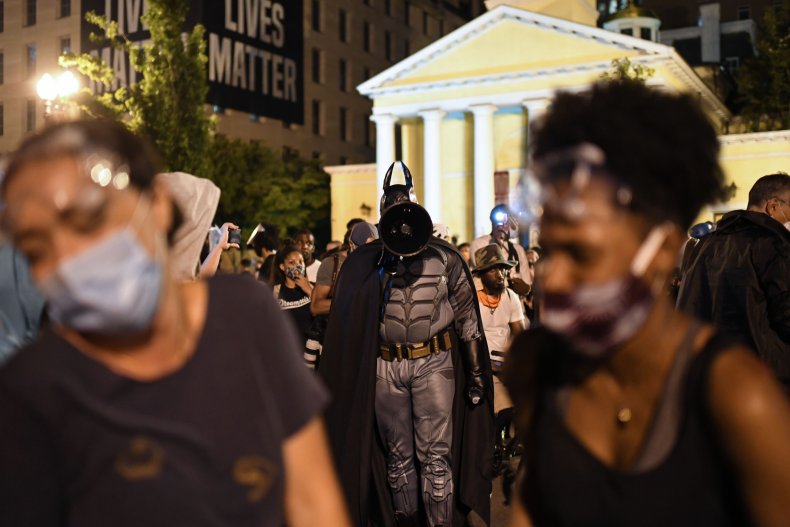 The racial justice protesters are continuing demonstrations sparked by the May 25 police murder of Black Minneapolis resident George Floyd. The protests have been reignited by viral video of the August 23 police shooting of Jacob Blake, an unarmed Black man who was shot seven times in the back by police while he attempted to enter his vehicle where his three sons were waiting. The protests over Floyd's death were also sparked by a viral video—in that case, of now-former police officer Derek Chauvin kneeling on Floyd's neck for nearly 9 minutes.
Religious leaders affiliated with St. John's Church have expressed support for racial justice protesters in the past.
On June 1, the U.S. Park Police and National Guard troops tear-gassed peaceful protesters near the house of worship so that Republican President Donald Trump could hold a Bible up for a photo-op outside the Episcopal church.
Following the photo-op, the local Episcopal bishop, St. John's pastor and other religious leaders connected to church criticized Trump for not uniting the protesters and other citizens with a message of peace.