Jacob Blake Speaks Publicly for First Time, Says 'Every 24 Hours It's Pain'
Jacob Blake has spoken for the first time publicly after being shot in the back seven times by a Kenosha, Wisconsin police officer almost two weeks earlier.
Blake's lawyer Benjamin Crump posted a video of him speaking from his hospital bed to Twitter on Saturday night. Blake urged those watching to "change their lives" while describing the pain he has suffered due to his injuries, which have left him paralyzed from the waist down.
"I just want to say to all the young cats out there, and even the older ones, older than me, there's a lot more life to live," Blake said. "Your life, and not only just your life, your legs—something that you need to move around and move forward in your life can be taken from you like this."
"I promise you, the type of shit that you go through. Staples—I got staples in my back, staples in my damn stomach. You do not want have to deal with this shit," added Blake. "24 hours, every 24 hours it's pain, it's nothing but pain. It hurts to breathe, it hurts to sleep. It hurts to move from side to side, it hurts to eat."
Blake went on to ask that viewers "stick together," adding that time had been wasted but there was an opportunity to "make everything easier for our people."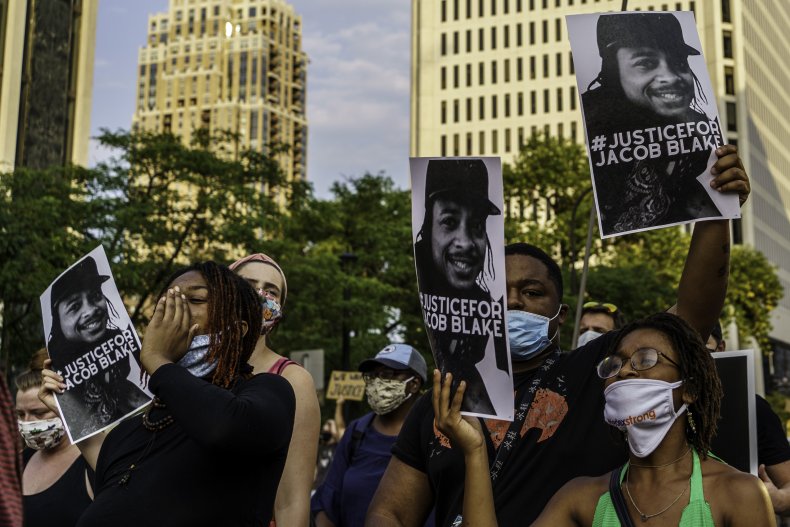 Blake's shooting on August 23, as he attempted to enter his vehicle while his three young children sat watching in the back seat, intensified mass protests against police brutality and racial injustice towards Black people, which had been raging throughout the country since shortly after the May 25 death of George Floyd.
The protests that took place in Kenosha resulted in additional violence, some of it deadly. Kyle Rittenhouse, a 17-year-old who reportedly idolizes the police and is an ardent supporter of President Donald Trump, traveled from Illinois with an assault rifle and allegedly murdered two people protesting in support of Blake.
Trump visited Kenosha on Tuesday but refused to meet with Blake or his family, complaining that they wanted a lawyer to be present. Democratic presidential nominee Joe Biden visited the city two days later and did visit Blake's family, in the company of their lawyers.
Blake participated in the meeting with the former vice president over the phone from his hospital bed, discussing Psalm 23 from the Bible and expressing his desire to remain resilient whether he regains movement of the lower half of his body or not.
"He talked about how nothing was going to defeat him," Biden said. "How, whether he walked again or not, he was not going to give up."
Newsweek reached out to Benjamin Crump for comment.