An Oregon judge sentenced Jacob Gaines to three years, 10 months in prison Monday for striking an officer with a hammer at a racial justice protest last year.
U.S. District Judge Karin J. Immergut said the act was not "lawful protest behavior," instead calling it an ambush and attack, according to Oregon Live.
The now-24-year-old Texas man was at a protest on July 11, 2020, at the Mark O. Hatfield United States Courthouse in Portland when he used the hammer to bang a hole into a piece of plywood covering an employee entrance into the building.
A deputy marshal came out of the courthouse to arrest Gaines, who swung the hammer at his head. Though he missed the marshal's head, he still hit his shoulder and upper back.
The marshal, who according to federal Prosecutor Christopher L. Cardani asked to remain anonymous, was not seriously injured because he was wearing a helmet and body armor.
After Gaines struck the marshal, members of a U.S. Marshals Service tactical team arrested him.
Gaines pleaded guilty to one count of assaulting a federal officer with a dangerous weapon, which is a felony.
Defense attorney Rosalind M. Lee argued for a sentence of time served due to the 18 months Gaines has already been in custody.
She also argued that Gaines was intoxicated when the incident occurred, calling it "impulsive" and "not very well thought out," Oregon Live reported. She said Gaines needs residential drug and alcohol abuse treatment and mental health therapy, which he would not have access to from prison.
Cardani requested a plea deal of three years and one month, arguing that sentencing Gaines would send a message to people who come to "commit acts of violence" against buildings like the courthouse.
In the courtroom, Immergut held the 4-pound hammer in question, calling it "extremely heavy" and saying it had the potential to cause "very, very serious harm."
Immergut decided that the plea deal was not sufficient enough, instead opting for the nearly four-year sentence with another three years of post-prison supervision.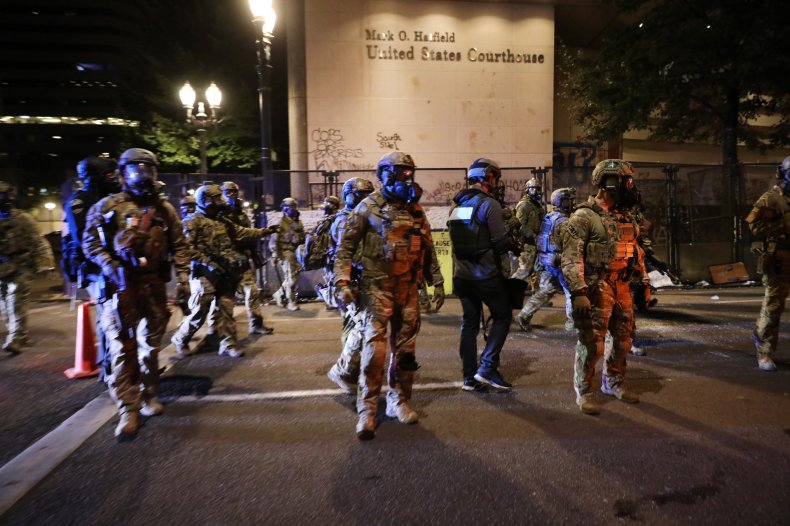 "I'd like to apologize to the victim, his family and his colleagues for the stress, harm and anxiety that I caused," Gaines said.
Gaines is among a handful of defendants who have pleaded guilty to federal charges stemming from arrests related to nightly protests against police brutality in Portland last year that started after the police killing of George Floyd, a Black man, in Minneapolis.
The Associated Press contributed to this report.