Jacob Wohl Mocked After Claiming Elizabeth Warren Sex Scandal, Says 2020 Candidate Had Affair with 24-Year-Old Marine
Far-right conspiracy theorist Jacob Wohl has been mocked on social media after sending out a media alert for a press conference where a former U.S. Marine will apparently claim he had an affair with 2020 presidential hopeful Elizabeth Warren.
Public figures and journalists have described Wohl as a "curious combination of utter vileness" and noted that he managed to misspell "conscience" in his note to the press.
The Trump supporter sent out a claim in a media alert this week, shared by NBC News reporter Ben Collins on Twitter Wednesday, alleging that he will appear alongside a "decorated" former marine who supposedly had an affair with Democratic 2020 primary candidate Elizabeth Warren.
Jack Burkman, a lobbyist who worked with Wohl to perpetuate false sexual assault claims against former special counsel Robert Mueller, also put his name to the alert.
The note advertising a press conference today said: "Jack Burkman and Jacob Wohl will be joined by a decorated, former U.S. Marine and bodybuilder who alleges he was involved in a long-term sexual relationship with presidential candidate, Sen. Elizabeth Warren."
It went on to make claims about when the supposed affair began and how the former marine was allegedly approached.
"These charges will shock the conscious of the nation," Burkman claimed in a statement. "This young man's story is one that every voter needs to hear before casting a single ballot."
Newsweek has contacted Warren's team for a response to the media alert but has not received one at the time of publication.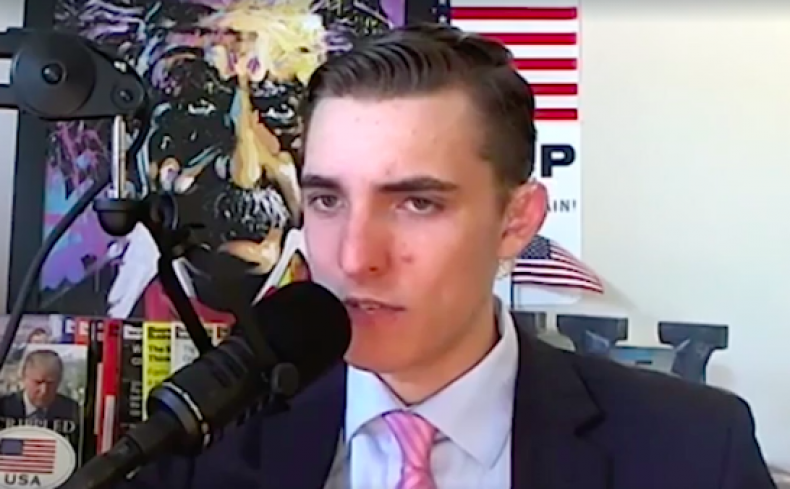 Posting the media alert on Twitter, NBC News reporter Ben Collins joked: "Congrats to Elizabeth Warren on rising so quickly in the polls she forced Jacob Wohl to write erotica about her."
"Jacob Wohl has misspelled the word 'conscience' on a press release," author and journalist Robert Evans noted.
Rick and Morty writer Siobhan Thompson mockingly said: "If I was a politician with steamy secrets I'd simply leak them all to Jacob Wohl. Problem solved."
"Jacob Wohl is is this curious combination of utter vileness tempered by hilarious incompetence and stupidity," said Jeet Heer, The Nation magazine's national affairs correspondent.
DPRK News Service, a parody account imitating North Korean state news, said it declined to published allegations by Wohl "citing unreliability of sources and slipshod reporting technique."
Mockery of Wohl's latest claims comes just days after he held a press conference with Burkman outside the lobbyist's home, saying he would name the whistleblower who raised concerns about President Trump's infamous call with Ukraine President Volodymyr Zelensky.
The Washington Post reported that just a "half-dozen" of media staffers and hecklers attended the event.
Wohl has a history of peddling fake news stories, including an attempt to bring false sexual assault allegations against Mueller when he was investigating Russian interference in the 2016 presidential election.
A felony charge for the illicit sale of securities has also been leveled against Wohl in California, the Daily Beast first reported last month.
Wohl and Burkman's planned press conference Thursday is the latest attack on Warren from pro-Trump activists as the Massachusetts senator's 2020 primary campaign appears to be on the up.
Real Clear Politics polling numbers show support for Warren has risen sharply over the last few months, putting her almost on par with Democratic presidential frontrunner and former vice president Joe Biden.
Recent polling from YouGov and Monmouth have put her six points and three points ahead of Biden respectively.