Jada Pinkett Smith Addressing Oscar Incident for First Time Splits Fans
Jada Pinkett Smith finally addressed the Oscars slap on Wednesday after months of silence, prompting an array of different responses from fans.
During an episode of her Facebook show, Red Table Talk Pinkett Smith spoke about her experiences with alopecia and the incident at the Academy Awards on March 27, when her husband, Will Smith, slapped presenter Chris Rock in the face after the comedian made a joke about her hair loss condition.
"This is a really important Red Table Talk on alopecia. Considering what I've been through with my own health and what happened at the Oscars, thousands have reached out to me with their stories. I'm using this moment to give our alopecia family an opportunity to talk about what it's like to have this condition and to inform people about what alopecia actually is," Pinkett Smith said during the show.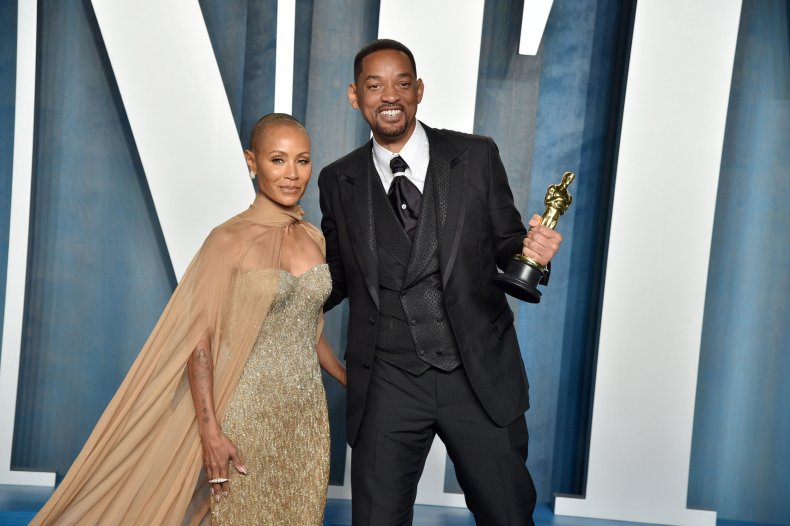 During the Oscars award ceremony, Rock joked about Pinkett Smith's shaved head, prompting Smith to walk on stage and slap the comedian. "Keep my wife's name out your f***ing mouth!" Smith was heard saying after the slap.
"My deepest hope is that these two intelligent, capable men have an opportunity to heal, talk this out and reconcile," Pinkett Smith added on Red Table Talk. The remarks by Pinkett Smith come several months after the slap and sparked a variety of different responses from social media users.
"I love Jada Pinkett Smith actually," Twitter user @voidzzzzzzzzzzz wrote. Similarly, Twitter user @RosannaMcCoy60 wrote, "This is the side of Jada I love! I want more of this! We need more of this in the world! Mindfulness is the solution."
Twitter user @blktarheel24 wrote, "As I've kinda been saying, ppl despise Jada Pinkett Smith lol. She released a clip saying she hopes Will & Chris basically make amends...ppl killing her and she ain't do nothing lol."
However, on the other hand, many Twitter users criticized Pinkett Smith for the response.
"Am I the only one who thinks Jada Pinkett Smith is jealous of her husbands success and desperately tries to grab attention in any way to stay relevant?" @BritterrC tweeted.
Twitter user @Cabritagriot wrote, "#jadapinkettsmith can you please just stop talking... let it go!!! OMG! Now your just lame," adding the hashtags #willandchris #whocaresnow.
And @_cvale wrote, "lmao @jadapsmith spoke about the slap for no more than one minutes, that's how important it was for her."
Twitter user @chanluxe had a somewhat different response to Pinkett Smith's comments, writing, "I think everybody was waiting on @jadapsmith to comment on allegations of provoking Will. I think it's great she's advocating for #Alopecia!...now it's time to read the room and address the [elephant]."