The 2022 Oscars will go down in history as the night that Will Smith slapped Chris Rock across the face for making a joke about his wife Jada Pinkett Smith.
The incident has racked up more than 50 million views on Twitter, as viewers all over the world react to the shocking scenes.
Rock was on stage to present an award when he made the joke at the expense of Pinkett Smith and her shaved head.
"Jada, I love you. G.I. Jane 2, can't wait to see it," he said, referring to Pinkett Smith's shaved head, a result of her experience with the condition alopecia.
Things immediately took an expected turn when Smith walked onto the stage smacked Rock on the face.
"Wow. Will Smith just smacked the s*** out of me," Rock said in reaction.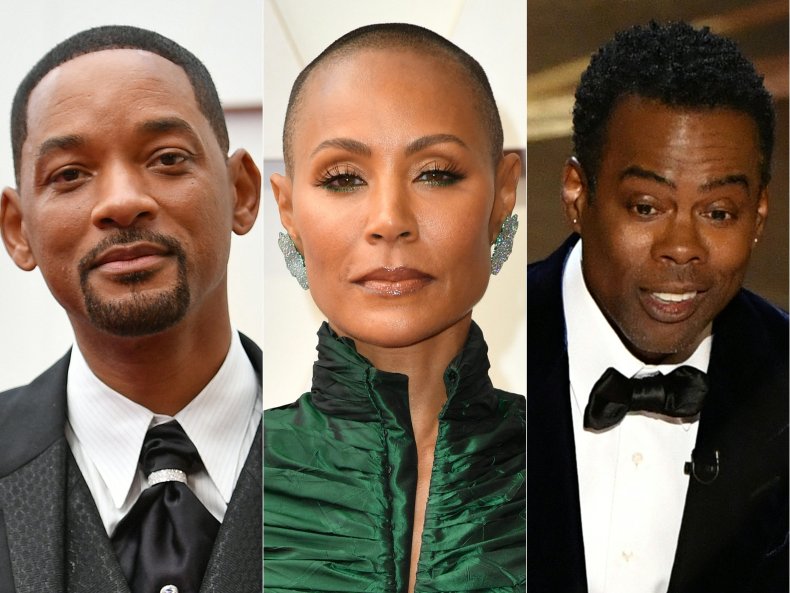 On returning to his seat, Smith shouted back to Rock: "Keep my wife's name out your f****** mouth!"
While much of the commentariat agree that violence is not justified under any circumstance, many are applauding Smith for standing up for his wife and condemning Rock for making an insensitive joke about Pinkett.
Here Is Some Of The Support For Smith:
"How u going to be #teamChrisRock when he decided to make a joke about another man wife who is suffering from alopecia, & u want to make a bald head joke about her on live TV infront of millions? Will Smith did what needed to be done, he slapped the mess out of Chris Rock #Oscars," tweeted photographer Branden.
Public advocate Allen Glines tweeted: "Chris Rock's joke wasn't funny, but it wasn't offensive.
He didn't mention alopecia at all. G.I. Jane is about a woman who earns people's respect through being tough and determined. What's so bad about that? Hmm, Will Smith? #CancelWillSmith #TeamChrisRock."
Others criticized Rock for making a joke at the expense of a Black woman's hair, when he himself made a documentary celebrating natural hair.
"Also it is absolutely wild that the man who made a whole documentary about the politics of Black hair would clown a Black woman on national tv about her f****** hair," said Twitter user @thewayoftheid.
While author Bolu Babalola tweeted: "More people should be slapped in defence of Black women. Cry about it if you wanna."
Writer Tee Franklin added: "Chris Rock was being an ableist asshat and he got what he deserved."
Meanwhile, actress Samyuktha Hegde tweeted: "If physically assaulting someone is wrong, isn't mentally traumatising them? We speak so much about mental health and then go around disrespecting people like its nothing and expect them to take it! Every action has a reaction!"
Rep. Ayanna Pressley tweeted in support of Smith's actions before deleting her posts.
"#Alopecia nation stand up!" the congresswoman tweeted, per Fox News. "Thank you #WillSmith Shout out to all the husbands who defend their wives living with alopecia in the face of daily ignorance & insults."
Here Is Some Of The Support For Rock:
Sports personality Stephen A. Smith condemned Smith's actions and labeled the slap "straight bulls***."
"What Will Smith did tonight is straight bulls**t," the ESPN presenter said in a video posted to Twitter. "Props and congratulations to him for winning the Oscar because damn it he deserved it. I love the brother and I'm proud of him but boy was that a shameful act for him to commit tonight.
"To go up on stage and slap Chris Rock like that... he's lucky he didn't get his ass kicked. Particularly after the event was over, if not by Chris Rock, to the fellas he had there with him. I mean damn..."
"So now we award people who slap & humiliate comedians for telling jokes!? (100 other ways to defend your wife) Getdafuggouttaheee #TeamChrisRock #Oscars," tweeted radio host Steve Covino.
Political pundit Matthew Dowd tweeted: "For all those defending Will Smith's violence and assault on Chris Rock, would you have same reaction if Amy Schumer had made the joke and Smith hit her?"
Twitter user Brooklyn Dad believes that Smith needs to apologize.
"Violence is never the answer, and Will Smith should have apologized to Chris Rock specifically for assault," he tweeted.
Musician James Brittain-McVey also condemned Smith's use of physical force.
"Violence is never the answer. Imagine how impactful it would've been for Will Smith to use his acceptance speech as a moment to share the impossibly difficult times those with alopecia often face, something most of us are sadly ignorant to... that would've 'hit harder'..." he tweeted.
Others were more diplomatic, with Bernice King tweeting that humans should be gentler with each other in general.
"I just think we really need to be more careful with each other," the activist tweeted. "We handle each other so violently...verbally, physically, psychologically."
She added in a later tweet: "I want to acknowledge tweets I'm reading from people about the pain of being mocked for illnesses, disabilities, & appearance. And tweets I'm reading from people about the pain of physical violence. I love you. I'm praying for & committed to our collective, holistic wellness."
While Scott Dworkin of the Democratic Coalition said that both men were wrong.
"Physical violence is never the answer. Will Smith was wrong. Some jokes are evil. Chris Rock was wrong. They both can be wrong," he said.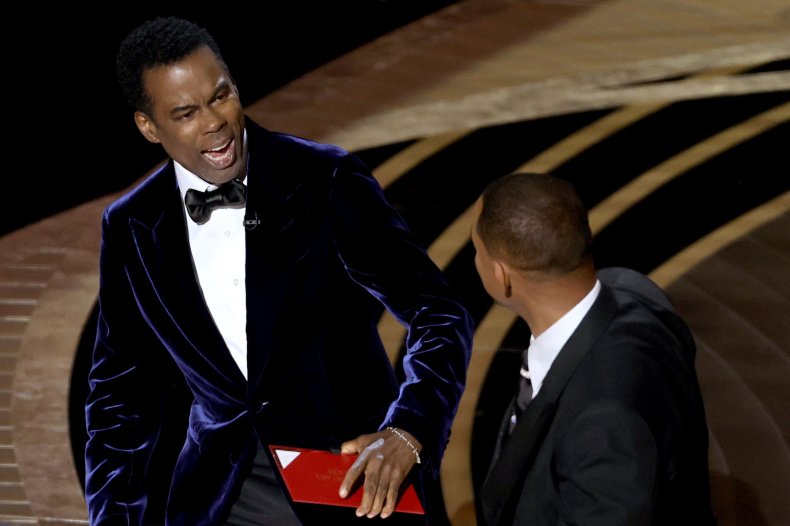 Smith went on to be named Best Actor and took home the Oscar for his role in King Richard.
In his acceptance speech, he tearfully apologized for slapping Rock.
"I know to do what we do, you've got to be able to take abuse, you've got to be able to have people talk crazy about you. In this business, you've got to be able to have people disrespecting you, and you've got to smile, and you've got to pretend like that's OK," Smith said in part.
"Denzel [Washington] said to me a few minutes ago, he said, 'At your highest moment, be careful. That's when the devil comes for you.' It's like, I want to be a vessel for love."
"I want to apologize to the Academy, I want to apologize to all my fellow nominees," he added, before joking that he hopes "the Academy invites me back."