What Will Smith and Chris Rock Did Immediately After That Oscars Slap
Will Smith slapping Chris Rock may become one of the most-talked-about Oscars moments of all time, but what happened in the moments after the slap?
The internet is ablaze with people reacting to the altercation between Smith and Rock. Footage of the slap has been viewed tens of millions of times online already, but additional footage also shows how the two men separately reacted after the incident.
Rock had to hang around on stage for a little longer while footage shot by a spectator shows how Smith reacted. He was comforted by Denzel Washington during the commercial break.
Smith slapped Rock after he has made a joke about Jada Pinkett Smith's hair, and firmly told him to keep his wife's name out of his mouth. Rock then still had to proceed with the show and went on to award the Best Documentary Feature to Ahmir "Questlove" Thompson.
During Questlove's acceptance speech, Rock can be seen in the right of frame, hanging around. He makes eye contact with someone in the crowd and makes an over-the-top facial expression. The reaction could be seen during the live telecast, but journalist Marcelo Córdova panned in specifically on Rock and shared footage of Rock's reaction on Twitter.
After the speech was over, Questlove and Rock walked off stage together and could be seen having a brief but serious exchange. Rock and Questlove are friends but the latter is also good friends with Smith. Fellow Philadelphia-native Questlove has been complimenting Smith throughout the awards season.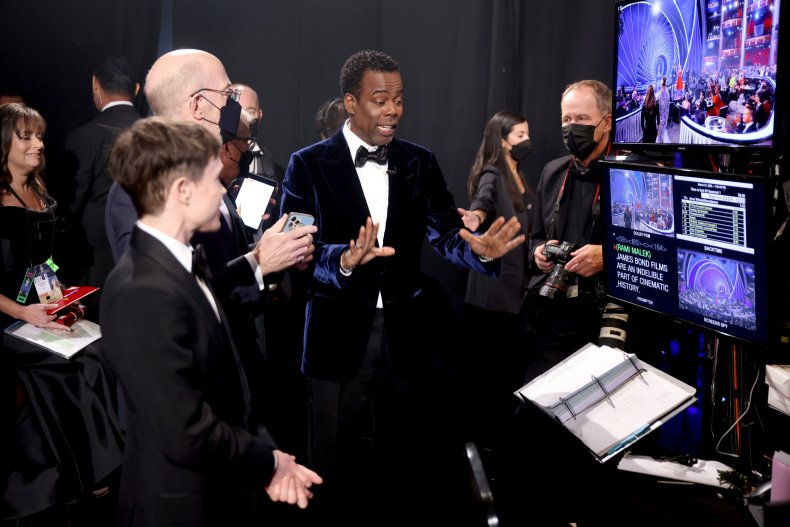 Twitter user @GrantedLA filmed the moment the men walked off stage. Many people pointed out online that the music played as they walked off is "Hate Me Now" by Nas featuring Puff Daddy.
All eyes were on Smith after the slap, and he seemed to laugh it off moments later when Sean Combs said on stage that he wants Rock and Smith to solve their differences "like family."
The Hollywood Reporter's Scott Feinberg seems to have been in the room where it happened at the Dolby Theater and filmed footage of Smith's reaction during the commercial break. In the clip viewed 6.5 million times, Smith is seen talking to fellow nominee Washington and Tyler Perry.
The clip is 90 seconds long and sees Smith in conversation with the actors before making his way back to his seat. He's then seen talking to another man for a while, who gives him a hug before he returns to his seat for the rest of the show. Once he reaches his seat, Washington can be seen crouching down and speaking to Pinkett Smith too.
Later on in the ceremony, Smith was announced as the winner of the Best Actor Academy Award. During his speech he made reference to the incident and said, "Art imitates life. I look like the crazy father, just like they said. I look like the crazy father just like they said about Richard Williams but love will make you do crazy things."
He won for his portrayal of Richard Williams, Venus and Serena Williams' father in the movie King Richard.