Will Smith Smacks Chris Rock At Oscars After Cruel Jada Pinkett Joke
Will Smith provided a shocking moment at the Oscars on Sunday when he struck Chris Rock in the face onstage as he presented an award.
Comedian Rock took to the stage to present the Best Documentary Academy Award at Hollywood's Dolby Theatre, when he drew laughs from the audience with his expected round of sharp quips.
Turning his attention to Pinkett Smith, he then said: "Jada, I love you. G.I. Jane 2, can't wait to see it," referring to her shaved head, similar to the hairstyle sported by Demi Moore when she starred in the 1987 movie G.I. Jane.
While Smith was seen laughing at the joke as he sat in the audience, Pinkett Smith was seen sitting beside him looking visibly unamused.
"That was a nice one," Rock protested, before Smith was seen walking onto the stage unannounced before delivering a smack to the side of the comic's face.
"Wow. Will Smith just smacked the s*** out of me," said Rock as a stone-faced Smith departed from the stage.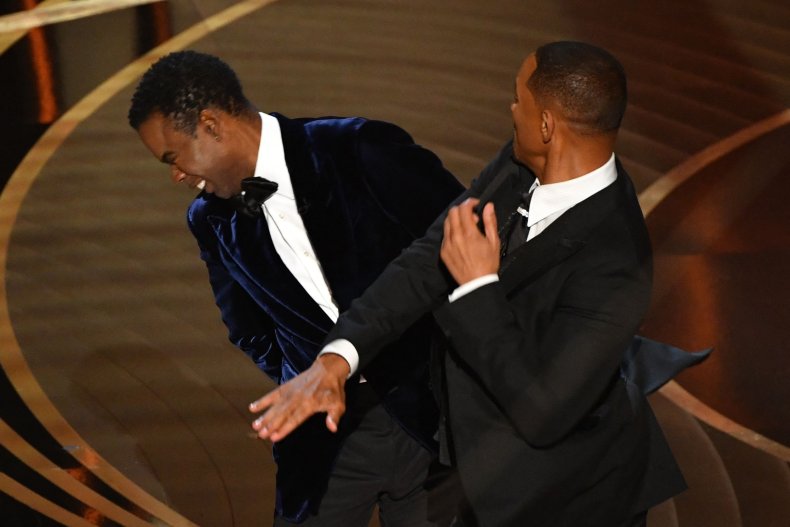 On returning to his seat, Smith bellowed to Rock: "Keep my wife's name out your f****** mouth!"
"Wow dude. It was a G.I. Jane joke," said a visibly stunned Rock.
"Keep my wife's name out your f****** mouth!" Smith reiterated.
"I'm going to," assured Rock, before drawing laughs from the tense audience as he went on: "OK. That was [the] greatest night in the history of television."
Rock departed the stage without making mention of the incident, which left much of the star-studded audience in stunned silence.
When Sean "Diddy" Combs later took to the stage to present an award, he brought the incident to the fore once again.
"I did not know that this year was going to be the most exciting Oscars ever," Combs said, drawing laughs. "Will and Chris, we're gonna solve that like family after [Jay-Z's] Gold Party. But right now we're moving on with love."
Combs' comment appeared to win the approval of Smith, who was seen laughing and applauding along with others seated in the Hollywood theater.
The night ended on a positive note, when Smith took to the stage to accept the Best Actor award for his role in the biopic King Richard, in which he portrayed the father of tennis stars Venus and Serena Williams.
As he accepted his statuette, he alluded to the incident as he said: "Richard Williams was a fierce defender of his family." He also spoke about how he got to "protect" his co-stars.
Later on in his tearful speech, he addressed the incident more directly, when he said: "I wanna apologize to the Academy, I wanna apologize to all of my fellow nominees."
"Love will make you do crazy things," he said as his speech came to an end.
Following the broadcast, the Academy of Motion Picture Arts and Sciences (AMPAS) shared a statement on Twitter, in which the violence shown on the night was condemned in a single sentence, before the winners were celebrated.
"The Academy does not condone violence of any form," read the statement. "Tonight we are delighted to celebrate our 94th Academy Awards winners, who deserve this moment of recognition from their peers and movie lovers around the world."
Additionally, the Los Angeles Police Department released a statement on the incident, revealing that Rock has chosen not to file charges.
"LAPD investigative entities are aware of an incident between two individuals during the Academy Awards program," read the statement. "The incident involved one individual slapping another. The individual involved has declined to file a police report.
"If the involved party desires a police report at a later date, LAPD will be available to complete an investigative report."
Newsweek has contacted representatives of Smith and Rock for comment.
Update 03/28/22, 2:50 a.m. ET: This article has been updated to include statements from the LAPD and AMPAS.