Chris Rock Can Still Report Will Smith's Oscars Slap to Police: LAPD
The Los Angeles Police Department (LAPD) has said they may still launch an investigation into Will Smith for hitting Chris Rock on stage at the Oscars if the comedian chooses to file a police report at a later date.
The LAPD issued a statement on the incident, which soon became one of the most talked about moments in the Academy's history, after Smith approached Rock and hit him in the face after taking issue with his joke about his wife, Jada Pinkett Smith.
Rock, who was on stage presenting the award for Best Documentary, quipped: "Jada, I love you. G.I. Jane 2, can't wait to see it," in reference to her shaved head and how Demi Moore also cut off her hair for the role in the 1997 movie.
After making the joke about his wife who has alopecia, causing her hair loss, Smith confronted Rock on stage and hit him across the face, yelling out: "Keep my wife's name out of your f*****g mouth," twice.
Following the incident, a stunned Rock said: "Will Smith just smacked the s**t out of me." The remark drew laughter from the audience, who were perhaps unaware what they just witnessed was genuine.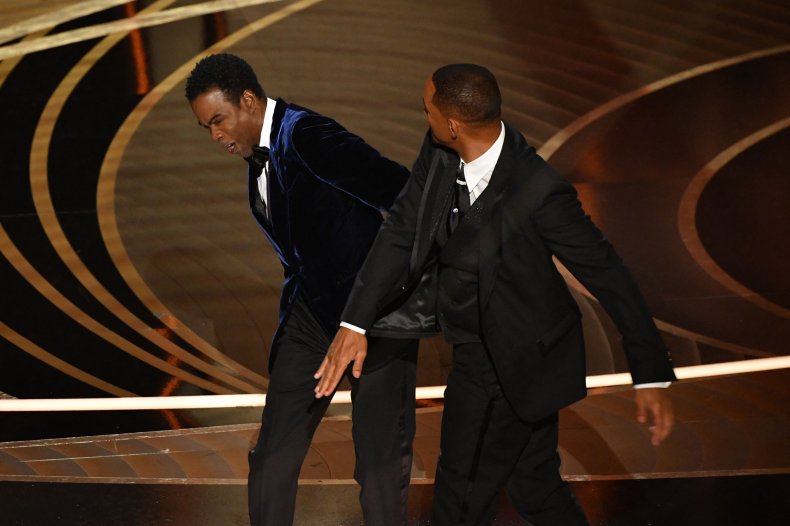 Rock then composed himself before saying: "That was the greatest night in the history of television," and continuing with the show.
The LAPD said that Rock initially declined to press charges against Smith, who went on to win the award for Best Actor for his role in King Richard, but could still launch an investigation if Rock requests a police report.
"LAPD investigative entities are aware of an incident between two individuals during the Academy Awards program. The incident involved one individual slapping another. The individual involved has declined to file a police report," the department said in a statement.
"If the involved party desires a police report at a later date, LAPD will be available to complete an investigative report."
Following the incident, which was not broadcast live in the U.S., The Academy said they do not "condone violence of any form."
"Tonight we are delighted to celebrate our 94th Academy Awards winners, who deserve this moment of recognition from their peers and movie lovers around the world," the Academy said in a tweet.
Smith later apologized during his acceptance speech after winning the Oscar for playing Richard Williams, the father of the tennis stars Venus and Serena Williams, but not to Rock directly.
"I want to apologize to the Academy, I want to apologize to all my fellow nominees," Smith said. "Art imitates life. I look like the crazy father, just like they said. But love will make you do crazy things."
Smith ended his speech by stating: "Hoping the Academy invites me back."
Sunday night's incident was not even the first time that Rock has made a joke at Pinkett Smith's expense while presenting at the Oscars.
In 2016, Rock made reference to how Pinkett Smith was among a number of stars who were not present at the ceremony because they were boycotting the awards due to a lack of diversity in that year's nominations.
"Jada Pinkett Smith boycotting the Oscars is like me boycotting Rihanna's panties—I wasn't invited," Rock said.
Update 03/28/22, 3:21 a.m. ET: This article was updated with additional and background information.