From 'Jagged Little Pill' Backlash to 'Slave Play' Snub: 5 Controversial Tonys Moments
The 74th Tony Awards, held Sunday, September 26, at the Winter Garden Theatre in New York City, had their share of controversial and jaw-dropping moments.
The annual awards ceremony, which was postponed last year due to the ongoing COVID-19 pandemic, honored the shows and performances of the 2019–2020 Broadway season.
Here we look at some of the controversial moments at this year's event, including award snubs and surprise wins.
Another 'Jagged Little Pill' Cast Member Exit
Antonio Cipriano, who played Phoenix in Jagged Little Pill (which is inspired by the 1995 album of the same name by singer-songwriter Alanis Morissette) announced that his performance for the Tony Awards was his final gig with the show.
The awards ceremony was followed by a concert featuring performances from Tony Award nominees and Broadway stars.
Cipriano's exit comes after the producers of the show were accused of mistreating its trans and non-binary cast members.
The Actors' Equity Association, the union for actors and stage managers, stated on Sunday that it will be conducting a "thorough, independent investigation of the Jagged Little Pill workplace" following the latest allegations.
In a statement on Twitter on Sunday, Cipriano wrote: "After four years of being with Jagged Little Pill, the Tony's tonight will be my final performance with the show.
"With that, I have to acknowledge the harm that many trans + non-binary, and all marginalized folks, on-stage cast members and off have endured through the years."
Noting "all artists deserve to exist fully and authentically," the actor wrote: "Broadway should be a safe space" for all in a tweet on Sunday.
Jagged Little Pill's Lauren Patten, who won the Tony Award for Best Actress in a Musical, also acknowledged the latest allegations in her award acceptance speech.
"We are in the middle of a reckoning in our industry," Patten said. She thanked her trans and non-binary friends and colleagues who have engaged with her "in difficult conversations" and joined her "in dialogue about her character Jo."
Patten added: "I believe that the future for the change we need to see on Broadway comes from these kinds of conversations that are full of honesty and empathy and respect for our shared humanity."
In posts on Twitter on Friday, former Jagged Little Pill cast members Nora Schell and Celia Rose Gooding alleged the production was harmful to the trans and non-binary community.
In a statement tweeted on September 24, Schell claimed that during the show's previews, she "was intimidated, coerced and forced by multiple higher ups" to put off "critical and necessary" surgery to remove growths from her vagina, which her doctor allegedly told her was an urgent matter.
Celia Rose Gooding announced she would not be returning to the show in a post on Twitter. "While performing at the Tonys has been a lifelong dream of mine, I do not want my performance to act as a distraction from the fact that Broadway has a lot more work to do to be the safe, equitable space that artists of all walks of life deserve," Gooding tweeted on September 24.
Newsweek has contacted the representatives for the producers of Jagged Little Pill for comment.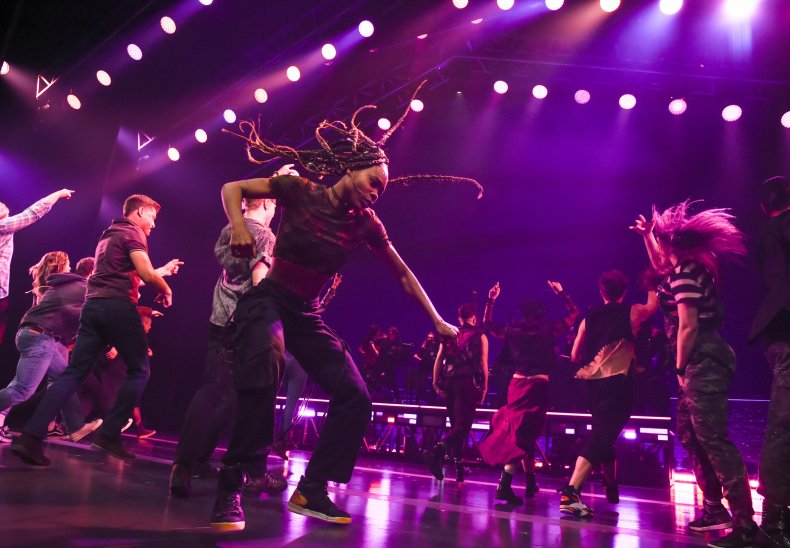 A Mostly White Winners List
While several people of color were nominated, the wins vastly went to white nominees, according to the final winners list.
The mostly white Tony Award winners' list this year follows the controversial Primetime Emmy Awards winners list, which featured no actors of color despite a record number of 49 nominees of color recognized in the acting and reality competition categories.
Newsweek has contacted the Tony Awards, the American Theatre Wing and The Broadway League, the national trade association for the Broadway theater industry, for comment.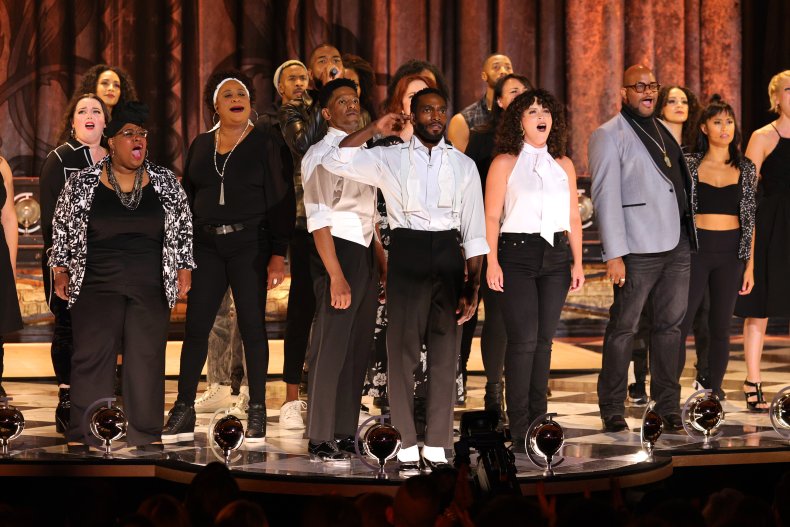 'Slave Play' Snub
The play by Jeremy O. Harris, which received a record 12 Tony Award nominations (the most ever for a play) and was projected to win Best Play, was not only snubbed for that award but failed to bag any wins at this year's Tony Awards.
Slave Play, which back in 2019 was described in a review by The New York Times as "one of the best and most provocative new works to show up on Broadway in years," instead walked away with a new record, replacing the 1995 piece Indiscretions as the play that did the worst at the Tony awards night, according to The Hollywood Reporter.
Harris didn't let the awards snub put a damper on the show's success. "Slave Play has never won one of the major awards of any of the great voting bodies but changed a culture and has inspired thousands of ppl [people] who didn't care about theatre before," wrote Harris in a Twitter thread Sunday.
"I saw someone randomly reading the play in Slovenia. We already won. I wrote my play for a basement," he added.
He tweeted that he'd "be more upset about this" if he hadn't already been given a platform because of Slave Play "to enhance hundreds of other writers works" with his HBO grants and other works.
"Anyway Partying tonight in Manhattan bc [because] history was made in spite!," Harris wrote in another tweet.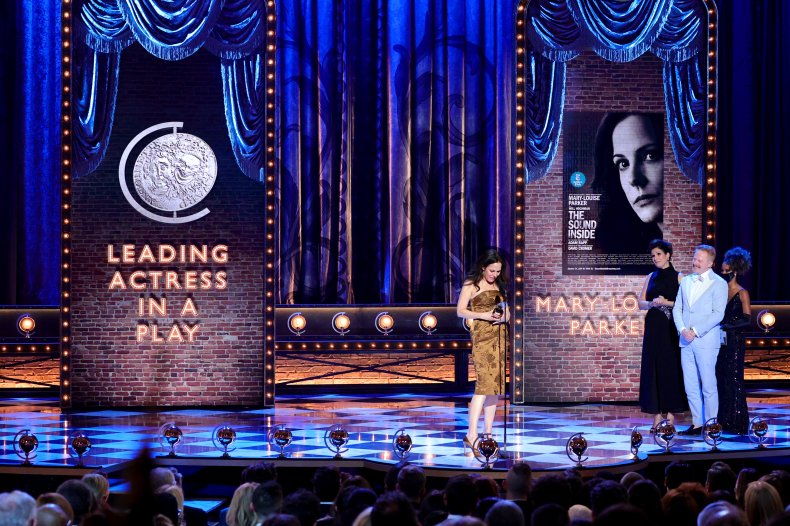 Other Tony Award snubs this year included Tom Hiddleston from Harold Pinter's Betrayal—who was the projected winner for Best Actor in a Play, over Jake Gyllenhaal and Tom Sturridge (who both star in Sea Wall/A Life), entertainment news website The Wrap previously predicted.
But all three of the actors were usurped by Andrew Burnap from The Inheritance, who walked away with the award.
Hollywood actress Laura Linney from My Name is Lucy Barton also lost out on the award for Best Performance by an Actress in a Leading Role in a Play, which went to Mary-Louise Parker for her role in The Sound Inside.
Surprise Multiple Wins by 'A Christmas Carol'
The latest adaptation of the Charles Dickens novel, which hadn't received much buzz in the lead-up to the awards, became the dark horse of the night, walking away with five awards.
The latest recognition marks the first time a Christmas-themed production has ever won a Tony Award, according to Gold Derby, the American awards prediction and entertainment news website.
The wins include the Tony Award for Best Original Score (Music and/or Lyrics) Written For The Theatre as well as four others for the Best Scenic, Best Costume, Best Lighting and Best Sound Design of a Play.
Aaron Tveit's Historic Actor Win
The actor starring in Moulin Rouge! The Musical secured his Tony Award for Best Performance by an Actor in a Leading Role in a Musical, for which he was the only nominee this year. The latest award marked Tveit's first nomination as well as win.
The fact that he was the single nominee in this category did not make it an automatic win for Tveit.
In a previous statement, The Broadway League and the American Theatre Wing explained that if there is only one nominee in a listed category, "such category shall be submitted to the Tony Voters which may, by the affirmative vote of 60 percent of the total ballots cast, grant an Award in that category," New Jersey's Asbury Park Press reported on September 22.