'Wife You Up': Jail Nurse Shares Funny Pick-Up Lines Inmates Try on Her
A jail nurse is turning heads with pick-up lines inmates have allegedly tried on her, and the content is garnering a lot of laughs online.
The viral TikTok revealing the details, captioned, "Just a small portion of what I hear daily #prisontiktok #jailtok #jailnurse #nursesoftiktok," has been viewed 243,100 times and liked 11,100 times since it was shared on April 4.
According to Statista, the United States has the highest prisoner rate among other countries with 639 prisoners out of every 100,000 people in the population. The website also reported as of 2021, the country had 2,094,000 people in prison.
TikToker @alexis_ellenora, or Alexis Little, shared the 16-second video accompanied by the song Miami, My Amy by Keith Whitley. The clip started with an image of the inside of a jail common area with a small video of the TikToker's face showing as well as she held up a peace sign before the video cut to the first pick-up line.
"Things inmates have said to me as a jail nurse," the screen read in text overlay.
Each pick-up line was accompanied by a mugshot of presumably an inmate. The first one showed a man slightly smiling with a pick-up line below. "I can cook and clean, lemme take care of you," the screen read.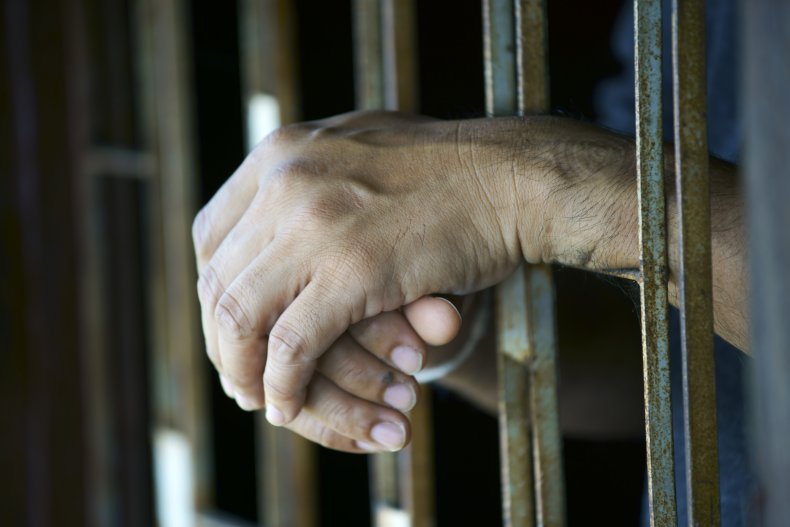 Next up was the mugshot of a man with a number of tattoos on his face, including devil horns on his forehead. "My charges are just domestic abuse, but I'd treat you right," the screen read down below the second mugshot.
The next mugshot was of a man with a tatted neck and accompanying face tattoos. The TikToker revealed the next pick-up line in a comment: "I love you, let me wife you up."
Lastly, another man was highlighted in a mugshot with a pick-up line to go along with it that said, "I get out in 15 years, you gotta let me take you out."
Over 100 comments came pouring in over the viral content, and people appreciated the TikToker's mash-up. "I definitely wish to hear more of these," a viewer said.
Not everyone approved of the post though. "I hope these aren't their real photos girl because that's not OK," a TikToker weighed in.
Some correctional officers chimed in with their thoughts. "As a CO I can 100 percent believe all of this," a viewer added.
Others included their own stories of things they've been told by inmates. "Had a guy tell me, 'When I get outta here imma buy you a chain,'" a TikToker said. "I was like, 'What?'"
Another nurse in the prison system admitted, "Some of the stuff the inmates have said to me is wild."
Some people saw the humor in the post and appreciated the content. "I laughed so hard at this," a TikToker revealed.
The pick-up lines were all too common for some TikTokers. "I get the same thing as a nurse working in a drug/alcohol rehab," a viewer pointed out. "I just say, 'Sorry, I'm married.'"
Other viewers revealed things they've been told by inmates. "I had one inmate say, 'When I get out in 60 years can I take you out?'" a TikToker said. "Lmao, Wtf? Sir, no."
Newsweek reached out to @alexis_ellenora for comment.