Jaime Harrison Taunts Lindsey Graham After Senator Says He's 'Getting Killed Financially'
Democrat Jaime Harrison mocked Republican Senator Lindsey Graham on Thursday, after the incumbent said he was "getting killed financially" in the race for his South Carolina seat with less than two months to go until election day.
The senator's Democratic challenger suggested that Graham "realized he's going to lose on November 3rd" with his admittance that his campaign coffers were lagging behind Harrison's fundraising haul.
Speaking to Fox News earlier this week, the Republican senator pointed out that Harrison had enjoyed a boost to his campaign fund in the days following the death of Supreme Court Justice Ruth Bader Ginsburg.
"I'm being killed financially," Graham said. "This money is because they hate my guts."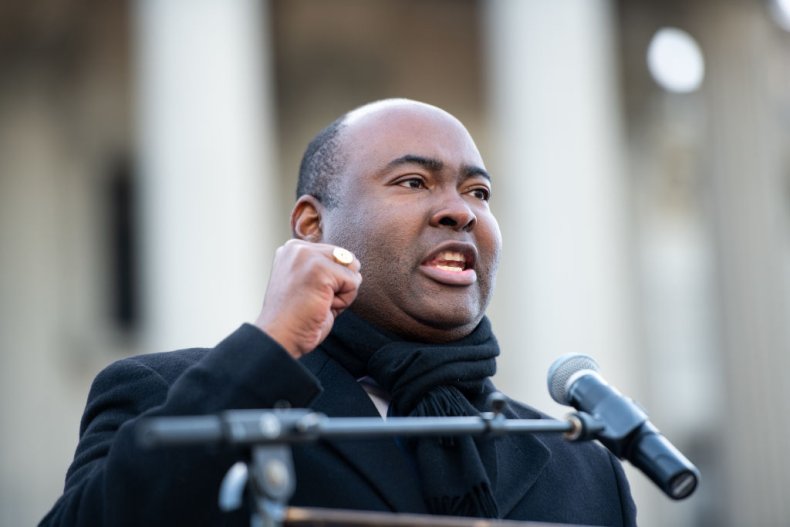 Appearing on the network's Hannity show last night, the Republican added that he was "getting overwhelmed" and pleaded with viewers to help him boost his fundraising efforts.
Reacting to Graham's remarks on the state of his campaign coffers, Harrison tweeted: "Anybody else get the sense that Lindsey Graham just realized he's going to lose on November 3rd?"
The Democratic Senate candidate later tweeted the hashtag "#LindseyGrahamIsLosing" as he called for supporters to "keep it that way" by donating more cash to his campaign.
Newsweek has contacted the Graham campaign for comment and further details on its finances. This article will be updated with any response.
According to the latest Federal Election Commission campaign finance data, Sen. Graham had $15 million cash on hand while Harrison had a little more than $10 million at his disposal.
But the Democratic candidate had also raised and spent more than his GOP rival. At the end of the second quarter of this year, Harrison had raised almost $29 million compared to the $26.3 million drummed up by Graham.
The Republican incumbent's spending on campaign resources also trailed Harrison's output by a little more than $4 million.
Polling from South Carolina indicates that the key swing state race could be a close call, with one survey released by Morning Consult on Monday finding Graham just 1 percentage point ahead of Harrison—putting him within the margin of error.
Another poll released by Quinnipiac University on September 15 found the candidates were level pegging among likely voters in the state. Both had the support of 48 percent of South Carolina voters.
Analysts at the Cook Political Report have rated the South Carolina Senate race as "leaning Republican," similar to the races in Georgia and Kansas.