Jake Tapper Confronts Adam Kinzinger for Opposing Voter Rights Bill: 'Protecting Democracy'
Representative Adam Kinzinger on Sunday criticized the John Lewis Voting Rights Act and defended his vote against the Democratic election reform bill.
"You can call a bill 'the Voting Rights Act' and left-wing Twitter goes nuts about this and they can say you voted against voting rights without even looking into the details of this," the Illinois Republican said on CNN's State of the Union.
"We can get to a solution. The problem is, I admonish my side all the time about playing politics, the Democrats have to quit playing politics on some of this, too. You can call it 'For the People Act,' which was the other one. And really what it is is public funding for campaigns among a whole host of things," he added.
Kinzinger's remarks came after host Jake Tapper confronted him for voting against the bill despite the Illinois Republican being outspoken about protecting democracy in the U.S.
Last Wednesday, the Senate Judiciary Committee held a hearing on the John Lewis Voting Rights Advancement Act, which landed in the chamber earlier this month after it passed the House in August along party lines.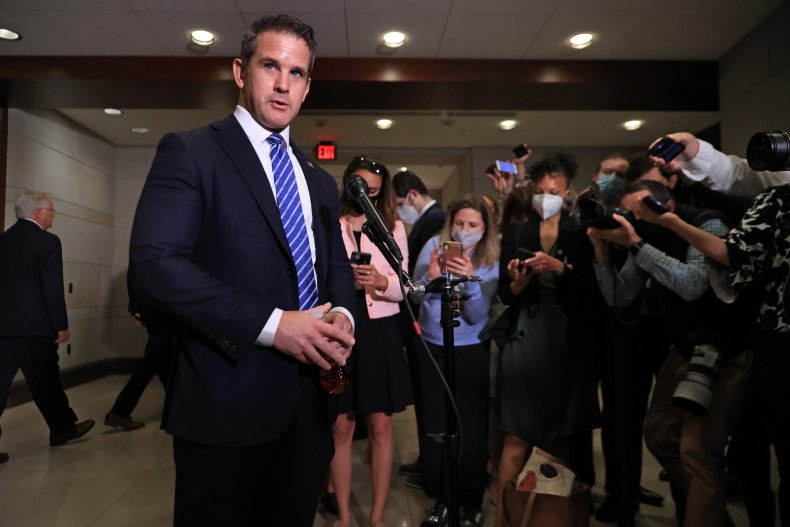 Aimed at protecting the right to vote, the House passed the legislation, known as H.R.4, amid a wave of new laws in Republican-controlled states to restrict voting. The legislation faces an uphill battle in the evenly divided Senate, where Republicans have framed the bill as federal overreach in election processes on the state level.
Named after John Lewis, the late Democratic congressman and civil rights leader from Georgia, the legislation would restore and strengthen the 1965 Votings Rights Act, which has been eroded by two Supreme Court rulings.
Republican lawmakers across at least 48 states have introduced nearly 400 bills to restrict voting. Critics allege that party members are attempting to make participation in elections harder for Democratic and disenfranchised voters.
Supporters of the Democratic voting rights bill say it would make it harder for GOP-controlled states to enact further restrictions on voting access.
Kinzinger argued that the legislation would simply re-implement the provision to have the Justice Department approve any changes to state election systems. The Supreme Court overturned the provision in 2013, on the basis that it had become outdated and unconstitutional.
President Joe Biden supports the measure and a separate sweeping election reform bill, known as the For the People Act.
"The House is acting. The Senate also has to join them to send this important bill to my desk, and the Senate has to move forward on the people's act — critical legislation to protect our democracy and the right to vote," the president said in August. "We need both of those."
Newsweek reached out to Kinzinger for further comment.