Jamal Khashoggi Body 'Dissolved in Acid' by Saudi Agents, Erdogan Adviser Says
A top adviser to Turkish President Recep Tayyip Erdogan has alleged that Saudi agents used acid to dispose of the body of murdered journalist Jamal Khashoggi.
Yasin Aktay told the Hurriyet Daily newspaper that Khashoggi was dismembered and his remains were dissolved to cover up the murder, which was committed inside the Saudi Consulate in Istanbul on October 2.
"The reason they dismembered Khashoggi's body was to dissolve his remains more easily," Aktay said, suggesting it was the "only logical conclusion" and that the Saudis wanted "to leave no trace behind."
"Now we see that they did not only dismember his body but also vaporized it," Aktay added.
On Wednesday, a senior Turkish official—speaking to The Washington Post on the condition of anonymity—suggested the journalist's body "was not in need of burying." The source said Khashoggi's body was destroyed close to where he was killed, citing biological evidence discovered in the consulate garden.
Turkish authorities have yet to find Khashoggi's remains, with officials alleging that Saudi Arabia was purposefully obstructing the investigation to avoid further embarrassment over the case.
Khashoggi entered the consulate to collect paperwork that would allow him to marry his fiancée, Hatice Cengiz, who waited for him outside. Riyadh initially claimed Khashoggi left the building within an hour of his arrival and denied any knowledge of his whereabouts. Weeks later, the Saudis admitted that the U.S. resident had been killed within the diplomatic facility in a "premeditated" attack.
A columnist for the Post and an outspoken critic of the country's ruling family, Khashoggi is believed to have been killed under orders from Crown Prince Mohammad bin Salman.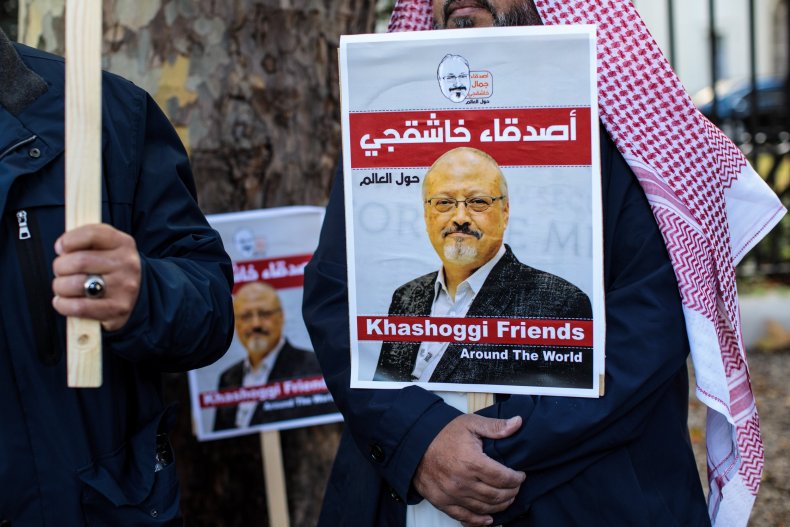 The crown prince has denied responsibility for the murder. It was reported Tuesday that Salman told the White House Khashoggi was a dangerous Islamist even before Saudi Arabia officially admitted the journalist was dead. The content and timing of the accusation raised suspicion of a cover-up at the highest levels of the Saudi government.
According to the Post, Salman made the allegations to President Donald Trump's senior adviser and son-in-law, Jared Kushner, and national security adviser John Bolton, claiming Khashoggi was part of the Muslim Brotherhood—a transnational Islamist political movement.
In response, Khashoggi's family told the Post, "Jamal Khashoggi was not a member of the Muslim Brotherhood. He denied such claims repeatedly over the past several years.
"Jamal Khashoggi was not a dangerous person in any way possible. To claim otherwise would be ridiculous."