Jamel Floyd Death Stirs Fresh Protests As Family Says Prisoner Was 'Murdered' By Mace
On Thursday night, racial justice protesters marched in Brooklyn for Jamel Floyd, a 35-year-old black man who died in prison Wednesday after guards at the Metropolitan Detention Center pepper-sprayed him in his cell.
The marchers are reportedly headed towards the Metropolitan Detention Center in the Sunset Park neighborhood of west Brooklyn. The marchers agree with the mother of Floyd who asserts that police "murdered" her son, who had an underlying condition of asthma.
A follow-up protest is scheduled for 4 p.m. on Friday at the Metropolitan Detention Center.
The march coincides with ongoing citywide protests against police brutality following the May 25 death of George Floyd (no relation), the 46-year-old black man who died in police custody after a Minneapolis police officer knelt on his neck for nearly nine minutes.
In a statement, the Federal Bureau of Prisons said that Jamel Floyd barricaded himself inside his cell at 10 a.m. Wednesday morning, and broke the cell-door window with a metal object.
After Floyd "became increasingly disruptive and potentially harmful to himself and others," officers used pepper spray to try and stop him. Floyd became unresponsive after the spray was used. He was then given medical attention before being taken to a nearby hospital where he was pronounced dead.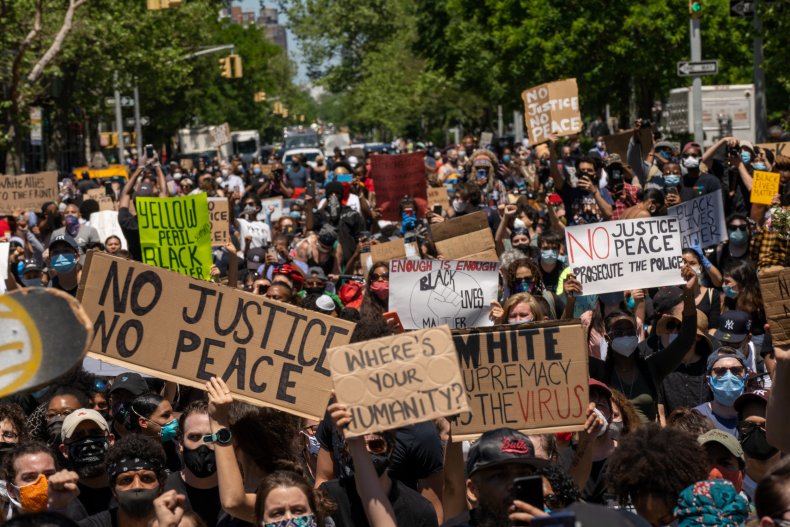 Twitter user Andrew Holt thanked New York City Council Members Brad Lander and Carlos Menchaca as well as Linda Sarsou, founder of the racial justice group Until Freedom, for organizing the march and for "lending their voices to help get justice and closure for the family of #jamalfloyd."
Menchaca said that Nydia Velazquez, New York's Democratic U.S. Representative, and Democratic New York State Senator Zellnor Y. Myrie attended the march as well.
Lander has been posting videos from the protest on Twitter.
"Jamel's wife has talked him about the meal she was going to make on his first night out," Lander wrote in one tweet. "His 14-year-old daughter had talked to him about their first father/daughter dance."
In one video from the march, a seven-year-old girl named Winter Amor Rogers speaks on the microphone to the crowd while prisoners in the Metropolitan Detention Center audibly knock on the windows facing the group.
"Do you hear all those people knocking?" Rogers asks as the crowd begins to applaud. "They want to be free!" she begins repeating before leading the protesters in a chant of "No justice, no peace."
Floyd had been imprisoned at the Metropolitan Detention Center since October 2019. He was set to be released from imprisonment in November.
Newsweek reached out to Lander for comment. This story will be updated with any response.