Ben Whishaw's Most Iconic Q Moments in the 'James Bond' Franchise
It could be argued that James Bond would be nothing without his gadgets, and the quartermaster who provides them — and Ben Whishaw's version of the character is one of the best iterations there is.
Previously played by Peter Burton, Desmond Llewelyn and John Cleese, Whishaw is the newest actor to take on the role of Q opposite Daniel Craig's 007.
First appearing in Craig's third Bond film Skyfall, Whishaw has already had a number of iconic moments as the character.
Here are the best things Q has done in Skyfall, Spectre, and also No Time to Die.
**WARNING: No Time To Die spoilers ahead**
Skyfall
1. Q's introduction
One person that was noticeably missing from the first two films in Craig's era as Bond was Q. Even the actor himself expressed his hope that the gadgets expert would make an appearance in the third film before it was made.
Luckily, Q was brought into the field, so to speak, in Skyfall, with the quartermaster first meeting Bond at the National Portrait Gallery in London.
The pair immediately have great chemistry together, with Q and Bond going back-and-forth in a quick-witted debate over their age difference.
Bond and Q's war of words leads the latter to claim he can do more damage "on [his] laptop, sitting in his pyjamas before his first cup of Earl Grey" than Bond could ever manage with a gun — probably one of Whishaw's best lines in the whole film.
2. Exploding pens
After earning each other's respect in their first meeting, Q gives Bond some new gadgets: a gun tailored to recognise his fingerprint and a small radio.
When 007 expresses his lack of enthusiasm for the items, Q asks the spy if he was "expecting an exploding pen," because they don't make those anymore.
The joke was a great reference to GoldenEye, which featured a miniature grenade that Llewelyn's Q had given Pierce Brosnan's Bond.
Spectre
3. Bond's Aston Martin
007 has never had the best record when it comes to bringing his gadgets back to Q in one piece, and the same goes for his cars.
Skyfall saw Bond's Aston Martin DB5 get destroyed during his firefight with Raoul Silva (Javier Bardem), and Q — fed up with the spy's frivolous attitude towards his cars — decides to take matters into his own hands in Spectre.
In Spectre he shows Bond a new version of the Aston Martin DB5, only to reveal it isn't meant for him, and gives him a seemingly normal watch instead. When Bond asks if it "does anything," Q quips that it "tells the time."
They then walk past Bond's old Aston Martin, being rebuilt after only a steering wheel was left after Skyfall, and Q adorably laughs at his own joke when he tells Bond he asked him to "bring it back in one piece, not bring back one piece."
At the end of the film it's Q who gives Bond his remodelled Aston Martin DB5, which he then drives off in alongside Dr. Madeleine Swann (Léa Seydoux).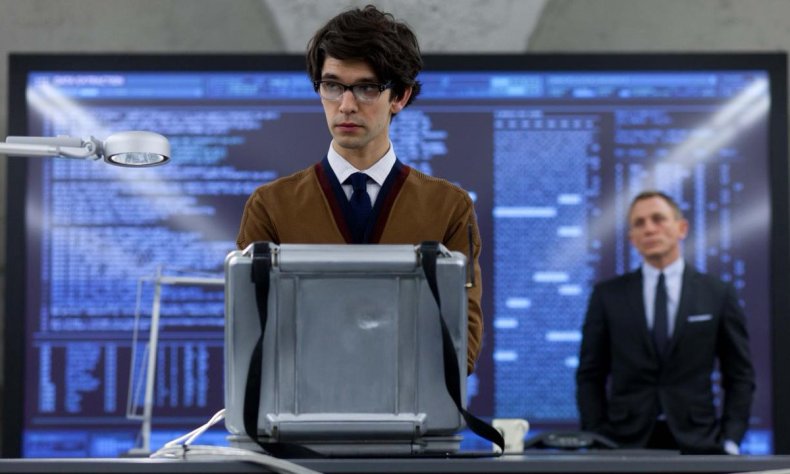 No Time to Die
4. Q's love life
When Bond returns to the field, he and Eve Moneypenny (Naomie Harris) visit Q at his home so that the quartermaster can decrypt a USB of data the spy got from Russian scientist Valdo Obruchev (David Dencik).
Q tries to get them to leave because he's cooking for a dinner date and is expecting company, a man who remains unnamed but is clearly someone the quartermaster is very attached to.
While it's only a brief moment in the film it was nice to see a more personal side to Q, and also get a closer look at his home and many Sphynx cats.
5. Nanobots are for life
During his explanation of M's secretive "Heracles" project (aptly named after the mythological hero who killed his own family), Q describes how the nanobots enter the blood stream and inflict a person forever.
As per, he balanced his ultra-technical scientific spiel with comedy, adding "nanobots aren't just for Christmas!"
6. Always ready with tea
While flying with Bond and fellow 00-agent Nomi (Lashana Lynch) before their mission to catch Safin (Rami Malek), Q prepares them with an array of weapons that he has stored in a set of drawers on their plane.
As he is looking for the special gadgets he made for the pair, Q opens a draw that is equipped with a tea set, complete with tea pot, cups and saucers.
He quips it's the "wrong drawer" before finding the gadgets, but the moment is quintessentially Q and is one of the most amusing of his scenes in No Time to Die.
No Time to Die is released in theaters across the US on September 8.